Wildfire lawsuit claims against PG&E skyrocket.
January 30, 2018 – Sonoma County, CA.  In the October 2017 wake of the massive multiple wildfires that ravaged Sonoma, Napa, Yuba, Lake and San Francisco counties, PG&E is facing heat from national law firms including Hood National Law Group.
The law firms handling cases report rapid rates of people filing PG&E wildfire claims.
Who's to blame for the Napa and Sonoma Wildfires?
The Napa and Sonoma County wildfire lawsuit claims alleges that San Francisco utility Pacific Gas and Electric had poorly maintained power lines that were toppled by high winds, (reports of 40-60 mph wind gusts) triggering the fires in numerous locations in Sonoma. Some locals claim that PG&E didn't regularly trim tree branches close to the power lines, and some branches were allegedly touching certain lines.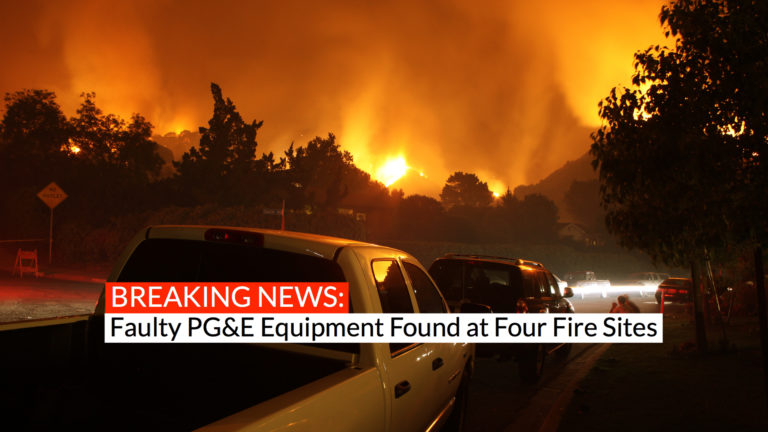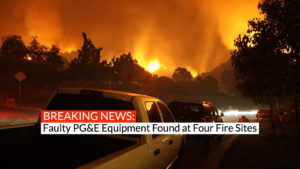 PG&E has been successfully sued multiple times.
PG&E faced more than $1 billion in claims after Cal Fire investigators found it responsible for the 2015 Butte fire, which destroyed 549 homes and also killed two people.
PG&E was also successfully sued for the massive San Bruno natural gas line explosion in 2010 that killed 8 people. PG&E settled and paid $565 million to cover 170 claims from that lawsuit. The case looked at faulty welding and cited lack of proper maintenance of the gas line.
In 1999 PG&E paid out $29 million settlement for a 1994 wildfire in the Sierra foothills after the California Public Utilities Commission found they diverted funds from its tree trimming services.
The Wine County Wildfires could be the largest man-made disaster of all time.
When we think of man-made disasters we normally think of oil spills, wars, chemical spills or airplane crashes, but the scope of total devastation of these northern California fires is almost un-imaginable.  On the night of October 8, 911 operators in Sonoma County recorded multiple calls from worried residence of falling power lines through the area during the windy night.
The Wine County fires burned 245,000 acres in six counties killed 44 people, destroyed 8,889 structures and caused more than $9 billion in damage claims.  It took fire crews over a week, working 24 hours a day to contain.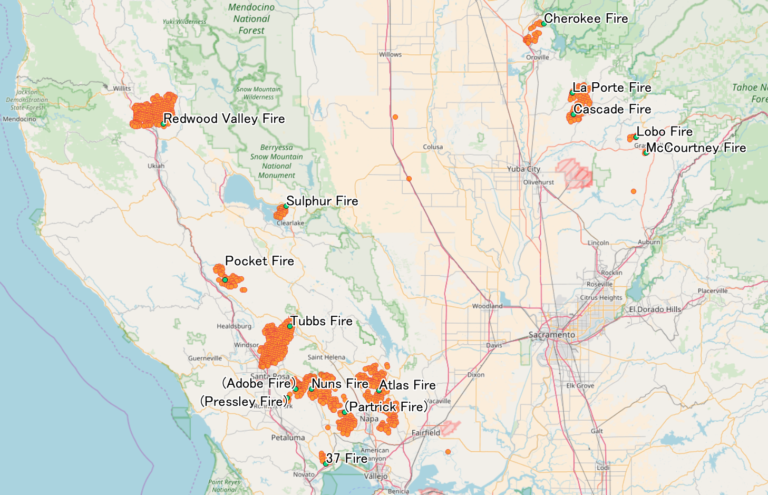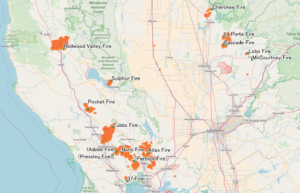 It's now estimated that total damages in the Northern California fires could far exceed insurance claims, topping out at $20 billion. This could be the largest man-made disaster in history.
Read more on the PG&E wildfire lawsuit claims here: https://www.nationalinjuryhelp.com/napa-sonoma-wildfire-lawsuit-claims-settlements/
Who is filing PG&E Wildfire claims?
The fires impacted hundreds of thousands of business and individuals in Napa, Sonoma, Yuba, Butte, Mendocino and Lake Counties.  Each of these regions had fire incidents managed by Cal Fire and other local agencies.
The types of wildfire claims being filed against PG&E include, but not limited to:
Property damage. Displaced homeowners and business owners whose residence or business was fully or partially impacted by the fires. This includes landscaping, trees, farms, vineyards, ranches, rental property, cars, work vehicles, etc; that may have burned.
Personal Injury or Deaths. Persons burned or deceased from the wildfires. Victims of smoke inhalation that required hospitalization or medical treatment.
Personal Property Damage. Loss of personal property including house contents, vehicles, farm equipment etc, as a result of fires. This can include homeowners, business owners and renters.
Loss of Rental Housing. Includes personal property damage, relocation expenses, hardship, etc.
In one real life example, Mr. Mark K. (name changed to protect identity) woke up in his apartment when the fire broke out near Coffee Park in the town of Santa Rosa.  The flames were already massive and consuming trees, buildings and cars directly in front of him.
He witnessed his own apartment complex catch fire. He felt helpless and shared his story with us:  
"I had just recently moved from San Diego to Santa Rosa to begin work in a local brewery.  I didn't hear my cell phone alert, but I did see bright red and orange colors coming into my bedroom window.
Since I had just woken up I was still drowsy and went outside. I saw this huge wall of fire right in front of me.  I thought for a second that maybe I was dreaming this.  I tried to reach my car but it was too late, I saw it go up in flames. So much for my new car I just bought. Even though I lost all my possessions and car – I am thankful for my life. 
Some of my friends have stepped up to help in my time of need so thanks to all that helped me."
Mark K is one of those that said he'll file a lawsuit claim against PG&E after learning about the alleged lack of maintenance on the PG&E power lines.  He lost all his personal processions and his new car.  He also lost income from not being able to work, since the brewery he worked for had to evacuate. All of these claims are valid. It's a terrible story and one of many.
If you or someone you know was affected an anyway by the Wine County wildfires, we're here to answer any questions you may have on filing a claim against PG&E. It only takes one phone call to 1-800-214-1010. Or use our contact form on this page. It's always a free case review and we collect nothing until we win.