Have you suffered health problems after undergoing surgery for an abdominal hernia using Ethicon's Physiomesh? Have you undergone a second surgery to correct a recurring hernia?
If you or someone you love was injured as a result of Ethicon's Physiomesh Flexible Composite Mesh, you may be entitled to financial compensation.  There may be a class action lawsuit forming with substantial cash settlements from claims filed.
Contact the attorneys & lawyers at National Injury Help for a free case evaluation and to see if you qualify for an Ethicon Physiomesh Lawsuit. Call 1-800-214-1010 or use the form on the right hand side of your screen to speak with a member of our legal team today.
Ethicon Physiomesh Recall
On May 26, 2016, the maker of the Physiomesh, Ethicon Inc., issued an Urgent Field Safety Notice recalling all Physiomesh products on the market at the time.
Ethicon issued the Urgent Notice to all operating room supervisors, materials management personnel and chiefs of surgery in the U.S. and Europe, urging them to stop using the mesh immediately and to send any products back to the company for a refund. The company also told surgeons to monitor patients who had the mesh implanted as usual.
The Physiomesh was recalled after an analysis of unpublished data from two European hernia databases found recurrence and reoperation rates after laparoscopic ventral hernia repair using the Ethicon device were higher than those of competing meshes on the market.
Ethicon said it believed characteristics of its product were partly to blame for the recall, and would not be selling the Physiomesh product again.
The U.S. Food and Drug Administration and its European equivalents were notified of Ethicon's recall, but the U.S. agency has not yet issued a recall of its own as of September 2016.
Ethicon said the recall did not affect its Physiomesh Open Flexible Composite Mesh device or other hernia mesh products manufactured or sold by the company.
What is the Ethicon Physiomesh?
The Physiomesh Flexible Composite Mesh is a medical device used in hernia repair surgeries. The Physiomesh is made of a synthetic plastic-like material called polypropylene and is used as a patch to repair the hernia.
A hernia occurs when an organ pushes through an opening in the muscle or tissue that contains it. Abdominal wall hernias, also called ventral hernias, are the most common type and often occur as a result of surgery.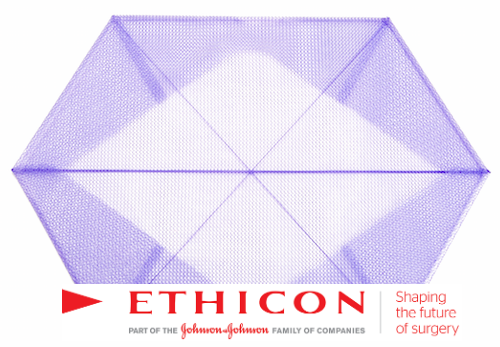 More than 1 million abdominal wall hernia repairs are performed each year in the United States. About 100,000 to 150,000 surgeries are performed to correct abdominal wall hernias that occurred as a result of surgery, according to Medscape.
Problems & Complications of the Ethicon Physiomesh
The Ethicon Physiomesh has been associated with several complications. Medical literature has cited recurring hernias and pain following surgery as some of the most common. If the hernia recurs, patients must often undergo additional surgeries to repair it.
The following complications have been associated with the Physiomesh:
Revision surgery
Recurring hernia
Pain
Infection
Internal scar tissue
Physiomesh hernia mesh compensation amounts
While it's still too early to see what the compensation for the hernia mesh lawsuits will be in past defective medical device lawsuits have paid out hundreds of thousands of dollars to victims from court ordered settlements.
Three recent questions about the Physiomesh mesh lawsuits.
How much can you get from a Physiomesh mesh lawsuit?
I had a hernia recurrence, can I sue the company?
How much compensation would I get from a Physiomesh mesh lawsuit?
How much are the settlements or payouts in the Physiomesh lawsuits?
Some of the defective medical device lawsuits have had millions of dollars in a compensation fund, and then that is divided up between all who have joined the lawsuit. Example: $50,000,000 in a settlement fund that would serve 1,000 victims would be $50,000 per person. This is only an example and does not represent what may happen for Physiomesh product.
Studies show Physiomesh prone to complications
Several studies published in various medical journals have compared the Physiomesh to other meshes on the market and found Ethicon's Physiomesh caused significant complications.
One study published in the journal Surgical Endoscopy in March 2016 intended to compare Ethicon's Physiomesh with Bard Davol's Ventralight mesh in 100 patients at a single hospital.
Researchers cut the study short after some of the patients implanted with the Physiomesh suffered recurring hernias and severe pain after surgery.
About 20% of the patients who received the Physiomesh device had a recurring hernia in the first 6 months following surgery, and most patients in the Physiomesh group reported significantly higher rates of pain within the first 3 months of surgery.
Researchers concluded:
"Although this clinical trial was terminated prior to the preplanned recruitment goal, the obtained results from the enrolled patients indicate that the PH [Physiomesh] system [is] associated with significantly greater hernia recurrences and postoperative pain compared with the VS [Ventralight] system. This confirms the superiority of the elastic mesh concept, which may be a safer and more efficacious option for laparoscopic ventral hernia repairs."
Another study published the same journal in August 2015 compared four different meshes in rats and found the Physiomesh fractured over time and led to an increase in scar tissue formation. Still the mesh only had a minimal adherence to the abdominal wall, researchers said.
Yet another study published in the Journal of the Society of Laparoendoscopic Surgeons showed the Physiomesh caused significantly more inflammation, fibrosis and hemorrhage compared to the Ventralight system in female pigs. The Physiomesh had significantly less adherence to the abdominal wall, as well.
Ethicon Physiomesh approved without pre-market research
The U.S. Food and Drug Administration approved the Physiomesh Flexible Composite Mesh system on April 9, 2010 through its controversial 510(k) clearance program.
This means the FDA deemed the mesh "substantially equivalent" to similar meshes on the market without requiring Ethicon to submit rigorous clinical trial data to prove its safety and effectiveness.
The FDA's 510(k) program merely required Ethicon to offer a reasonable assurance of safety and effectiveness.
According to Ethicon's 510(k) application, the Physiomesh "met all testing criteria, demonstrated substantial equivalence to its predicate devices and did not raise any new questions of safety or effectiveness."
Unfortunately, as the company's recall of all Physiomesh Flexible Composite Meshes 6 years after the device's approval shows, those questions of safety and effectiveness were raised after the device came to market, and the lives of patients were put at risk as a result.
Ethicon Physiomesh Lawsuit
The Physiomesh Flexible Composite Mesh, manufactured by Ethicon, Inc. (a subsidiary of Johnson & Johnson) has been linked to several complications patients who underwent laparoscopic ventral hernia repair.
The device has been shown to cause increased rates of hernia recurrence and postoperative pain compared to similar meshes on the market.
Ethicon recalled the Physiomesh device in May 2016 and surgeons across the U.S. and Europe were advised to stop using the mesh immediately. Ethicon told those surgeons to monitor those patients already implanted with the mesh as usual.
How do I file an Ethicon Physiomesh Lawsuit?
If you or someone you love had a hernia repair surgery using the Ethicon Physiomesh, you may be eligible for financial compensation.
Lawsuits are being filed against Ethicon Inc. and its parent company Johnson & Johnson due to an increased risk of complications caused by the mesh product. Those complications can include recurring hernias, the need for additional surgeries, and increased pain following surgery.
If you were injured as a result of your Physiomesh implant, contact National Injury Help today to speak with a member of our legal team. We can help answer questions you may have about how to file a lawsuit and whether or not your case qualifies.
Ethicon Physiomesh Lawsuits forming in these States:
Alabama (AL), Alaska (AK), Arizona (AZ), Arkansas (AR), California (CA), Colorado (CO), Connecticut (CT), Delaware (DE), Florida (FL), Georgia (GA), Hawaii (HI), Idaho (ID), Illinois (IL), Indiana (IN), Iowa (IA), Kansas (KS), Kentucky (KY), Louisiana (LA), Maine (ME), Maryland (MD), Massachusetts (MA), Minnesota (MN), Mississippi (MS), Missouri (MO), Montana (MT), Nebraska (NE), Nevada (NV), New Hampshire (NH), New Jersey (NJ), New Mexico (NM), New York (NY), North Carolina (NC), North Dakota (ND), Ohio(OH), Oklahoma (OK), Oregon (OR), Pennsylvania (PA), Rhode Island (RI), South Carolina (SC), South Dakota (SD), Tennessee (TN), Texas (TX), Utah (UT), Vermont (VT), Virginia (VI), Washington (WA), Washington DC (DC), West Virginia (WV), Wisconsin (WI), Wyoming (WY
Call 1-800-214-1010 today or use the form on the right-hand side of your screen. We are available 24 hours a day, 7 days a week and the consultation is completely free.
Physiomesh Lawsuit Claims & Settlements|Physiomesh Recall Problems Complications page updated on April 10, 2010