National Injury Help is currently investigating a link between the Bair Hugger Warming Blanket and bacterial infections. If you or someone you love has had knee or hip surgery and had an infection, contact our lawyers and attorneys today as there may be a class action lawsuit forming with substantial cash settlements from claims filed.
NEWS UPDATE: FDA has issued a mandatory Class 2 recall of 165,000 Bair Hugger Forced Air Warming Blankets on Feb. 12, 2018. Recalled lot numbers include these models: R10359, R10360, R10361, R10362, R10363, R10364, R10365 and R10366.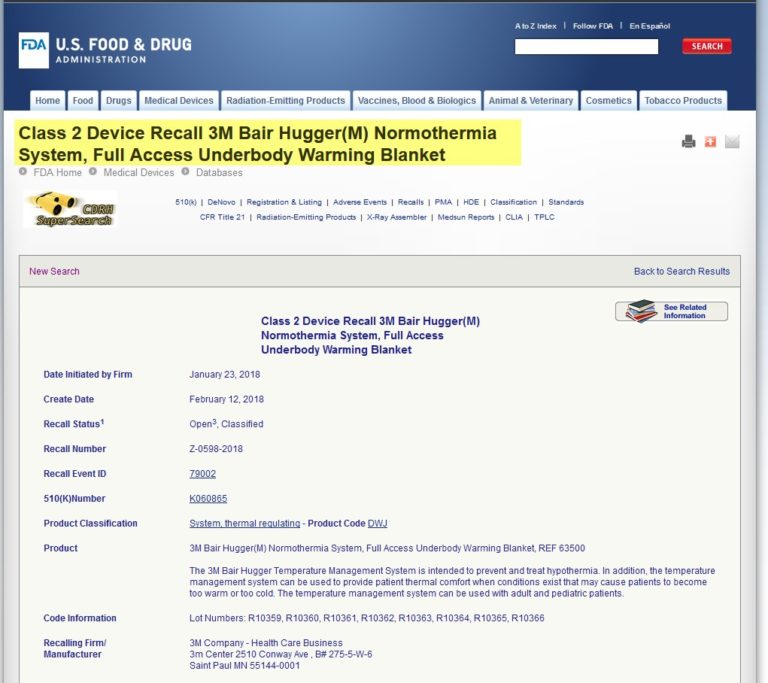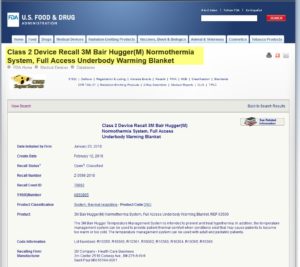 What are Bair Hugger Warming Blankets?
Warming blankets are commonly used when people have knee or hip surgery. The temperature management systems use forced heated air to keep people from getting hypothermia. But the problems lie in the fact that many of these units can lead to infections after having surgery. The system is basically a heater unit connected to a blower that leads to a porous blanket. Warm air circulates around and though the blanket.
Bair Hugger Therapy
It's estimated that hospitals have treated more than 180 million people since the device came on the market in 1988.  Dr. Scott D. Augustine the inventor of the device now speaks up on the device to let people know the risks. "I am very proud of the old technology," he said. "But I am also proud to spread the word that there is a problem." See the New Your Times article link at the bottom of this page.
The manufacturer now warns that the device shouldn't be used for people having knee implants, hip implants, or heart valve surgery as the device may spread bacteria that may lead to infections. Infections happen when the blower pushes unclear hospital air around surgical wounds.
What are the problems or risks of the Bair Hugger Warming Blankets?
Possible sepsis infections after knee or hip surgery. Various studies have shown a large increase of bacterial infestations of people who have been treated with the device.
Possible loss of limb from amputations needed to treat the infections.
 3M Bair Hugger and Arizant Relationship and the FDA
The FDA first approved the Bair Hugger Warming Blankets system in early 1987 under what is called the 510(k) program. This allows a medical manufacturer to produce devices without proof that it's safe, if a similar device is already on the market.
3M purchased Arizant for over $800 million in 2010. Augustine Medical was the originator of the Bair Hugger device and changed the company name to Arizant. The product generated over $31 billion dollars in sales in 2014.
The FDA twice approved Arizant another 510(k) clearance to sell the product. As of today the FDA has not recalled the device, even though it's aware of numerous people reporting problems with the device.
What is the Bair Hugger Warming Blanket Lawsuit about?
3M unarguably knew that the system could lead to infections in some people after surgery but didn't warn hospitals or doctors about it. Failure to insure proper air filters were in place and failure to study the possible risk of infections.
Bair Hugger Lawsuits forming in these States:
Alabama (AL), Alaska (AK), Arizona (AZ), Arkansas (AR), California (CA), Colorado (CO), Connecticut (CT), Delaware (DE), Florida (FL), Georgia (GA), Hawaii (HI), Idaho (ID), Illinois (IL), Indiana (IN), Iowa (IA), Kansas (KS), Kentucky (KY), Louisiana (LA), Maine (ME), Maryland (MD), Massachusetts (MA), Minnesota (MN), Mississippi (MS), Missouri (MO), Montana (MT), Nebraska (NE), Nevada (NV), New Hampshire (NH), New Jersey (NJ), New Mexico (NM), New York (NY), North Carolina (NC), North Dakota (ND), Ohio(OH), Oklahoma (OK), Oregon (OR), Pennsylvania (PA), Rhode Island (RI), South Carolina (SC), South Dakota (SD), Tennessee (TN), Texas (TX), Utah (UT), Vermont (VT), Virginia (VI), Washington (WA), Washington DC (DC), West Virginia (WV), Wisconsin (WI), Wyoming (WY)
Our lawyers and attorneys can provide information on how to file a Bair Hugger lawsuit in the following cities in our claims center:
New York, Chicago, Philadelphia, Detroit, Indianapolis, Columbus, Baltimore, Boston, Seattle, Washington, Milwaukee, Denver, Louisville, Los Angeles, Las Vegas, Nashville, Oklahoma City, Portland, Phoenix, Houston, Tucson, Albuquerque, Atlanta, San Antonio, San Diego, San Francisco, Dallas, Colorado Springs, Arlington, Wichita, Long Beach, Fresno, Sacramento, Mesa, Kansas City, Cleveland, San Jose, Jacksonville, Austin, Memphis, Fort Worth, Charlotte, Virginia Beach, Omaha, Miami, Oakland, Tulsa, Honolulu, Minneapolis.
Source: http://www.nytimes.com/2010/12/25/business/25invent.html?_r=0
Bair Hugger Infection lawsuits claims & settlements page updated on April 5, 2019 for FDA Recall on Bair Hugger warming blankets.