Abilify linked to gambling, sex addiction side effects. Lawsuits forming
Abilify Lawsuit Update: May 10, 2018.  Good news for those who have suffered side effects from Abilfy.
The first of three bellwether Ablify lawsuits have settled out of court for gambling and/or sexual urges claims. The amount of the settlement payouts is undisclosed.  The three cases in Florida were scheduled for trial in June.
The Abilify MDL 2734 (multi-district litigation) went before Judge Casey Rodgers in early May.
Plaintiffs have claimed that the drug, used to treat some mental disorders, caused impulse control problems in users.
People who were treated with Abilify and developed compulsive behaviors like pathological gambling and hypersexuality are filing lawsuits against manufacturer Otsuka. Similar cases were settled in Australia last year against other manufacturers of antipsychotic drugs. The lawsuits allege the makers of Abilify failed to adequately warn consumers about the potential risks associated with their drug.
If you or someone you love took Abilify and were adversely affected, you need to act now.  There may be large cash awards from claims and settlements.  Call
National Injury Help today at 1-800-214-1010 for a free Abilify compulsive behavior case evaluation or use the form on the right-hand side of the screen.
The U.S. Food and Drug Administration (FDA) put out a new warning to consumers Tuesday, May 3, 2016 about Abilify, an antipsychotic drug used to treat mental disorders like schizophrenia and bipolar disorder.
The warning comes after a review of nearly two hundred adverse events reported to the federal agency since the drug's approval in 2002. The FDA said it reviewed 184 reports from its adverse event database, as well as case reports in medical literature, and found a potential risk for uncontrollable compulsive behaviors among users of Abilify or its generic equivalent, aripiprazole.
Abilify is manufactured by Otsuka American Pharmaceutical Inc. and marketed in the United States under an agreement with Bristol Myers Squibb.
The two companies came under fire several years ago after the FDA accused them of illegally marketing drugs like Abilify for unapproved uses. Otsuka agreed to pay $4 million in 2008 for illegally marketing Abilify to elderly patients with dementia-related psychosis and pediatric patients. (Abilify would later be approved to treat certain disorders in children and teens.)
Now the drug makers face new label regulations subject to the FDA's warning, and Otsuka is facing litigation from people who took Abilify and developed uncontrollable behaviors.


Abilify can cause uncontrollable urges to gamble, have sex
The FDA's warning adds to a recent change made to Abilify's label, which included pathological gambling as a possible side effect of the drug.
In Tuesday's warning, the agency said the previous label change made in January did not "entirely reflect the nature of the impulse-control risk." It also included other compulsive behaviors not previously mentioned on Abilify's label, like compulsive sexual behavior, compulsive eating and compulsive shopping.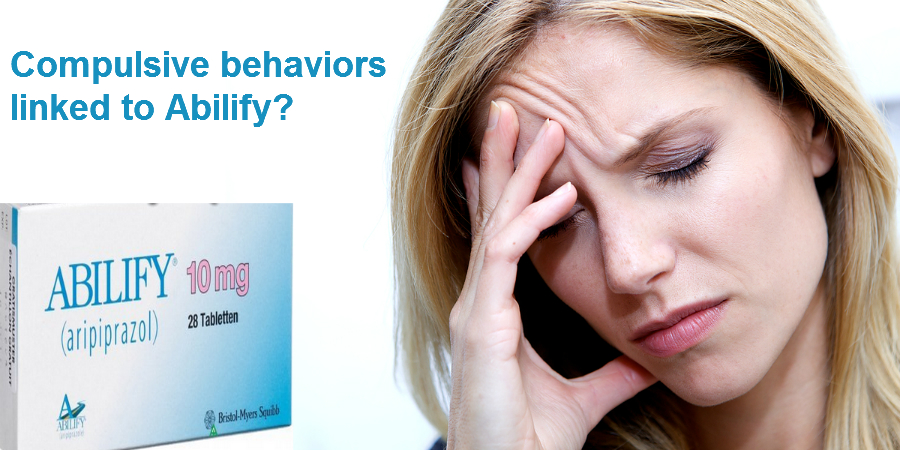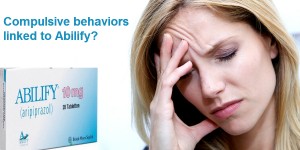 These behaviors reportedly stop when patients stop taking Abilify, the agency said.
What is Abilify used to treat?
Abilify was approved by the FDA in 2002 to treat schizophrenia in adults. In subsequent years, Abilify's approved use was expanded to include the treatment of other mental disorders in both adults and children.
Abilify is approved to treat:
Schizophrenia in adults and children 13 to 17 years of age
Bipolar disorder in adults and children 10 to 17 years of age
Major depressive disorder in combination with other drugs
Irritability associated with autistic disorder in children six to 17 years of age
Abilify is also used to treat tics associated with Tourette's disorder. It can stabilize mood and decrease hallucinations and other psychotic symptoms such as disorganized thinking.
Last year, 1.6 million Americans filled a prescription for Abilify or its generics at outpatient pharmacies.
How does Abilify cause compulsive behaviors?
Abilify belongs to a class of drugs known as atypical antipsychotics which affect the neurotransmitter dopamine in the brain. Dopamine helps control the brain's reward and pleasure centers.
All antipsychotic drugs affect a particular dopamine receptor called D2. Abilify, however, is the only antipsychotic to act as an agonist for D2 receptors as opposed to an antagonist. Agonists activate receptors; antagonists block the work of agonists.
Dopamine Replacement Therapy (DRT) is another type of agonist for D2 receptors. DRT is used to treat patients with Parkinson's disease and is also known to cause pathological gambling in some patients.
Researchers surmise that Abilify's work as a D2 agonist could cause the development of compulsive gambling in some patients.
Abilify also has 5-HT1A partial agonist and 5-HT2A antagonist properties which could promote sexual activity.
How common are compulsive behaviors among users of Abilify?
Since it was approved in 2002, 184 cases of compulsive behaviors have been reported to the FDA or published in medical literature; 167 of those cases were reported to the FDA directly and 17 were published in medical literature.
The FDA said the majority of reported cases (164) involved pathological gambling as a side effect. Compulsive sexual behavior was a distant second, with nine reports being made. About three people reported compulsive eating behaviors and four others reported multiple impulse-control problems.
Of the cases reported, patients were being treated with Abilify or aripiprazole for schizophrenia, schizoaffective disorder, major depressive disorder and anxiety disorders.
Who is at risk for developing compulsive behaviors?
The FDA warns that anyone taking the drug Abilify or its generics are at risk for developing these behaviors, including children and teens.
Some patients are at greater risk than others, and physicians are advised to monitor patients more closely for possible changes in behavior if they have:
Personal or family history of obsessive-compulsive disorder
Impulse-control disorder
Bipolar disorder
Impulsive personality
Alcoholism
Drug abuse
Other addictive behaviors

Case reports
Numerous case reports in medical literature describe the emergence of certain compulsive behaviors in patients taking Abilify.
A review of three case studies published in the British Journal of Psychiatry in July 2011 described three male patients who developed uncontrollable urges to gamble after treatment with Abilify. The men were between the ages of 26 and 29; two of them had gambled in the past.
One patient said his gambling was so bad he engaged in criminal activities to get more money to gamble with. Another patient said he would spend eight hours every day searching for free gambling opportunities on the Internet because he ran out of money to gamble with. The third patient said he racked up about £25,000 worth of debt because of his newfound gambling habit.
All three patients' gambling problems subsided once they stopped taking Abilify and switched to another medication.
In another case report published in February 2016 in the French medical journal L'Encéphale, a researcher described a 28-year-old patient who developed a gambling habit after starting Abilify. The patient said whenever he gambled he went into a "hypnotic state." He took out several personal loans to continue his habit after incurring large gambling debts.
The same patient also said he became hypersexual and started having homosexual sex, despite describing himself as heterosexual before starting Abilify.
Two weeks after he stopped treatment with Abilify, he said his craving for gambling and compulsive sexual behavior subsided. He also said he returned to his heterosexual orientation.
Other Abilify risks and warnings
Abilify has come under scrutiny in the past for potentially serious side effects related to the drug.
Abilify Death in elderly patients
In 2005, the FDA issued a safety warning regarding the use of Abilify and other atypical antipsychotic drugs in elderly patients with dementia-related psychosis. The FDA found these types of drugs resulted in an increased risk of death for these patients.
Several years after the warning was issued, Otsuka was accused of illegally marketing Abilify to treat elderly patients with dementia-related psychosis. A press release from the FDA's Office of Criminal Investigation said Otsuka's sales teams specifically targeted nursing homes when marketing Abilify. Otsuka agreed to pay $4 million because of the allegations.
Withdrawal symptoms in newborns
In 2011, Abilify's label was changed to include the risk for abnormal muscle movements and withdrawal symptoms in newborns whose mothers were treated with Abilify in the third trimester of pregnancy.
Antipsychotic drugs like Abilify are known to cross the placenta. A search of the FDA's adverse event database through October 2008 found 69 cases of abnormal muscle movement or withdrawal symptoms in newborns.
Some of the newborns' side effects subsided within a few hours or days and did not require specific treatments. Other newborns required intensive care unit support and longer hospital stays.
Abilify Suicidal thoughts in children, teens, young adults
The FDA required Abilify's manufacturer to include the increased risk for suicidal thoughts or behavior in children, teens and young adults taking antidepressants in a boxed warning on the drug's label. The agency said there has been a longstanding concern that antidepressants may play a role in worsening depression and increasing suicidality in certain patients during the early phases of treatment.
If you've been affected by Abilify – take our online evaluation, it only takes two minutes to see if you qualify for a large cash award. Click here: https://www.nationalinjuryhelp.com/abilify-gambling-claims-evaluation/
Abilify Lawsuits available in these States:
Alabama (AL), Alaska (AK), Arizona (AZ), Arkansas (AR), California (CA), Colorado (CO), Connecticut (CT), Delaware (DE), Florida (FL), Georgia (GA), Hawaii (HI), Idaho (ID), Illinois (IL), Indiana (IN), Iowa (IA), Kansas (KS), Kentucky (KY), Louisiana (LA), Maine (ME), Maryland (MD), Massachusetts (MA), Michigan (MI), Minnesota (MN), Mississippi (MS), Missouri (MO), Montana (MT), Nebraska (NE), Nevada (NV), New Hampshire (NH), New Jersey (NJ), New Mexico (NM), New York (NY), North Carolina (NC), North Dakota (ND), Ohio(OH), Oklahoma (OK), Oregon (OR), Pennsylvania (PA), Rhode Island (RI), South Carolina (SC), South Dakota (SD), Tennessee (TN), Texas (TX), Utah (UT), Vermont (VT), Virginia (VI), Washington (WA), Washington DC (DC), West Virginia (WV), Wisconsin (WI), Wyoming (WY)
Abilify Lawsuits, Lawyers & Attorneys | Gambling & Sex Addiction Side Effects Page updated on December 12, 2018