The defective drug lawyers and attorneys at National Injury Help are now accepting Zinbryta lawsuit claims for US citizens who have had liver damage, liver failure, brain inflammation or damage from taking the self administered MS drug Zinbryta. There may be substantial cash payouts from settlements in this class action lawsuit.
Sales of this drug worldwide brought in $107 million in 2017. Biogen reported total revenues of 3.1 billion in 2018.
What is Zinbryta?
Daclizumab (trade name Zinbryta) is a humanized monoclonal antibody drug that is once-monthly self-injected into the persons thigh muscle for treatment of relapsing multiple sclerosis (MS).  Zinbryta was first approved by the FDA in 1997 and used to prevent acute rejection of kidney transplants.
The second FDA approval took place in May 2016 (including a boxed warning due to risks of liver damage) for the treatment of relapsing multiple sclerosis in adults.  It's estimated that over 8,000 patients have been treated with Zinbryta worldwide.
Zinbryta was brought to market by AbbVie Inc for sale in America.  Biogen is the seller in Switzerland, Canada and European Union.  Since it was the first of its kind, a humanized antibody, its annual sales were forecasted to be between $100 million and $250 million.
Zinbryta Recall – Removed from the Market.
Last November European regulators voiced safety concerns about the risks of possible serious liver damage.  Biogen pulled Zinbryta from the market April 30, 2018 because of potential adverse events such as liver damage, inflammatory brain disease, encephalitis, seizures, and even death.
Biogen's executive vice president and chief medical officer Dr. Alfred Sandrock issued this statement:  "Biogen believes the voluntary worldwide withdrawal of Zinbryta, a treatment for relapsing multiple sclerosis, is in the best interest of patients." He further states:  "Biogen and AbbVie continue to prioritize patient safety and the care of multiple sclerosis patients worldwide."

The company explained in its press release that it will work with the FDA and EMA as well as doctors worldwide in removing Zinbryta from the market.
The European Medicines Agency (EMA), the EU version of our FDA, issued a press release on February 3, 2018; the following is a direct excerpt from it:
EMA urgently reviewing multiple sclerosis medicine Zinbryta following cases of inflammatory brain disorders
Medicine to be voluntarily withdrawn from the market by the company
The European Medicines Agency (EMA) has started an urgent review of the multiple sclerosis medicine Zinbryta (daclizumab) following 7 cases of serious inflammatory brain disorders in Germany, including encephalitis and meningoencephalitis, and one case in Spain.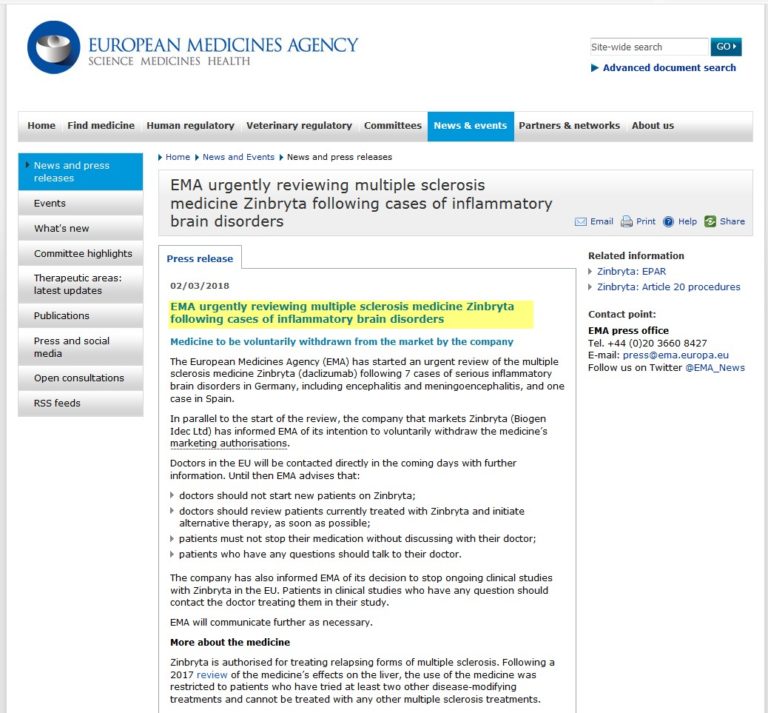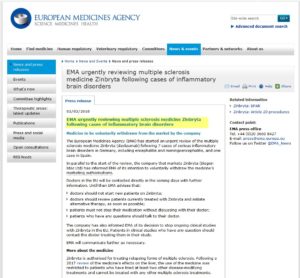 In parallel to the start of the review, the company that markets Zinbryta (Biogen Idec Ltd) has informed EMA of its intention to voluntarily withdraw the medicine's marketing authorisations.
Doctors in the EU will be contacted directly in the coming days with further information. Until then EMA advises that:
doctors should not start new patients on Zinbryta;
doctors should review patients currently treated with Zinbryta and initiate alternative therapy, as soon as possible;
patients must not stop their medication without discussing with their doctor;
patients who have any questions should talk to their doctor.
The company has also informed EMA of its decision to stop ongoing clinical studies with Zinbryta in the EU. Patients in clinical studies who have any question should contact the doctor treating them in their study.  EMA will communicate further as necessary.
————–END OF PRESS RELEASE———–
Zinbryta Deaths & Brain Inflammation.
As noted above, it was the EMA that alerted the medical community after a report of death from liver failure (fulminant liver failure) of a patient being treated with Zinbryta in an ongoing study. Four others in this study group suffered serious liver injury. There have been 12 known reports of brain inflammation linked to this MS drug in the US.
What are the Zinbryta Side Effects?
The safety of the multiple sclerosis medicine Zinbryta is being reviewed; however we were able to find some of the known side effects which may include the following: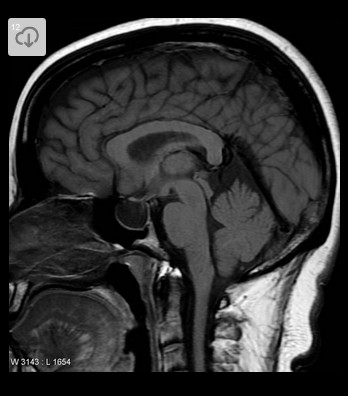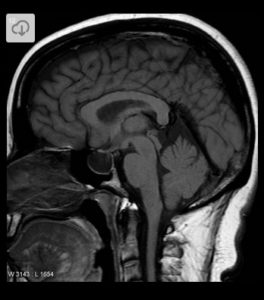 liver problems
fulminant liver failure
brain inflammation
encephalitis
hepatic injury
unexplained nausea
vomiting
abdominal pain
tiredness
loss of appetite
yellowing of the skin and eyes and dark urine
Zinbryta Class Action Lawsuit for Liver Damage, Brain Inflammation
If you suffer from multiple sclerosis and have been prescribed Zinbryta and had liver damage, brain swelling or inflammation, we can help you protect your rights.  Take a moment to call our Zinbryta lawyers at National Injury Help by calling 1-800-214-1010, or use the form on this page. There is never a cost or fee to get the answers you deserve.  The upcoming Zinbryta class action lawsuit may be starting soon. Act now.
Sources:
https://www.fda.gov/Drugs/DrugSafety/ucm600999.htm
https://www.medscape.com/viewarticle/893352
https://www.reuters.com/article/us-biogen-zinbryta/biogen-abbvie-withdraw-multiple-sclerosis-drug-zinbryta-idUSKCN1GE1BV
http://www.ema.europa.eu/ema/index.jsp?curl=pages/news_and_events/news/2017/07/news_detail_002773.jsp&mid=WC0b01ac058004d5c1
Zinbryta Death, Liver Damage & Brain Inflammation Class Action Lawsuit page updated on April 5, 2019