People who suffered complications from Bard 3DMax hernia mesh products are seeking lawyers for filing lawsuits against the manufacturers, claiming the devices were defectively designed and caused them serious injuries. There may be large cash claims from settlements in these Bard 3DMax mesh lawsuits.
Hernias occur when an organ or fatty tissue pushes through a weak spot in the surrounding tissue. The most common types of hernias occur in the inner groin (inguinal), outer groin (femoral), belly button (umbilical) or upper stomach (hiatal). Some hernias can occur as a result of surgery (incisional).
To repair hernias, surgeons often use a mesh or patch to reinforce and provide support to the weakened tissue.
National Injury Help can help file Bard mesh lawsuits
National Injury Help is accepting cases from those injured by Bard 3DMax Mesh.  If you or someone you love was injured as a result of these products, you may be entitled to financial compensation.
To see if your case qualifies for a Hernia Mesh Lawsuit, use the form on the right-hand side of your screen or call 1-800-214-1010 and speak with a member of the Hood National legal team. We can answer your questions and determine if you qualify for a hernia mesh lawsuit with a free case evaluation.
Bard 3DMax hernia mesh compensation amounts
While it's still too early to see what the compensation for the hernia mesh lawsuits will be in past defective medical device lawsuits have paid out hundreds of thousands of dollars to victims from court ordered settlements.
Three recent questions about the Bard 3DMax mesh lawsuits.
How much can you get from a Bard 3DMax mesh lawsuit?
I had a hernia recurrence, can I sue the company?
How much compensation would I get from a Bard mesh lawsuit?
How much are the settlements or payouts in the Bard mesh lawsuits?
Some of the defective medical device lawsuits have had millions of dollars in a compensation fund, and then that is divided up between all who have joined the lawsuit. Example: $50,000,000 in a settlement fund that would serve 1,000 victims would be $50,000 per person. This is only an example and does not represent what may happen for Bard mesh.
Bard 3DMAX Mesh Problems & Complications
Bard's 3DMAX Mesh has been associated with many complications of problematic hernia mesh brands. Nearly 60 adverse event reports have been submitted to the FDA relating to complications suffered by patients implanted with a 3DMAX.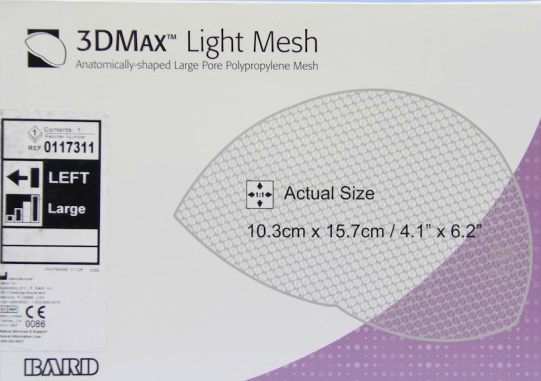 One report submitted in February 2016 by the patient himself detailed complications he suffered years after being implanted with two 3DMAX meshes. The patient initially underwent hernia repair surgery in 2003. More than a decade later, he had his gallbladder removed. Shortly after that surgery, the patient said he began to vomit blood and was taking to the emergency room. Surgeons then discovered that the 3DMAX meshes had become entangled in his small intestine and adhered to the tissue walls. They removed about 12 inches of his intestines along with the mesh.
Another report from March 2016 said a patient implanted with a 3DMAX Mesh suffered a hematoma (abnormal collection of blood outside a blood vessel) following his surgery and complained of significant abdominal pain. Several months after his surgery, the patient told doctors he had shooting pains that radiated down his leg, back and groin. The patient had surgeons take out the 3DMAX mesh after refusing a regimen of painkillers. The report indicates that only 90% to 95% of the mesh was actually removed, however, because a portion of it was surrounded by so much scar tissue.
Has this hernia mesh been recalled?
Bard's 3DMAX Mesh has not been recalled and continues to be sold and used today in hernia repair surgeries.
What is a hernia?
A hernia occurs when an organ pushes through a weakness in the muscle or tissue that holds it in place.
Hernias occur as a result of muscle weakness and strain, and those who are pregnant, obese, lift heavy weights, have a persistent cough or chronic constipation may be at risk for developing one. Hernias can also occur as a result of surgery.
Types of hernias:
There are several different types of hernias, the most common being ventral hernias, which occur in the abdominal wall, often as a result of surgery.
Types of hernias:
•Inguinal – occurs in the inner groin
•Femoral – occurs in the upper thigh/outer groin
•Incisional – occurs through an incision or scar in the abdomen
•Ventral – occurs in the gernal abdominal/ventral wall
•Umbilical – occurs at the belly button
•Hiatal – occurs inside the abdomen, along the upper stomach/diaphragm
Bard 3DMax Hernia mesh lawsuits in these States:
Alabama (AL), Alaska (AK), Arizona (AZ), Arkansas (AR), California (CA), Colorado (CO), Connecticut (CT), Delaware (DE), Florida (FL), Georgia (GA), Hawaii (HI), Idaho (ID), Illinois (IL), Indiana (IN), Iowa (IA), Kansas (KS), Kentucky (KY), Louisiana (LA), Maine (ME), Maryland (MD), Massachusetts (MA), Michigan (MI), Minnesota (MN), Mississippi (MS), Missouri (MO), Montana (MT), Nebraska (NE), Nevada (NV), New Hampshire (NH), New Jersey (NJ), New Mexico (NM), New York (NY), North Carolina (NC), North Dakota (ND), Ohio(OH), Oklahoma (OK), Oregon (OR), Pennsylvania (PA), Rhode Island (RI), South Carolina (SC), South Dakota (SD), Tennessee (TN), Texas (TX), Utah (UT), Vermont (VT), Virginia (VI), Washington (WA), Washington DC (DC), West Virginia (WV), Wisconsin (WI), Wyoming (WY)
Bard hernia mesh lawsuit lawyer claims & settlements page updated on April 10, 2019.