The blockbuster erectile dysfunction drug Viagra has become one of the best-known brand names on earth. Viagra was the first-ever oral medication approved to treat male impotence, changing the lives of millions of men – and their partners – around the world. Despite its popularity, there may be a dark side to the little blue pill. Recent studies have suggested the drug puts users at an increased risk for the deadliest form of skin cancer. Learn more about the drug that has some men wondering what's more significant: sex or skin cancer?
What is Viagra?
Viagra is a prescription medication used to treat erectile dysfunction (ED) in men. Sometimes called "the little blue pill," named for the drug's distinctive color, Viagra was the first oral medication approved to treat ED.
Viagra is now one of the most widely known prescription drugs on the market. Last year, Viagra brought in $1.7 billion in global sales for its manufacturer.
What does Viagra do?
Viagra treats erectile dysfunction (ED), a condition marked by a man's inability to get or maintain an erection firm enough for sex. Once Viagra kicks in, it increases blood flow to the penis and helps the man get and sustain an erection when sexually aroused.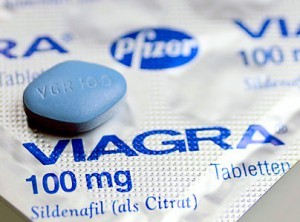 How does Viagra work?
The active ingredient in Viagra, sildenafil, belongs to a class of drugs called phosphodiesterase 5 (PDE5) inhibitors. These drugs' mechanism of action is well-known: they work by blocking the PDE5 enzyme from doing its job.
PDE5 enzymes take up and break down another enzyme called cyclic guanosine monophosphate (cGMP). cGMP builds up in the penis when nitric oxide (NO) is released following sexual stimulation. cGMP helps relax smooth muscle tissue, which widens blood vessels and allows more blood to flow through the penis. This increased blood flow leads to an erection.
PDE5 picks up cGMP enzymes and destroys them. Without cGMP enzymes present, a man cannot get an erection. Viagra and other PDE5 inhibitors bind to the PDE5 enzyme so it cannot pickup and destroy cGMP. This leaves more cGMP enzymes in the penis to widen the blood vessels, increase blood flow and cause an erection.
Who makes Viagra?
Viagra is manufactured by Pfizer Inc., one of the largest biopharmaceutical companies in the world. Pfizer is headquartered in New York, NY, but operates all over the globe.
Pfizer's revenues in 2015 were $48.9 billion, down two percent from 2014.Viagra brought in nearly $1.3 billion for the company in 2015 alone.
When was Viagra FDA approved?
Viagra was approved by the Food and Drug Administration (FDA) on March 27, 1998 to treat erectile dysfunction (ED).
Who invented Viagra?
Sildenafil was synthesized by a group of scientists working for Pfizer in Kent, England in the 1980s and 1990s. Andrew Bell, David Brown and Nicholas Terrett are credited for discovering the drug.
Sildenafil was originally tested as a treatment for high blood pressure and angina pectoris, a kind of chest pain caused by too little blood flow to the heart.
Early clinical trials showed little success in the treatment of angina, but people participating in the trial reported an unexpected side effect: better erections.
Scientists eventually switched their focus from sildenafil as an angina treatment to sildenafil as an erectile dysfunction (ED) treatment.
Today, sildenafil is marketed as both a treatment for ED, under the trade name Viagra, and pulmonary hypertension, under the trade name Revatio. Pulmonary hypertension is a type of high blood pressure that affects the arteries in the heart and lungs. Revatio was approved by the Food and Drug Administration (FDA) in 2005.
What are the side effects of Viagra?
Viagra may cause certain side effects in patients, the severity of which can range from mild to severe. According to the drug's label, the most common side effects include:
Headache
Flushing
Upset stomach
Abnormal vision, such as changes in color vision (having a blue color tinge) and blurred vision
Stuffy or runny nose
Back pain
Muscle pain
Nausea
Dizziness
Rash
Other side effects can occur, including:
Priapism – an erection lasting more than four hours (can cause permanent damage if not treated right away)
Sudden vision loss in or one or more eye
Sudden hearing decrease or loss, ringing in ear (tinnitus)
Heart attack
Stroke
Irregular heartbeats
Who should not take Viagra?
Viagra has the potential to cause serious adverse effects in certain patients, including:
Patients taking nitrates – can cause dangerously low blood pressure
Patients allergic to sildenafil or any components of the tablet
Patients using a guantylate cyclase (GC) stimulator – can cause dangerously low blood pressure
The following patients should not use Viagra:
Patients with pre-existing cardiovascular (heart) disease for whom sex is inadvisable
Patients with low blood pressure (hypotension)
Patients with angina (a type of chest pain caused by reduced blood flow to the heart) – sexual activity may make the condition worse
The following patients should use caution while taking Viagra and may be prescribed the lowest dose possible:
Patients taking alpha-blockers for prostate problems or high blood pressure
Patients taking ritonavir or other CYP3A4 inhibitors
Patients with severe renal (kidney) impairment or liver disease
Has the FDA issued any warnings about Viagra?
Yes. In 2005, the Food and Drug Administration (FDA) issued a safety communication about the potential for sudden vision loss while taking Viagra and other erectile dysfunction medications on the market at the time, Levitra and Cialis.
The agency said vision loss is a potential side effect of these PDE5 inhibitors and is attributed to non-arteritic ischemic optic neutopathy (NAION), a condition where blood flow is blocked to the optic nerve.
The warning advised anyone taking Viagra, Cialis or Levitra to stop taking the medication immediately and seek medical attention if he experienced sudden vision loss.
Similarly, in 2007, the FDA issued a safety communication about the possible risk for sudden hearing loss. The warning came at the heels of a 2007 case report involving a man who experienced sudden hearing loss while taking Viagra. The FDA reviewed its adverse event report database and found 29 other reports of sudden hearing loss while taking Viagra or other PDE5 inhibitors.
How do you take Viagra?
Viagra should be taken no more than once a day about an hour before sexual activity, but the drug can be taken anywhere from 30 minutes to four hours before sex and still be effective, according to the label instructions. Viagra is available in 25 mg, 50 mg, or 100 mg blue, diamond-shaped tablets.
Can you use Viagra while drinking alcohol?
Both Viagra and alcohol can lower blood pressure. Combining the two can increase the chance of adverse side effects caused by low blood pressure, including dizziness, light-headedness, fainting, headache and heart palpitations.
It is typically safe, however, to consume a small amount of alcohol.
The recommended dosage of Viagra is 50 mg for most patients; that dose can be increased to 100 mg or reduced to 25 mg depending on effectiveness and toleration, according to the drug's label.
Viagra can be taken with or without food.
Are there comparable drugs to Viagra on the market?
There are three alternative PDE5 inhibitors available to treat erectile dysfunction (ED) besides Viagra. These include:
Avanafil (Stendra)
Tadalafil (Cialis)
Vardenafil (Levitra, Staxyn)
Avanafil, marketed under the brand name Stendra, is the newest of the PDE5 inhibitors. It was approved merely four years ago by the Food and Drug Administration (FDA) in 2012.
Both tadalafil and vardenafil, marketed as Cialis and Levitra, respectively, were approved five years after Viagra in 2003. Staxyn contains the same active ingredient as Levitra but is an orally disintegrating tablet (ODT); it dissolves on the tongue instead of being swallowed. Staxyn as approved by the FDA in 2010.
Both Levitra and Staxyn are available as generics, while Cialis and Stendra are not.
How much does Viagra cost?
Viagra is a relatively high-priced drug, costing about $25 a pill depending on the strength, and it may or may not be covered by insurance.
The popularity of Viagra, coupled by its somewhat inhibitive sale price, has fueled a prolific online black market for the drug. According to a 2013 New York Times article, Viagra appeared in about 24 million Internet searches a year often in the phrase "buy Viagra." To combat this trend, Pfizer announced it would start selling Viagra online in 2013 through a partnership with CVS.
Still, illicit online pharmacies can sell the little blue pill for as low as $10 per unit, a substantial discount to the $25-per-pill average seen at most major pharmacies. Former Vice President of Pfizer's Global Security division Matthew J. Bassiur was quoted in the same NYT article saying these illicit online pharmacies may be selling counterfeit Viagra manufactured in "filthy and deplorable conditions" and with only 30 to 50 percent of the active ingredient compared to the real thing.
True Viagra can be purchased online – with a prescription – either through Pfizer and CVS or another legitimate online pharmacy. Viagra is not available over the counter (OTC).
Is there a generic version of Viagra available?
There is no generic version of Viagra on the market, yet.
In 2013, Viagra manufacturer Pfizer reached a settlement agreement with the generic drug company Teva. The agreement would allow Teva to sell generic Viagra next year in 2017, more than two years before Pfizer's patent is set to expire in April 2020.
Can Viagra cause skin cancer?
Recent studies have shown a possible link between the use of Viagra and the development of melanoma, the most deadly form of skin cancer.
A study published in JAMA Internal Medicine in June 2014 showed this possible link. Study author Li Wen-Quing and his colleagues found that the use of sildenafil could increase the risk of developing melanoma by as much as 84 percent. The study, which analyzed more than 25,000 men, found 8.6 percent of men who took Viagra developed melanoma, compared to 4.3 percent of men who developed melanoma but did not take Viagra.
A second study published in JAMA a year later indicated a slight but statistically significant increased risk of melanoma after taking Viagra, but the biggest risk was seen in one-time prescription fillers. The study's author, Stacy Loeb, and her colleagues suggested the link between Viagra and melanoma risks was due mostly in part to a person's lifestyle rather than the actual drug.
But a study published in March 2016 in Cell Reports suggested Viagra "releases the PDE5 brake" on melanoma cells and leads to "increased tumor growth."
The study author, Sandeep Dhayade, and his colleagues used real-time monitoring of melanoma cells and determined the enzyme cGMP is a pathway for melanoma cells to grow. Viagra works by binding to PDE5 and stopping it from destroying cGMP. Viagra's mechanism of action could be allowing melanoma cells to grow and migrate.
What is melanoma?
Melanoma is the deadliest form of skin cancer. It forms from melanocyte skin cells, found in the top-most layer of the skin.
Melanoma usually appears as a black or brown tumor on the skin, but it can also appear pink, tan or white. Melanoma can develop anywhere on the body, but most commonly starts on the chest or back in men and on the legs in women.
Melanoma is less common than the other two types of skin cancer, basal cell and squamous cell, but it is much more dangerous because it is more likely to spread to other parts of the body if not caught early.
While the five-year survival rate for stage I melanoma is between 92 and 97 percent, that rate drops to 15 or 20 percent at stage IV.
What are the signs and symptoms of melanoma skin cancer?
According to the American Cancer Society, unusual moles, sores, lumps, blemishes or changes in the way an area of the skin looks or feels could be a sign of melanoma or another type of skin cancer.
It is important to differentiate between a normal mole and a potentially cancerous mole. While most moles are benign (non-cancerous), the American Cancer Society says it is important to recognize any changes in the size, shape or color of moles as this could be a sign a melanoma is developing. It is also to recognize when a new spot has formed on the skin.
Are there lawsuits against the makers of Viagra?
The lawyers at National Injury Help are currently reviewing cases for a potential lawsuit against Pfizer for failing to warn consumers about the possible risk for developing melanoma after taking its erectile dysfunction drug Viagra.
Updated on October 3, 2019.