People who suffered complications from Bard Ventralex ST Hernia Patch products are seeking lawyers for filing lawsuits against the manufacturers, claiming the devices were defectively designed and caused them serious injuries. There may be large cash claims from settlements in these Bard Ventralex ST Hernia Patch lawsuits.
Hernias occur when an organ or fatty tissue pushes through a weak spot in the surrounding tissue. The most common types of hernias occur in the inner groin (inguinal), outer groin (femoral), belly button (umbilical) or upper stomach (hiatal). Some hernias can occur as a result of surgery (incisional).
To repair hernias, surgeons often use a mesh or patch to reinforce and provide support to the weakened tissue.
National Injury Help can help file Bard mesh lawsuits
National Injury Help is accepting cases from those injured by Bard Ventralex ST Hernia Patch. If you or someone you love was injured as a result of these products, you may be entitled to financial compensation.
To see if your case qualifies for a Hernia Mesh Lawsuit, use the form on the right-hand side of your screen or call 1-800-214-1010 and speak with a member of the National Injury Help legal team. We can answer your questions and determine if you qualify for a hernia mesh lawsuit with a free case evaluation.
Ventralex hernia mesh compensation amounts
While it's still too early to see what the compensation for the hernia mesh lawsuits will be in past defective medical device lawsuits have paid out hundreds of thousands of dollars to victims from court ordered settlements.
Three recent questions about the Ventralex mesh lawsuits.
How much can you get from a Ventralex mesh lawsuit?
I had a hernia recurrence, can I sue the company?
How much compensation would I get from a Ventralex mesh lawsuit?
How much are the settlements or payouts in the Ventralex lawsuits?
Some of the defective medical device lawsuits have had millions of dollars in a compensation fund, and then that is divided up between all who have joined the lawsuit. Example: $50,000,000 in a settlement fund that would serve 1,000 victims would be $50,000 per person. This is only an example and does not represent what may happen for Bard Ventralex product.
Bard Ventralex ST Hernia Patch
Manufactured by: C.R. Bard Inc. subsidiary Davol Inc.
Approved: March 2011
The Ventralex ST Hernia Patch was approved by the FDA in March 2011 through the agency's less rigorous 510(k) premarket notification program. The mesh was approved using Bard's Ventralex Hernia Patch, a hernia mesh approved by the FDA in 2002, as a predicate device.
What is this hernia mesh made of?
Bard's Ventralex ST Hernia Patch combines the original Ventralex patch with the Sepramesh IP Composite.
The mesh is made of two distinct layers. The first is made of the plastic-like material polypropylene (PP) – the same used in the Ventralex patch. The second layer is made of PP and polyglycolic acid – the same used in Sepramesh IP.
Like Sepramesh IP, Ventralex ST is coated on one side with an absorbable hydrogel made from sodium hyaluronate, carboxymethylcellulose and polyethylene glycol. The coating is supposed to keep other tissues from adhering to it before it is eventually absorbed and excreted by the body.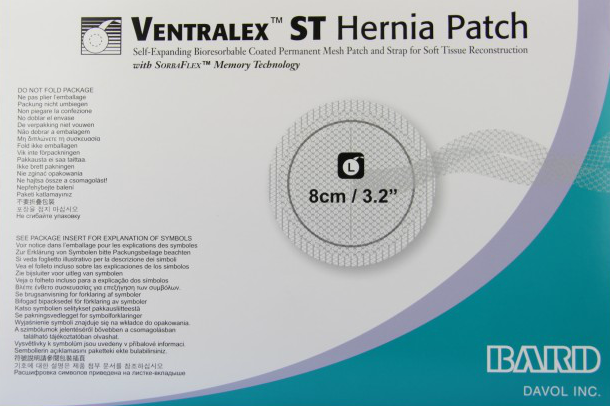 Problems & Complications
The Ventralex ST Hernia Patch has been linked to many of the common hernia mesh complications mentioned earlier in this post.
Patients and their doctors have submitted nearly 40 adverse event reports relating to complications of the Ventralex ST device.
A report filed this past November related to a patient whose Ventralex ST had "folded over with adhesions," including some to the bowel. Surgeons feared the mesh had become infected and removed it completely without injuring other organs or tissues. They then used sutures to repair the defect created by the faulty mesh.
In another report filed in March 2016, a patient underwent hernia repair surgery and was implanted with a Ventralex ST mesh. After the surgery, the patient experienced intense pain and surgeons found that the mesh had torn away from the abdomen and was curled up in a ball. The patient reportedly suffers from nerve pain now and has a deformity caused by scar tissue where the mesh was initially implanted.
Has this Bard hernia mesh been recalled?
Bard's Ventralex ST Mesh was the subject of two class II recalls in 2011. Bard announced the recalls after it became known that certain batches of meshes were placed in the wrong packaging. The recalls were terminated within two years.
Other than this limited recall, Ventralex ST continues to be sold and used today in hernia repair surgeries.
What is a hernia?
A hernia occurs when an organ pushes through a weakness in the muscle or tissue that holds it in place.
Hernias occur as a result of muscle weakness and strain, and those who are pregnant, obese, lift heavy weights, have a persistent cough or chronic constipation may be at risk for developing one. Hernias can also occur as a result of surgery.
Types of hernias
There are several different types of hernias, the most common being ventral hernias, which occur in the abdominal wall, often as a result of surgery.
Types of hernias:
•Inguinal – occurs in the inner groin
•Femoral – occurs in the upper thigh/outer groin
•Incisional – occurs through an incision or scar in the abdomen
•Ventral – occurs in the gernal abdominal/ventral wall
•Umbilical – occurs at the belly button
•Hiatal – occurs inside the abdomen, along the upper stomach/diaphragm
Bard Ventralex ST Patch Hernia mesh lawsuits in these States:
Alabama (AL), Alaska (AK), Arizona (AZ), Arkansas (AR), California (CA), Colorado (CO), Connecticut (CT), Delaware (DE), Florida (FL), Georgia (GA), Hawaii (HI), Idaho (ID), Illinois (IL), Indiana (IN), Iowa (IA), Kansas (KS), Kentucky (KY), Louisiana (LA), Maine (ME), Maryland (MD), Massachusetts (MA), Michigan (MI), Minnesota (MN), Mississippi (MS), Missouri (MO), Montana (MT), Nebraska (NE), Nevada (NV), New Hampshire (NH), New Jersey (NJ), New Mexico (NM), New York (NY), North Carolina (NC), North Dakota (ND), Ohio(OH), Oklahoma (OK), Oregon (OR), Pennsylvania (PA), Rhode Island (RI), South Carolina (SC), South Dakota (SD), Tennessee (TN), Texas (TX), Utah (UT), Vermont (VT), Virginia (VI), Washington (WA), Washington DC (DC), West Virginia (WV), Wisconsin (WI), Wyoming (WY)
Bard Ventralex ST Patch hernia mesh lawsuit lawyer claims & settlements page updated on April 10, 2019.