People who suffered complications from select hernia mesh products are seeking lawyers for filing lawsuits against the manufacturers, claiming the devices were defectively designed and caused them serious injuries. There may be large cash claims from settlements in these mesh lawsuits.
Multiple mesh products have been recalled from the market because they were linked to increased rates of complications, while others remain on the market despite their known risks.
National Injury Help can help file mesh lawsuits
National Injury Help is accepting cases from those injured by Ethicon's Physiomesh Flexible Composite Mesh and Atrium Medical's C-Qur Hernia Mesh. If you or someone you love was injured as a result of these products, you may be entitled to financial compensation.
To see if your case qualifies for a Hernia Mesh Lawsuit, use the form on the right-hand side of your screen or call 1-800-214-1010 and speak with a member of the Hood National legal team. We can answer your questions and determine if you qualify for a hernia mesh lawsuit with a free case evaluation.
Hernia mesh compensation amounts
While it's still too early to see what the compensation for hernia mesh lawsuits will be in past defective medical device lawsuits have paid out hundreds of thousands of dollars to victims from court ordered settlements.
Three recent questions about hernia mesh lawsuits.
How much can you get from a hernia mesh lawsuit?
I had a hernia recurrence, can I sue the company?
How much compensation would I get from a hernia mesh lawsuit?
How much are the settlements or payouts in the hernia mesh lawsuits?
Some of the medical device lawsuits have had millions of dollars in a compensation fund, and then that is divided up between all who have joined the lawsuit. Example: $50,000,000 in a settlement fund that would serve 1,000 victims would be $50,000 per person. This is only an example and does not represent what may happen for hernia mesh products.
What is a hernia?
A hernia occurs when an organ pushes through a weakness in the muscle or tissue that holds it in place.
Hernias occur as a result of muscle weakness and strain, and those who are pregnant, obese, lift heavy weights, have a persistent cough or chronic constipation may be at risk for developing one. Hernias can also occur as a result of surgery.
Types of hernias
There are several different types of hernias, the most common being ventral hernias, which occur in the abdominal wall, often as a result of surgery.
Types of hernias:
Inguinal – occurs in the inner groin
Femoral – occurs in the upper thigh/outer groin
Incisional – occurs through an incision or scar in the abdomen
Ventral – occurs in the gernal abdominal/ventral wall
Umbilical – occurs at the belly button
Hiatal – occurs inside the abdomen, along the upper stomach/diaphragm
What is hernia mesh?
Hernia mesh is a type of surgical mesh used during hernia repair surgeries.
Surgeons stitch in hernia mesh to support weakened or damaged tissue and to prevent the hernia from reopening or recurring.
There are various types of hernia mesh; some are made to remain permanently inside the body, while others are made to eventually be absorbed by the body.
Hernia Mesh Problems & Complications
Certain hernia mesh products have been associated with increased rates of complications. Some of these complications are well-documented in the medical literature and have been reported to the U.S. Food and Drug Administration (FDA) through its MAUDE (Manufacturer and User Facility Device Experience) database.
Hernia mesh complications include:
Inflammation
Infection
Chronic pain
Hernia recurrence
Adhesion
Allergic reaction
Fluid buildup called seroma
Hematoma, or the abnormal collection of blood outside a blood vessel
Fistula formation
Tissue or mesh erosion
Need for additional surgeries (revision surgeries)
Ethicon Physiomesh
Ethicon Inc., a subsidiary of Johnson & Johnson, began marketing its Physiomesh Flexible Composite Mesh after gaining FDA approval in 2010.
The Physiomesh is made of a synthetic plastic-like material called polypropylene and has been associated with increased risks of complications.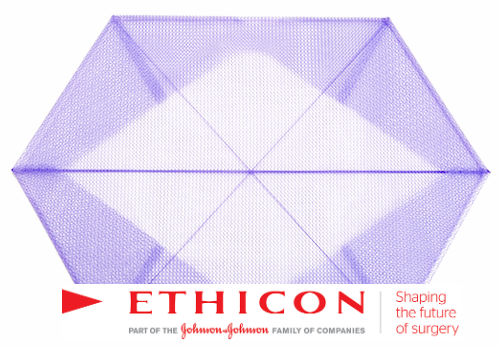 Physiomesh recall
Ethicon voluntarily recalled its Physiomesh products beginning in May 2016 — merely six years after the devices first hit the market.
Ethicon pointed to an analysis of unpublished data from two European hernia databases as the reason for the recall. The data found that recurrence and reoperation rates using the Physiomesh were higher than those of competing meshes on the market.
Ethicon said it believed the characteristics of its product were partly to blame for the recall and said it would not be selling Physiomesh again.
The U.S. Food and Drug Administration and its European equivalents were notified of Ethicon's recall, but the U.S. agency has not yet issued a recall of its own as of December 2016.
Studies link Physiomesh to complications
Several studies published in various medical journals have compared the Physiomesh to other meshes on the market and found Ethicon's Physiomesh caused significant complications.
One study published in the journal Surgical Endoscopy in March 2016 intended to compare Ethicon's Physiomesh with Bard Davol's Ventralight mesh in 100 patients at a single hospital. But researchers cut the study short after some of the patients implanted with the Physiomesh suffered recurring hernias and severe pain after surgery.
About 20% of the patients who received the Physiomesh device had a recurring hernia in the first 6 months following surgery, and most patients in the Physiomesh group reported significantly higher rates of pain within the first 3 months of surgery.
Another study published in the same journal in August 2015 found the Physiomesh fractured over time and led to an increase in scar tissue formation when tested in rats, while a study published in the Journal of the Society of Laparoendoscopic Surgeons showed the Physiomesh caused significantly more inflammation, fibrosis and hemorrhage compared to another mesh system in female pigs.
Atrium C-Qur Hernia Mesh
The C-Qur mesh, manufactured by New Hampshire-based Atrium Medical, is made from the same synthetic plastic-like material as the Physiomesh called polypropylene, but it is also coated with an all-natural Omega 3 gel coating.
C-Qur was the first mesh to use an Omega 3 coating derived from highly purified, pharmaceutical-grade fish oil.
C-Qur Mesh recall
The C-Qur mesh was the subject of a class II recall in 2013. The recall was initiated by Atrium in July 2013 and classified as class II by the FDA the following month.
The meshes were recalled after it became known the products could adhere to the inner packaging liner during shipping or storage if exposed to high humidity.
More than 32,000 C-Qur meshes were taken off the market in the U.S. and internationally. The recall was finally terminated in March 2016, nearly three years after it was initiated.
Despite this recall, the C-Qur mesh continues to be sold in the U.S.
Studies show C-Qur prone to complications
Several studies published in various medical journals found the C-Qur mesh was associated with serious complications, including adhesions and infections.
One study published in the British Journal of Surgery in March 2009 found Atrium's C-Qur mesh reduced adhesion formation in the first seven days after surgery, but by 30 days, researchers found the effect had diminished and there was a significant increase in adhesions.
A Hernia study published in October 2016 found the C-Qur mesh reduced adhesion formation in lab rats for the first 7 days following surgery, but those effects diminished after 21 days.
Another study published in the British Journal of Surgery in December 2012 found C-Qur was associated with significantly more mesh infections compared to other meshes in the study. Researchers said of the 16 patients implanted with the C-Qur mesh, 15 of them suffered from infection after surgery.
Hernia meshes approved without rigorous clinical tests
The Physiomesh and C-Qur hernia mesh were both approved by the FDA through its expedited 510(k) clearance program.
This program lets manufacturers gain approval of medical devices without the need for rigorous premarket clinical testing so long as the device is "substantially equivalent" to another one already on the market.
The Physiomesh was tested in animals before it was approved, according to its 510(k) application, but was not required to be tested in humans.
The C-Qur mesh was approved under similar circumstances.
Despite being the only mesh on the market to use the new Omega-3 gel coating, the C-Qur mesh was approved based on a short-term study in rats only.
The study only evaluated the mesh up until the 28th day after surgery and, as subsequent studies have shown, this particular mesh is prone to complications after 28 days.
Other hernia meshes
Ethicon's Physiomesh and Atrium's C-Qur are not the only hernia mesh products associated with increases in complications. Other hernia mesh products have also been linked to severe adverse events.
Other brands of hernia mesh:
R. Bard – Kugel, Supramesh, 3D Max, PerFix Plug, Ventralex ST Hernia Mesh
Medtronic – Parietex Composite Mesh, Surgipro, Parietex Plug & Patch System, Symbotex Mesh
Hernia Mesh Lawsuits & Settlements
Lawsuits are being filed against Ethicon Inc. and Atrium Medical due to an increased risk of complications caused by their Physiomesh and C-Qur mesh products. These complications include recurring hernias, the need for additional surgeries, and increased pain following surgery.
These are not class action lawsuits. Class actions are filed by one or more people on behalf of a large group affected in the same way by the same person or entity. If a settlement or verdict is reached, it is distributed equally among the plaintiffs in the suit.
Hernia Mesh Lawsuits, on the other hand, are individual lawsuits. Even if they are certified as a mass tort or multidistrict litigation, any settlement or verdict reached is unique to each individual case. For example, when Ethicon agreed to settle between 2,000 and 3,000 lawsuits involving its transvaginal mesh products, the settlement was not divided equally among the plaintiffs. Instead, those who suffered the most damages were awarded the most money in the settlement.
The lawyers at Hood National Law Group are currently accepting Hernia Mesh cases in the following states:
C-Qur Hernia Mesh MDL
The Judicial Panel on Multidistrict Litigation ruled Dec. 7, 2016 to consolidate federally filed C-Qur mesh lawsuits before U.S. District Judge Landya B. McCafferty in the District of New Hampshire. The newly formed C-Qur Hernia Mesh multidistrict litigation (MDL) will bring similar lawsuits filed in federal court together under one roof for pretrial proceedings.
There was a total of 21 lawsuits pending in various district courts nationwide when the MDL Panel's decision came down Dec. 7. Those lawsuits, along with any future C-Qur lawsuit filed in federal court, will now be transferred to the District of New Hampshire.
Read more about the decision to consolidate here.
Do I have a Hernia Mesh Lawsuit?
If you've been injured by Ethicon's Physiomesh or Atrium Medical's C-Qur hernia mesh, you may be entitled to financial compensation.
To see if you qualify for a case, contact the experienced lawyers at National Injury Help today. We are available 24 hours a day, 7 days a week to assist you and answer any questions you may have.
Use the form on the right-hand side of your screen or call 1-800-214-1010 to speak with a member of our legal team for a free case evaluation.
Hernia mesh lawsuits in these States:
Alabama (AL), Alaska (AK), Arizona (AZ), Arkansas (AR), California (CA), Colorado (CO), Connecticut (CT), Delaware (DE), Florida (FL), Georgia (GA), Hawaii (HI), Idaho (ID), Illinois (IL), Indiana (IN), Iowa (IA), Kansas (KS), Kentucky (KY), Louisiana (LA), Maine (ME), Maryland (MD), Massachusetts (MA), Michigan (MI), Minnesota (MN), Mississippi (MS), Missouri (MO), Montana (MT), Nebraska (NE), Nevada (NV), New Hampshire (NH), New Jersey (NJ), New Mexico (NM), New York (NY), North Carolina (NC), North Dakota (ND), Ohio(OH), Oklahoma (OK), Oregon (OR), Pennsylvania (PA), Rhode Island (RI), South Carolina (SC), South Dakota (SD), Tennessee (TN), Texas (TX), Utah (UT), Vermont (VT), Virginia (VI), Washington (WA), Washington DC (DC), West Virginia (WV), Wisconsin (WI), Wyoming (WY)
Hernia mesh lawsuit lawyer claims & settlements page updated for revisions on December 12, 2018