Possible lawsuits are now forming for GenX contaminated drinking water. If you or someone you love were exposed to the GenX chemical from contaminated Cape Fear River drinking water in the Wilmington, N.C. area, or elsewhere, you may be entitled to financial compensation.
Call the lawyers & attorneys at National Injury Help today to see if you qualify for a GenX lawsuit. There may be substantial cash awards from claims and settlements from a Chemours class-action lawsuit.  In the recent past PFOA (perfluorooctanoic acid) lawsuits payouts were settled for up to $921 million dollars to cover roughly 3,500 lawsuits. 
Call 1-800-214-1010 for a free case evaluation or use the form on the right-hand side of your screen.
What is the Chemours GenX Lawsuit about?
Lawyers and attorneys across the country are currently investigating possible lawsuits against Chemours alleging the company knew or should have known its new Teflon replacement product GenX could cause harm to the public and environment but failed to warn the proper agencies.
GenX contamination was discovered in 2013-14 by university researchers studying Cape Fear River water samples downstream from a Fayetteville N.C. water treatment plant.  They found an average of 631 parts per trillion at the Cape Fear PUA's intake.  The Wilmington Star-News originally broke the contamination story in early June 2017.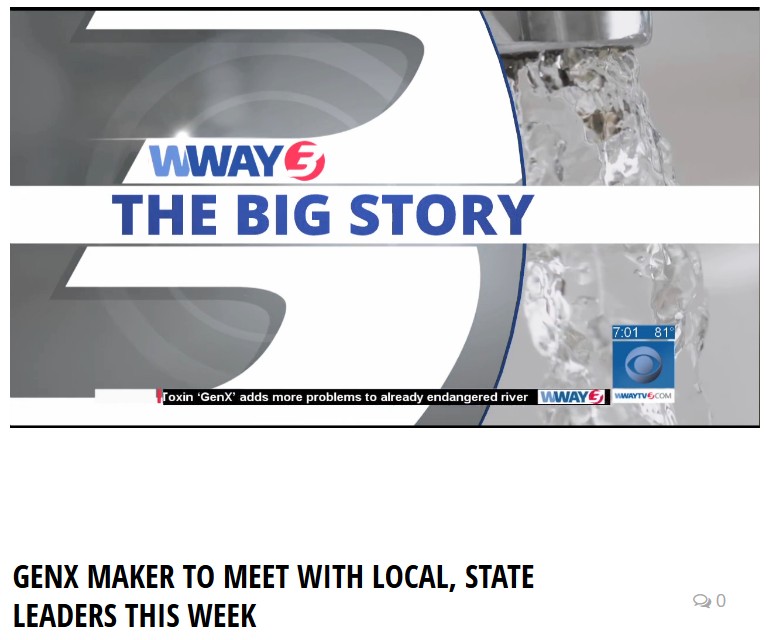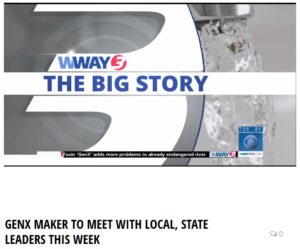 This water shed serves approximately 67,000 people in the Wilmington area.  The Cape Fear Public Authority treats water at the Sweeney treatment plant but it has no current methods of being able to filter out GenX from the water supply.  This is putting many people at risk of developing cancer.
Now North Carolina state officials have taken a stance and is "strongly encouraging" Chemours to halt or reduce the amount of GenX into the Cape Fear River.
Where did the GenX Contamination Happen?
The diagram on the right illustrates the affected area from water that was treated at the Sweeney water treatment plant in Wilmington, N.C.  This water shed serves close to 70,000 customers in the surrounding areas.  The state deployed inspectors to the Chemours Fayetteville Works facility and found discharge from several areas of the plant.  The Sweeney treatment plant that processes water has no current method of filtering out GenX.
The Department of Environmental Quality (DEQ) has continued to monitor the site and collect water samples late into July.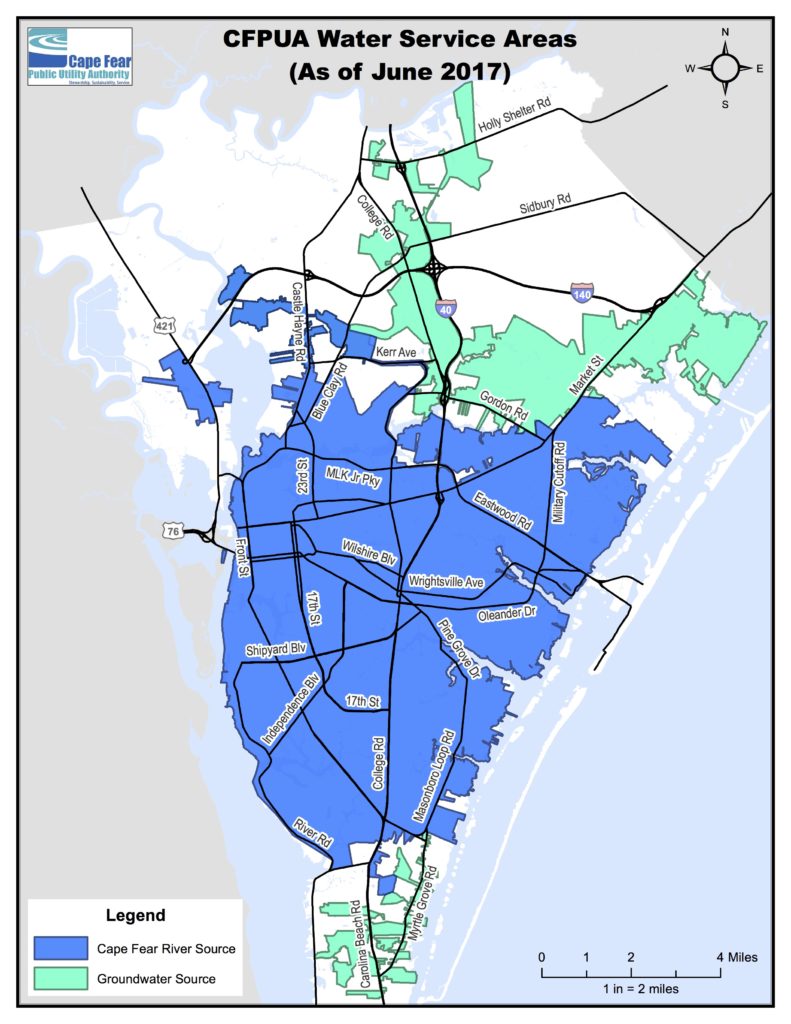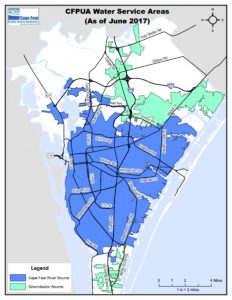 What is GenX used for?
GenX is a fairly new chemical that is used for flourpolymer resin (Teflon) manufacturing.  This is used in many applications from non-stick pans to stain-resistant carpets and furniture.
In 2005, the EPA asked seven of the world's largest chemical companies, including DuPont, to phase out the use and manufacture of PFOA by 2015. The companies agreed and according to the federal agency, met the program's goals on time.  This is the reason why GenX was developed by DuPont's spin-off company Chemours.
It's a highly stable chemical that virtually never deteriorates. This is why it's so dangerous. The EPA has not fully studied the health effects of this emerging contaminant. The EPA has no current guidelines for this chemical.
This chemical was developed to replace the known cancer causing chemical C8 which was halted after DuPont faced a large lawsuit action.  DuPont has faced thousands of lawsuits regarding its Teflon products and PFOA exposure since the late 1990s.
What are the dangers or side effects of GenX exposure?
Like its predecessors, C8 and perfluorooctanoic acid (PFOA) are known cancer causing agents.  It's likely that the side effects of GenX are similar, with the main dangers being:
Kidney cancer
Testicular cancer
Ulcerative colitis
Pregnancy induced hypertension (pre-eclampsia)
High cholesterol
Thyroid disease
Studies have also linked the substance to birth defects, liver, breast and pancreatic cancer in lab animals, as well as prostate, bladder and ovarian cancer in humans.
Farmland, private property, rental properties, ranches, and homes all affected by GenX contamination!
It's believed that GenX has entered into the local aquifers in the surrounding areas of southeast North Carolina in the last 10 years.  A recent news story from WECT 6, tells of local real estate companies feeling the effects of the GenX scare.  Local real estate broker Todd Turner states:  "A number of folks have been calling in and asking if this water quality issue that we are facing is going to hurt their family when they move here," Turner said. "They want to know if there families health is at risk and rightfully so."  He further goes on to say:
GenX could even upset or cancel some home sales since GenX could contaminate the homes pipes.  WECT 6 reached out to local real estate companies and found many have lost deals that weren't currently under contract.

If you're one of suspected thousands who are now faced with not being to sell your land, house, or farmland due to GenX contamination, we want to hear from you, please contact us to share your story of GenX. You also have many rights to compensation and can sue for damages from this Chemours GenX spill.
Can I sue Chemours for GenX drinking water exposure?
You have legal rights to sue if you were exposed to GenX, and we want to hear from you!  Like the past Teflon, C8 and other PFOA lawsuits, the company responsible has paid out multi-millions in fines and settlements to victims. Our law firm intents to hold Chemours responsible for placing people in harms way from this massive contamination of the Cape Fear River water shed.
Other GenX lawsuit questions:
How much can you get from a GenX lawsuit claim?
I can't sell my home or land because of GenX contamination, what can I do?
If I drank GenX contaminated water what are my rights?
How much are the settlements for GenX lawsuits?
How do I file a GenX claim?
What are the payouts for a Chemours GenX lawsuit?
We can answer any of the questions you have about this terrible GenX contamination – please call us at 1-800-214-1010 today.
Chemours GenX MDL Litigation.
Since this is a new problem our law firm is currently investigating the issue, thus litigation for GenX takes much work and timing is crucial during the investigation period.  MDL stands for multidistrict litigation. MDLs help speed up the litigation process by bringing similar lawsuits together in one court. Attorneys on both sides are able to collaborate during the discovery process, which saves time and resources. A few cases are usually picked to be tried first. These are called bellwether trials. Bellwether trials give attorneys the chance to test out legal theories before a jury and can help inform settlement negotiations.
Questions about the GenX Lawsuit? Please contact us today by either using the form on the right hand side, or call toll free at 1-800-214-1010.
Sources:
http://www.cbsnews.com/news/wilmington-nc-cape-fear-river-water-tainted-genx-dupont-chemours/
http://pulse.ncpolicywatch.org/2017/06/15/state-environmental-health-officials-meet-today-chemical-company-genx-wilmington-drinking-water/#sthash.c8aYoW1N.NXILV5iH.dpbs
https://www.wwaytv3.com/2017/06/12/chemours-new-hanover-county/
Chemours GenX Lawsuit Claims & Settlements for Cape Fear Contaminated Water page updated on April 10, 2019.