What is a power morcellator?
A power morcellator is a surgical device used to break up large masses of tissues into smaller pieces. The tools are often used during laparoscopic surgery, a minimally invasive surgical procedure that involves making small incisions in the abdomen and using a video camera to see inside the body. Surgeons use power morcellators to cut up large amounts of tissue or organs so they can be removed through the small incisions in the abdomen. Laparoscopic surgery is often used in lieu of traditional "open" surgical techniques because it usually results in quicker recovery times and shorter hospital stays for patients.
What are power morcellators used for?
Power morcellators can be used during a number of laparoscopic surgical procedures, including gynecological procedures like hysterectomies and myomectomies.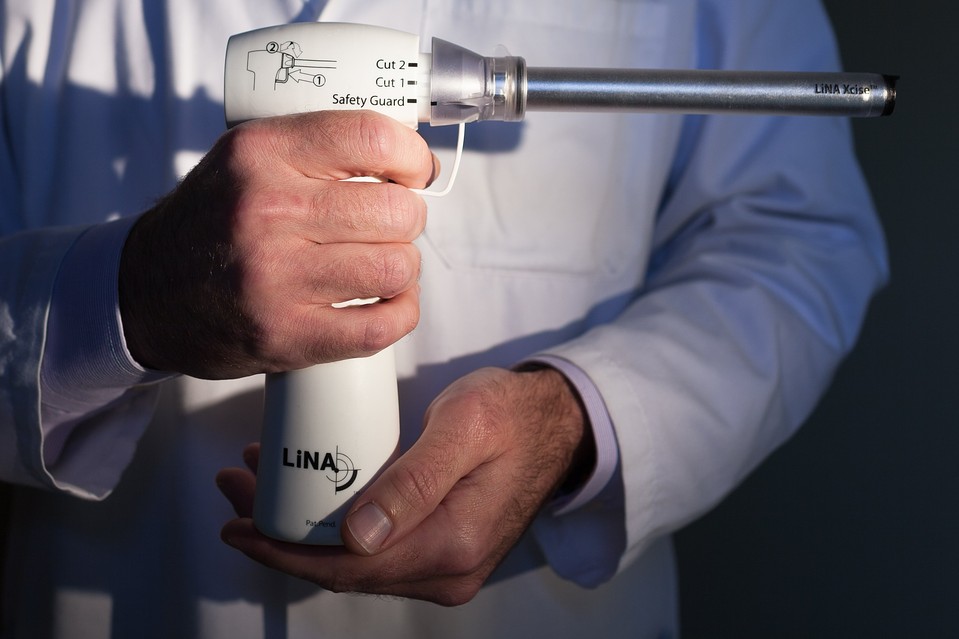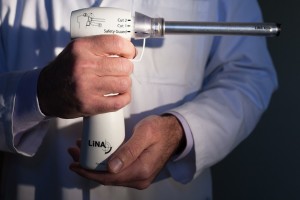 Hysterectomy
A hysterectomy is a surgery to remove a woman's uterus and sometimes the fallopian tubes and ovaries. Women undergo hysterectomies for numerous reasons, including:
Uterine fibroids – noncancerous growths in the wall of the uterus that can cause pain or heavy bleeding
Uterine prolapse – occurs when the uterus slips from its normal position down into the vagina; more common in women who have had several vaginal births, but can happen after menopause or because of obesity
Endometriosis – occurs when the lining of the uterus grows outside on the ovaries where it doesn't belong
Adenomyosis – occurs when the lining of the uterus grows inside the walls of the uterus where it doesn't belong
Cancer or precancer of the uterus, ovary, cervix or endometrium (lining of the uterus)
Myomectomy
A myomectomy is a surgical procedure that involves removing uterine fibroids. Unlike a hysterectomy, a myomectomy allows the uterus to stay in place. This is the preferred fibroid treatment for women who want to become pregnant.
When did the FDA first approve power morcellators?
The FDA approved the first laparoscopic power morcellator in 1991. The first power morcellator with a gynecological indication was approved in 1995. The KSE Steiner Electromechanic Morcellator was approved for use on May 25, 1995. It was manufactured by Karl Storz Endoscopy America Inc.
Who manufactures power morcellators?
Several medical device companies have manufactured various power morcellators used in gynecologic surgical procedures since the devices first hit the market in the 1990s. Today, there are about seven different manufacturers and distributors of power morcellators, including:
Nouvag AG – Morce Power Plus
Karl Storz Endoscopy – Rotocut G1 morcellator
Lake Region Medical – Gynecare X-TRACT tissue morcellator and TRUCLEAR Reciprocating Morcellator 4.0
Isomedix Operations Inc. – TRUCLEAR Reciprocating Morcellator 4.0
Kebomed – LiNA Xcise laparoscopic morcellator
Lumenis – Versacut tissue morcellator
Smith and Nephew – TRUCLEAR power morcellator and IUR Reciprocating Morcellator
What are the possible risks associated with power morcellators?
Power morcellators are used to assist doctors during minimally invasive surgical procedures. Minimally invasive procedures have many benefits to patients, including quicker recovery times and less discomfort after surgery. Despite the benefits of minimally invasive surgery, power morcellators used during these procedures can cause potentially serious problems.
Injury to surrounding organs
There is a risk of injury to surrounding organs when undergoing surgery with a power morcellator. The blades of the morcellator can knick abdominal organs, such as the bladder, bowel, ureters, pancreas, and spleen, even blood vessels.
Parasitic growth of retained tissue
Evidence suggests morcellated tissues left in the body after surgery can develop into parasitic myomas (fibroids).
Parasitic myomas are fibroids made of uterine tissue located in other parts of the body. They often attach themselves to other tissues or organs where they derive a blood supply and grow.  Parasitic myomas are typically noncancerous but can lead to abdominal pain and other side effects.
One case report published in the Journal of Gynecological Endoscopy and Surgery in 2009 reported on a woman who developed a parasitic myoma after undergoing a myomectomy using a power morcellator. Doctors found the growing parasitic myoma three years after her initial surgery when she complained about severe pain in her abdomen. Doctors found a mass made of uterine tissue attached to the tissues in her stomach.
The case report authors concluded "all tissue pieces that are morcellated should be diligently removed" to reduce the risk of parasitic myomas.
Spreading of undiagnosed cancer
Laparoscopic power morcellation can spread tissues throughout the abdomen; in some cases this can lead to parasitic myomas, in others it can lead to the spread of undiagnosed cancer.
About 1 in 350 women who undergo a hysterectomy or myomectomy for the treatment of fibroids have unsuspected uterine sarcoma, a type of uterine cancer that includes leiomyosarcoma, according to the FDA.
When a power morcellator is used to break up tissues in a woman who has undiagnosed cancer, it could spread those cancerous cells throughout her abdomen and pelvis, spreading the cancer and significantly worsening her chances of long-term survival.
Has the FDA issued any warnings about power morcellators?
Yes, the FDA has issued several warnings regarding the use of power morcellators during certain gynecological procedures.
April 2014 Warning
On April 17, 2014, the FDA issued a warning about the risk of power morcellators spreading occult (unknown) cancer in women undergoing hysterectomies or myomectomies.
The alert warned the devices can spread cancer beyond the uterus, severely worsening a woman's chances of long-term survival. There is also no reliable method for predicting whether a woman with fibroids may have a uterine sarcoma. For these reasons, the agency said it discouraged the use of power morcellators during hysterectomies or myomectomies for uterine fibroids.
The FDA also said it would organize a meeting of the Obstetrics and Gynecological Medical Device Advisory Committee to discuss the clinical role of power morcellators in the treatment of uterine fibroids and whether or not a "black box" warning should be included on the product's label.
November Update and 'Black Box' Warning
On November 24, 2014, the FDA updated its April 17 safety communication to include an analysis of scientific literature and discussions from the Obstetrics and Gynecological Medical Device Advisory Committee (OGMDAC) meeting.
About 1 in 350 women who underwent a hysterectomy or myomectomy for uterine fibroids were found to have unsuspected uterine sarcoma – a risk the FDA said may be higher than previously thought. The prevalence of unsuspected uterine leiomyosarcoma is about 1 in 498.
Based on discussions from the OGMDAC's July meeting, the FDA concluded the labels of all power morcellators should include a boxed warning. "Black box" warnings are the FDA's strictest warning for medical devices and drugs, indicating there is reasonable evidence of a serious hazard associated with the product.
Are there alternatives to using power morcellators?
There are several alternative treatment options for systematic uterine fibroids, both surgical and non-surgical. In its 2014 safety communication, the FDA offered the following additional options that do not use power morcellators:
Traditional hysterectomy (vaginally or abdominally) or myomectomy
Laparoscopic hysterectomy or myomectomy without morcellation
Laparotomy or minilaparotomy
Catheter-based uterine artery embolization (deliberate blocking of the uterine artery)
Drug therapy
Evidence suggests vaginal hysterectomies are associated with better results and fewer complications than laparoscopic or abdominal hysterectomy, according to the FDA.
Morcellation 'in a bag'
In April 2016, the FDA announced it had approved a first-of-its-kind containment system to trap tissue cut by power morcellators and prevent them from spreading throughout the abdominal cavity. It is essentially a bag that is inserted into the abdomen during surgery. Tissue that is slated for removal, such as the uterus, is placed inside the bag, where it is morcellated and removed.
PneumoLiner, manufactured by Ireland-based Advanced Surgical Concepts Ltd., was approved on April 7, 2016. According to the FDA, it should only be used in patients who are not suspected to have cancer. The agency is also requiring Advanced Surgical Concepts to warn patients and physicians about the risk of spreading cancer during the procedure.
Have power morcellators been recalled?
Despite issuing several safety communications and requiring a "black box" warning on all labels, the FDA has not issued a recall of power morcellators currently on the market.
Some manufacturers have voluntarily recalled or stopped sales of their power morcellators. Most notably, Johnson & Johnson's Ethicon division suspended global sales of its morcellators following the FDA's April safety communication. Soon after the Obstetrics and Gynecological Medical Device Advisory Committee convened for a meeting over power morcellators in July 2014, the company issued a voluntary recall of its morcellator products.
The following products were covered in Ethicon's suspension:
Gynecare Morcellex Tissue Morcellator
Morcellex Sigma Tissue Morcellator System
Gynecare X-Tract Tissue Morcellator
Are there lawsuits against the makers of power morcellators?
Yes. There is a multidistrict litigation (MDL) pending in the U.S. District Court for the District of Kansas. About 31 cases against Johnson & Johnson's Ethicon Division are currently pending in the MDL with Sr. District Judge Kathryn H Vratil presiding.
This product liability litigation alleges Ethicon Inc. knew of the risks associated with its power morcellators but failed to warn the public about those risks.
Unlike class action lawsuits, each case in an MDL is heard individually and any settlement or judgment is made for each individual case.
There are also power morcellator cases pending in state courts throughout the country which are not part of the federal MDL.
Have any settlements been made in power morcellator cases?
Yes. Johnson & Johnson began settling power morcellator cases this year, settling nearly 70 cases before March 16, 2016. Some of the company's settlements have ranged from about $100,000 to $1 million, according to the Wall Street Journal.
According to attorneys, Johnson & Johnson is in talks to settle more morcellator cases, including cases pending in state courts.
The first power morcellator case to settle was against manufacturer LiNA Medical. The company settled the case in 2015 for an undisclosed amount just days before it was scheduled to go to trial.
I was diagnosed with cancer after a power morcellator was used during my surgery. Can I file a lawsuit?
The experienced lawyers and attorneys at National Injury Help can help determine if you are eligible for a large settlement for your power morcellator injury. With power morcellator cases already settling out of court, it is important that you act now. Finding out if you are eligible is free; simply fill out the form on the right-hand side of your screen or call us at 1-800-214-1010.