Concerta Lawsuit Claims & Settlements
Has your child suffered from suicidal thoughts or actions after taking the drug Concerta for ADHD?
The Food and Drug Administration has issued several warnings regarding the potential for Concerta to cause hallucinations, and aggressive or psychotic behavior in children and adolescents. Recent studies have also linked the ADHD drug to an increased incidence of suicide in teens.
If your child was harmed as a result of taking Concerta, you may be entitled to financial compensation. There may be substantial cash awards from claims and settlements from a Concerta lawsuit. Call the lawyers at National Injury Help today to see if you qualify for a Concerta lawsuit.
Call 1-800-214-1010 for a free case evaluation or use the form on the right-hand side of your screen.
Concerta Suicidal Thoughts
Concerta is a stimulant prescribed to children and adults for the treatment of attention deficit hyperactivity disorder, or ADHD. Concerta is manufactured by Johnson & Johnson's Janssen Pharmaceuticals and was approved by the FDA in August 2000.
Concerta is indicated for children as young as 6 and for adults 65 years of age or younger. Its active ingredient, methylphenidate, is an extended release version of generic Ritalin and can last in the body up to 12 hours. This means children taking Concerta don't have to take medication during school hours.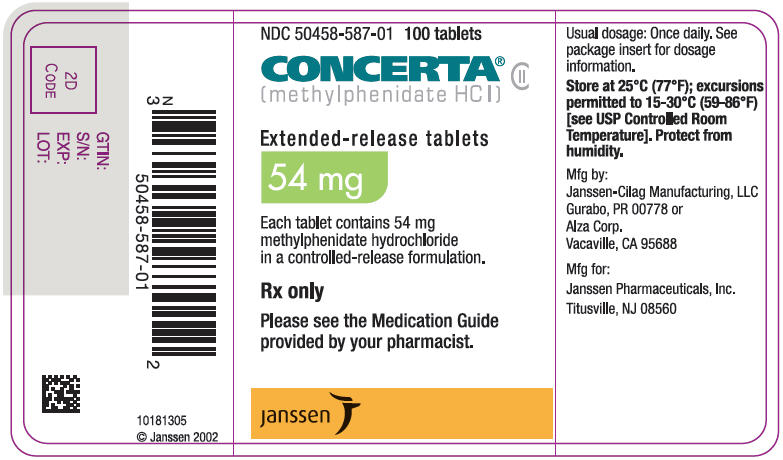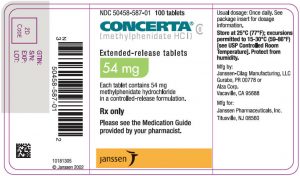 Approximately 11% of US children aged 4 to 17 have been diagnosed with ADHD as of 2011; boys are about one-third more likely to be diagnosed than girls. ADHD is a behavioral disorder marked by hyperactivity, difficulty paying attention and impulsive behavior. Symptoms of ADHD may lessen with age, but the disorder often follows children into adulthood. Children diagnosed with ADHD may have difficulty in school, troubled relationships with family and friends and may suffer from low self-esteem.
Stimulants like Concerta are the most commonly prescribed medications to treat ADHD and work by boosting and balancing the levels of neurotransmitters in the brain. Although Concerta can help improve the signs and symptoms of inattention and hyperactivity, it can also cause unwanted and potentially life-threatening side effects in children.
The FDA has warned that Concerta can cause psychiatric problems in children and adolescents taking the drug, including hearing voices, becoming suspicious for no reason, or becoming manic. Studies published in various medical journals have also found an increased incidence of suicide in kids taking Concerta.
Children and teens harmed by Concerta may be able to seek settlements in the form of a Concerta Lawsuit.
Concerta Studies Find More Cases of Suicide in Teens
In 2007, the FDA issued a news release about Concerta and their risk for psychiatric problems. The agency said children and teens taking the stimulant are at an increased risk for adverse psychiatric symptoms, including hallucinations, mania and paranoia, even if they had no previous psychiatric problems.
Manufacturers of all ADHD medications, including the makers of Concerta, Johnson & Johnson, were required to notify all patients and doctors about the increased risk and to include a patient guide with all prescriptions.
On top of the FDA's warning, numerous studies have found increased risks of suicide in children and teens taking Concerta, including one study that found there were 16,091% more cases of suicide in kids aged 11 to 14 taking an ADHD medication compared to kids the same age not taking an ADHD medication.
Drug Safety Study
A 2009 study published in the journal Drug Safety found more cases of suicide among pre-teens and teens after an analysis of the UK General Practice Research Database.
Researchers analyzed more than 18,000 patients aged 2 to 21 years and found more cases of suicide among kids and teens taking an ADHD medication, including Concerta, compared to those not taking an ADHD medication.
Among 11 to 14 year olds, researchers found there were 16,091% more cases of suicide involving kids taking ADHD medications. Among 15 to 21 year olds, there were 84% more cases of suicide involving teens and young adults taking ADHD medications.
SpringerPlus Study
A 2014 study published in the journal SpringerPlus analyzed adverse drug reactions related to methylphenidate reported to the French Pharmicovigilance Database between 1985 and 2011 and found 181 reported cases. Of those 181 cases, 41% involved neuropsychiatric effects similar to those cited by the FDA.
The majority of cases (143 of 181) involved children with an average age of about 10. Researchers also found that 30% of the reported cases of adverse effects were from patients prescribed methylphenidate off-label. This means almost one-third of reported cases involved drugs that were prescribed for conditions not approved by the FDA.
European Psychiatry Study
A 2010 study published in the journal European Psychiatry studied the rate of ADHD in adolescents who have attempted suicide. The study looked at 23 teens who attempted suicide and found 65% of them were diagnosed with ADHD.
According to the study authors:
"These preliminary results suggest a significant association between ADHD and suicidal behavior in adolescents."
These results are especially troubling considering ADHD medications may be exacerbating these suicidal tendencies.
Other Side Effects of Concerta
Concerta is associated with other side effects, some of which can be serious and life-threatening. Some of common side effects of Concerta include:
Decreased appetite
Dry mouth
Trouble sleeping
Dizziness
Stomach ache
Increased sweating
Headache
Nausea
Anxiety
Weight loss
Irritability
Concerta has also been linked to more serious side effects, including heart problems and long-lasting erections.
Sudden Cardiac Events
In 2009, the FDA issued a safety communication regarding an agency-sponsored study on stimulants that found children taking methylphenidates like Concerta may have an increased risk of sudden cardiovascular events, such as heart attacks.
Two years later, the FDA issued another safety communication that said further studies did not indicate an increased risk but children with a history of heart problems should not be prescribed medications like Concerta.
Priapism
In 2013, the FDA warned drugs like Concerta could cause a condition known as priapism is adults and children. Priapism is a potentially dangerous condition caused when blood gets trapped in the penis leading to erections that can last for four hours or more. If not treated, priapism can cause permanent erectile dysfunction. The FDA warned it was especially dangerous for kids, who may not tell an adult when symptoms occur.
Between 1997 and 2012, the FDA received 15 reports of priapism from kids and adults taking drugs like Concerta. Of those 15 cases, 12 of them involved children and two needed surgery to drain blood from the penis.
Black Box Warning
Since its approval in 2000, Concerta has carried a black box warning indicating the risk for dependence and that the medication should be given with caution to those with a history of drug or alcohol dependence.
Black box warnings are the FDA's strongest warnings, indicating there is a risk for serious injury or death associated with the drug.
Concerta Lawsuit Payouts
Previous lawsuits have been filed against the maker of Concerta due to the drug's potential to cause heart problems and priapism.
With recent studies linking the ADHD medication to suicidal thoughts and actions in kids and teens and the FDA's warning about psychiatric problems, new lawsuits may be filed in 2016 by those harmed by Concerta.
Three recent questions about the Concerta lawsuit.
How much can you get for a Concerta lawsuit?
How much compensation would a victim get for taking Concerta and committing suicide?
How much is the settlement amount in the Concerta lawsuit?
The answer to these questions can be difficult to predict, as the class action for this hasn't started yet. There is still time for join in this Concerta lawsuit, but there are statutes of limitations that apply.
Some of the past defective drug lawsuits have had millions of dollars in a compensation fund, and then that is divided up between all who have joined the lawsuit. Example: $10,000,000 in a settlement fund that would serve 1,000 victims would be $100,000 per person. This is only an example and does not represent what may happen for Concerta.
National Injury Help is currently investigating cases for a potential lawsuit against corporate giant Johnson & Johnson and its pharmaceuticals division Janssen, the markers of Concerta.
Concerta Lawsuits filed in these States:
Alabama (AL), Alaska (AK), Arizona (AZ), Arkansas (AR), California (CA), Colorado (CO), Connecticut (CT), Delaware (DE), Florida (FL), Georgia (GA), Hawaii (HI), Idaho (ID), Illinois (IL), Indiana (IN), Iowa (IA), Kansas (KS), Kentucky (KY), Louisiana (LA), Maine (ME), Maryland (MD), Massachusetts (MA), Michigan (MI), Minnesota (MN), Mississippi (MS), Missouri (MO), Montana (MT), Nebraska (NE), Nevada (NV), New Hampshire (NH), New Jersey (NJ), New Mexico (NM), New York (NY), North Carolina (NC), North Dakota (ND), Ohio(OH), Oklahoma (OK), Oregon (OR), Pennsylvania (PA), Rhode Island (RI), South Carolina (SC), South Dakota (SD), Tennessee (TN), Texas (TX), Utah (UT), Vermont (VT), Virginia (VI), Washington (WA), Washington DC (DC), West Virginia (WV), Wisconsin (WI), Wyoming (WY)
If you or someone you love took Concerta and suffered from suicidal thoughts, you may be entitled to financial compensation. Call National Injury Help today to speak with a member of our legal team. We can answer your questions and help you determine if your case qualifies for a possible Concerta Lawsuit.
Call National Injury Help today at 1-800-214-1010 or use the form on the right-hand side of your screen.
Concerta ADHD drug lawsuit claims & settlements attorneys page updated on April 10, 2019.