How do I file a Viagra lawsuit?

Former Viagra users who were diagnosed with melanoma skin cancer may be able to seek financial compensation for their suffering.  There may be large cash claims from settlements in this class action lawsuit.
The lawyers at Hood National Law Group are currently reviewing cases for a potential lawsuit against Pfizer for failing to warn consumers about the potential risk for developing melanoma after taking its erectile dysfunction drug Viagra.
If you were diagnosed with melanoma after using Viagra, you may be entitled to financial compensation. Call the Hood National Law Group today at 1-800-214-1010 for a free case evaluation, or use the form on the right-hand side of your screen, or use our online claims evaluation form.
Most recently, Viagra was linked to an increased risk for the deadliest form of skin cancer, melanoma. Former users of the little blue pill have begun filing lawsuits against the drug's manufacturer after being diagnosed with the often fatal disease, alleging the company knew or should have known about the potential risk of the prescription medication.
If you or someone you know was diagnosed with melanoma skin cancer after taking Viagra, you may be entitled to cash compensation.
What is Viagra?
Viagra is an oral medication used to treat erectile dysfunction, or ED, a condition characterized by a man's inability to get or maintain an erection. ED is a common problem among men, especially as they get older. One study suggests ED affects about 40% of men by age 40, increasing to nearly 70% by the time men reach age 70.
The blockbuster erectile dysfunction drug Viagra was a game-changer for millions of men and their partners when it was introduced to the US market in the late 1990s. Merely months after the drug hit the market, lawsuits were filed against the maker of Viagra due to potentially deadly side effects, including heart attacks and vision loss.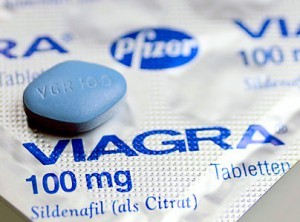 Viagra was the first drug of its kind approved by the Food and Drug Administration (FDA) to treat ED. After its approval in March 1998, Viagra quickly became one of the best-known drugs on the U.S. market and a blockbuster for its manufacturer, pharmaceutical giant Pfizer Inc.; the company has enjoyed billion-dollar-plus revenues from its blockbuster drug each year since at least 2003.
Dubbed "the little blue pill" for its iconic blue color, Viagra has a colorful origin story. The drug's main ingredient, sildenafil, was originally tested to treat high blood pressure and angina, a kind of chest pain caused by too little blood flow to the heart.
Early clinical trials of the drug showed little success for the treatment of angina, but men participating in the trials reported an unexpected side effect: better erections. Scientists eventually turned their focus on sildenafil as a treatment for ED, changing the game for millions of men around the world.
How does Viagra work?
Viagra's main ingredient, sildenafil, belongs to a class of drugs called phosphodiesterase 5, or PDE5, inhibitors. These drugs work by blocking PDE5 enzymes from doing their job within the body.
PDE5 enzymes take up and break down the enzyme responsible for widening blood vessels in the penis, called cyclic guanosine monophosphate, or cGMP. cGMP enzymes build up in the penis when nitric oxide is released following sexual stimulation. These enzymes help relax smooth muscle tissue, which widens blood vessels and allows more blood to flow through the penis, causing an erection.
PDE5 enzymes naturally pick up cGMP enzymes and destroy them. In cases of erectile dysfunction, men need all the cGMP they can get. Viagra binds to the PDE5 enzymes to block them from destroying cGMP, thus leaving more of the enzymes in the penis to widen blood vessels, increase blood flow and cause an erection.
But the first ingredient in any erection — even when using Viagra — is sexual stimulation.
Viagra and melanoma skin cancer
Recent studies have shown Viagra may put users at an increased risk of developing melanoma, the deadliest form of skin cancer.
2014 Study: an 84% increased risk
A study published in JAMA Internal Medicine in 2014 found that the use of sildenafil, the active ingredient in Viagra, could increase a person's risk of developing melanoma by nearly double compared to those who don't take Viagra. For recent Viagra users, that risk could be as high as 84%.
The study, which analyzed more than 25,000 men, found 8.6% of study participants who took Viagra developed melanoma compared to 4.3% who developed melanoma but did not take the drug.
2015 Study: one-time users at risk
In 2015, another study published in JAMA found a slight but statistically significant increased risk of developing melanoma after taking Viagra. The biggest risk was seen in one-time prescription fillers, prompting the study authors to suggest the link between Viagra and melanoma risks was due mostly in part to a person's lifestyle rather than the drug.
2016 Study: cGMP is pathway to cancer growth
A study published in Cell Reports in March 2016 offers a suggestion as to how Viagra may increase a person's risk for melanoma. Viagra, the study authors proposed, "releases the PDE5 brake" on melanoma cells and leads to increased tumor growth.
The study used real-time monitoring of melanoma cells to determine that the cGMP enzyme is a pathway for melanoma cell growth. Because Viagra stops PDE5 from destroying cGMP, the enzyme is left to widen blood vessels, and, perhaps, allow melanoma cells to proliferate.
Melanoma – Viagra Risk, the deadliest form of skin cancer
Melanoma is a type of cancer that forms from melanocyte skin cells. These cells are part of the top layer of skin and make a brown pigment called melanin. Melanin is what gives skin its tanned look when exposed to the sun.
Melanoma is less common than the other two types of skin cancer, basal cell and squamous cell, but it is much more dangerous because it is more likely to spread to other parts of the body if not caught early. The five-year survival rate of stage I melanoma is between 92% and 97%, but that rate drops to 15% or 20% at stage IV.
Signs of melanoma
Melanoma usually appears as a black or brown tumor on the skin, but it can also appear pink, tan or white. According to the American Cancer Society, unusual moles, sores, lumps, blemishes or changes in the way an area of the skin looks or feels could be a sign of melanoma or another type of skin cancer.
It is important to differentiate between a normal mole and a potentially cancerous mole. While most moles are benign (non-cancerous), the American Cancer Society says it is important to recognize any changes in the size, shape or color of moles as this could be a sign a melanoma is developing. It is also important to recognize when a new spot has formed on the skin.
Other side effects of Viagra
Viagra can cause certain side effects in some patients. The severity of these side effects can range from mild to serious. According to the drug's label, the most common side effects include:
Headache
Flushing
Upset stomach
Abnormal vision or blurred vision
Stuffy or runny nose
Back pain
Muscle pain
Nausea
Dizziness
Rash
Other more serious side effects have also been reported while taking Viagra. These include:
Priapism – an erection lasting more than four hours (can cause permanent damage if not treated right away)
Sudden vision loss in or one or more eye
Sudden hearing decrease or loss
Ringing in ear (tinnitus)
Heart attack
Stroke
Irregular heartbeats
Viagra Melanoma Lawsuit Claims Center
Viagra's maker Pfizer has faced numerous lawsuits throughout the years relating to different side effects of the drug. Most recently, former Viagra users have begun seeking legal recourse for the potentially deadly side effect of melanoma.



After Viagra was linked to a possible increased risk of melanoma skin cancer, users of the drug began to file lawsuits against the maker of the drug. These lawsuits are in the early stages and it is likely more lawsuits will be brought against Pfizer relating to Viagra and its skin cancer link.
Viagra Heart attack lawsuits
Merely months after Viagra hit the market, a 63-year-old man filed an $85 million lawsuit against Pfizer after suffering a heart attack while using the drug. Four other men eventually joined the suit. This was the first lawsuit filed against Pfizer for its ED wonder drug, and it certainly wouldn't be the last. Viagra can cause a sudden drop in blood pressure, which can lead to heart attack or stroke.
Viagra Vision lawsuits
Shortly after the first heart attack lawsuit was filed against Pfizer, a New Jersey man sued the drug company after crashing his car when using Viagra. The 1998 suit alleged Viagra caused the man to see blue spots while he was driving his car, which he crashed into some parked cars and a tree. The FDA required Pfizer to update the Viagra label to include the risk of unusual or loss of vision.
Viagra attorneys and lawyers class action lawsuit for skin cancer page updated on June 23, 2016.