If you or someone you love has been diagnosed with breast implant-associated anaplastic large cell lymphoma (BIA-ALCL), we can help you file a lawsuit claim against the manufacturer of the breast implant.  You need a law firm that has the ability to stand up for your rights and our lawyers and attorneys are ready to work.
There may be substantial cash awards from settlements and claims from this textured breast implant cancer lawsuit.  Act now by contacting us at 1-800-214-1010 or use the contact form on the right side of this page.
Textured breast implant cancer risk BIA-ALCL
The FDA has issued a warning to women of a potential rare form of cancer associated with textured breast implants.  The warning comes after the FDA received 359 medical device reports (MDRs) of cancer linked to the implants and 9 deaths.
The deaths were not from breast cancer but a very rare form known as breast implant-associated anaplastic large cell lymphoma, a form of non-Hodgkin's lymphoma, (BIA-ALCL). The FDA findings include data-sets that suggest BIA-ALCL can occur more frequently with textured implants than smooth surface implants.  Symptoms of this particular type of cancer includes: Hardening or lumps around the implants, swelling and redness.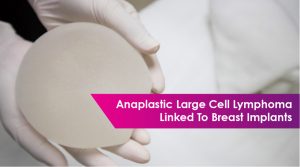 The FDA Breast Implant Numbers:
359 total MDRs, of those 231 had data on the implant surface. 203 were textured and 28 were smooth surface implants.  The reports indicate the content of the implants was less significant, with 186 filled with silicone gel and 126 with saline solution.
It's estimated that around 290,000 women in the United States had breast implant surgery in 2016. Almost half had the surgery after reconstruction from breast cancer.
FDA issues a statement:
"The FDA continues to believe that the available information suggests women with breast implants have a very low, but increased risk of ALCL compared to women who do not have breast implants."
What are textured breast implants?
Textured breast implants are not new.  When any medical device like a breast implant is inserted, the body reacts by forming a protective lining around the object.  This is called capsular contracture. This happens regardless of the implant being smooth or textured.
There are numerous studies that offer conflicting data on the effectiveness of textured implants reducing capsular contracture.  A textured surface helps to prevent the implant from "flipping" or rotating upside down and creating an unflattering look.   In theory the textured surface is supposed to prevent scar tissue fibers aligning uniformly in parallel lines and potentially tightening up.
Doctors are still trying to ascertain why implant surface matters. We feel this should be studied further and ask women to be careful in choosing which type of implant to have. Even though this is a very rare form of cancer, it's still a life threatening disease.
Who Makes Textured Breast Implants in the United States?
There are several breast plant manufactures in the United States that have FDA approved products. The following product list is not intended or implied that these are problematic devices or may cause cancer.
Allergan Natrelle – Products approved November 2006
Allergan Natrelle 410 Highly Cohesive Anatomically Shaped Silicone-Filled Breast Implants – approved February 2013
Ideal Implant Incorporated – approved in 2014
Mentor MemoryGel – approved November 2006
Mentor MemoryShape – approved June 2013
Sientra's Silicone Gel Breast Implants – approved March 2012
Medical Device Reports of Breast Implant-Associated Anaplastic Large Cell Lymphoma
Here is the link to the FDA webpage that shows the MDR Reports. https://www.fda.gov/MedicalDevices/ProductsandMedicalProcedures/ImplantsandProsthetics/BreastImplants/ucm481899.htm
Sources:
https://www.fda.gov/MedicalDevices/ProductsandMedicalProcedures/ImplantsandProsthetics/BreastImplants/ucm239995.htm
http://www.bloodjournal.org/content/127/20/2375?sso-checked=true
http://www.implantinfo.com/faqs/1.49.aspx
Textured breast implant cancer lawsuits claims and settlements page updated on March 31, 2017.