Massage Envy LLC touts itself as the largest provider of massage and skin care in the U.S. is now facing multiple lawsuits alleging sexual assaults and other complaints of some of its members.  Its corporate office is located in Scottsdale, Arizona.
The attorneys and lawyers at National Injury Help are now seeking victims of any form of sexual assault, including rape; that might have taken place at Massage Envy; we want to hear from you!
You may qualify to receive a large cash award and financial compensation from claims and settlements from this Massage Envy lawsuit.  You may have trusted Massage Envy and your therapist but if you were violated in any manner (raped, groping, fondling, forced oral copulation) – take action now; in doing so you may even protect others from this terrible situation.
What Sexual Assault happened at Massage Envy?
The original news story was made public by the website BuzzFeed.com alleging 180 women has been sexually assaulted in various locations. This may just be the tip of the iceberg, and more victims may come to light.
One victim Susan Ingram, who is currently suing Massage Envy, appeared on ABC News telling of her assault during her seventh massage session with therapist James Dater.  He is now in jail after entering a guilty plea to assaulting 9 women.  The basis of her lawsuit is that she claims Massage Envy "knew of at least one prior assault."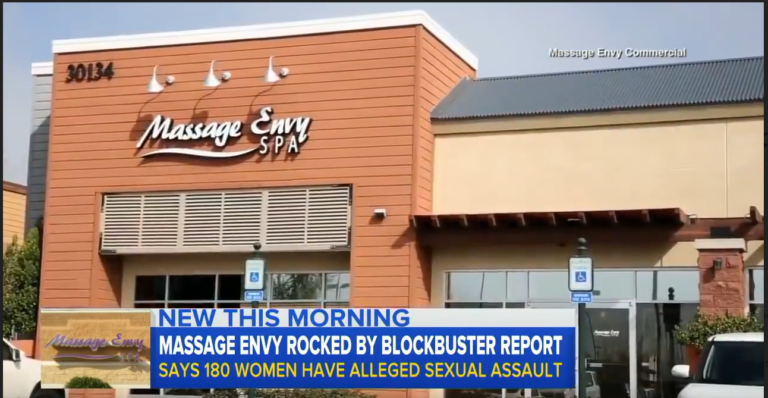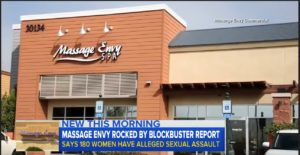 Another victim Danielle Dick, who is a professor at Virginia Commonwealth University, is suing Massage Envy for more than 2 million dollars.  She refused to accept a cash settlement after she was assaulted in 2015 in Henrico County Virginia.  She spoke about the incident on "Good morning America" and stated:
"Powerful corporations, like powerful men, cannot expect to get away with this behavior or get off with a mere apology anymore."
She went on telling of her horrific assault, in hopes of making the public aware and to prevent other victims:
"I'll spare you the horrible details of those 90 minutes at Massage Envy, but in the end I found myself with a masseuse's hand around my throat, and then face down with his hand covering my mouth while he violated me."  
Her attacker, Daeshawn Bullard, then said "Our little secret, OK?"
Massage Envy therapist Daeshawn Bullard, was convicted of both sexual battery and forcible sexual object penetration. He's now serving five years in prison.
What Other Massage Envy locations had victims?
One San Francisco resident, who is one of six plaintiffs, is only identified as "Jane Doe #1" claims to have been sexually assaulted at a Massage Envy located in Burlingame, a city in San Mateo County, California back in November. She claims she was sexually assaulted by 28-year old Brandon James Davis. He was held on $250,000 bail facing 6 felony counts of sexual battery and seven misdemeanor counts of battery, from 13 victims.   As of this writing we have found cases involving sexual assault in Beverly Hills, Redondo Beach, Studio City, Elk Grove and West Covina.
Other Massage Envy Complaints
These sexual assault cases that are coming to light are not the first complaints that Massage Envy has encountered.  Google searches have shed light on other lawsuits in Washington, D.C., and Orlando Florida areas.  How many more of their 1,200 locations is this happening at?
Massage Envy LLC Responds
Since making the national news last year Massage Envy has offered a statement: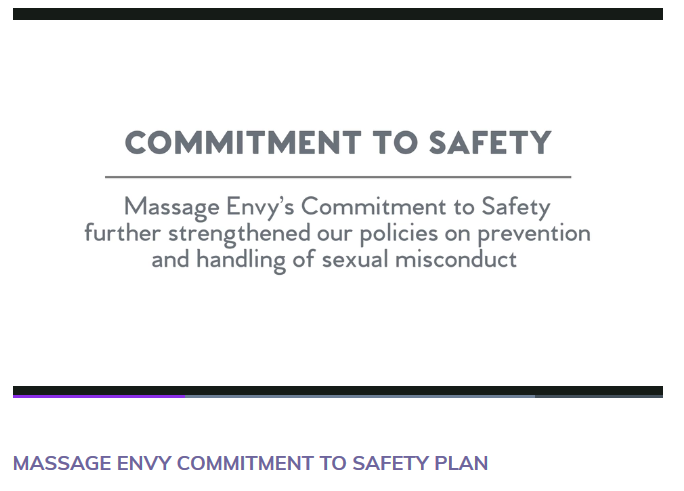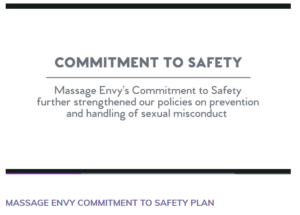 "Our policies require that franchised locations follow a rigorous hiring process, including extensive background screenings, reference checks and ensuring therapists meet state licensing and certification requirements. Franchisees must put every therapist through a mandatory training program, which has been recognized by the industry as a model for teaching safe, professional practices." 
"While we believe our policies and standards are the most stringent and comprehensive in the industry, we are constantly working to enhance them, and that work includes listening to clients of Massage Envy franchised locations, like Ms. Dick."
While doing research for this, we also found that Massage Envy is buying internet ads on Google


and linking those paid ads to a "Safety" page where Melanie Hansen General Counsel for Massage Envy LLC is shown in a video explaining their "commitment to Safety Plan".  If you choose to watch this video, here is the link: https://www.massageenvy.com/a-commitment-to-safety
Massage Envy by the numbers
– 1,200 spas and more being built across the US.
–  20,000 plus massage therapists.
–  $1.3 billion in annual sales.
–  1.6 million members nationwide
I was a victim of sexual assault at Massage Envy – What can I do?
We understand the feeling of shame and embarrassment of coming forward with a sexual assault case. In fact most victims never report the crimes, but we want to give you a voice!  Take action now if you were sexually assaulted at any Massage Envy or other massage provider.   You may qualify to receive a large cash award and financial compensation from claims and settlements from this Massage Envy lawsuit.
Massage Envy Locations in the United States.
Alabama – 12 locations, Alaska – 2 locations, Arizona – 39 locations, Arkansas – 6, California – 183, Colorado – 28, Connecticut – 15, Delaware – 3, Florida – 98, Georgia – 35, Hawaii – 5, Idaho – 5, Illinois – 49, Indiana – 24, Iowa – 3, Kansas – 11, Kentucky – 9, Louisiana – 16, Maine – 1, Maryland -29, Massachusetts – 30, Michigan – 9, Minnesota – 25, Mississippi – 6, Missouri – 18, Montana – 2, Nebraska – 6, Nevada – 15, New Hampshire – 3, New Jersey – 48, New Mexico – 8, New York – 38, North Carolina – 43, North Dakota – 2, Ohio – 33, Oklahoma -7, Oregon – 16, Pennsylvania – 30, Rhode Island- 5, South Carolina – 22, South Dakota – 2, Tennessee – 24, Texas – 109, Utah – 16, Vermont – 1, Virginia – 42, Washington – 30, Washington DC – 1, West Virginia – 3, Wisconsin – 14
Massage Envy Lawsuit Sexual Assault Claims & Settlement page updated on April 10, 2019