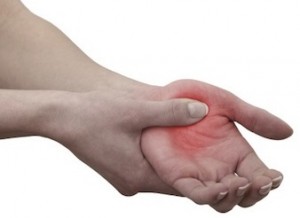 Most of us do not think about how much we need our thumbs until we can't use them for some unspecified period of time because of an injury.  For people who suffer from osteoarthritis in this area, their thumbs are all but useless except for the seemingly never-ending and excruciating pain that they are forced to endure.  Those who suffer from this condition do have more medical options than they did a generation or two ago, and many of these options involve surgery.
Surgery is now done quite often to implant a device that is designed to alleviate the problems caused by osteoarthritis and to help patients regain the use of their thumbs.  One corporate partnership, known as Artimplant from Sweden and Small Bone Innovations, Inc. from the United States, markets a product that is known as the Artelon Spacer CMC.  This product is placed at the joint of the thumb and it is shaped like a capital T.  The device is implanted into the first carpometacarpal joint as an inter-positional spacer between the trapezium and first metacarpal, or the thumb and wrist joint.
Artelon Spacer Recall & Problems
Unfortunately, it wasn't long before allegations of serious problems with the Artelon Spacer began to arise.  As is often the case when foreign objects are implanted into the body, some patients suffered simply because their bodies rejected the product.  Along with the outright rejection, other alleged Artelon Spacer side effects included:
Shooting pains
Burning pains
Misshaped thumb
Inflammation
Swelling
Loss of range of motion
Many of these problems were the same ones that existed before the product was ever implanted, and people who dealt with these issues usually had to have additional surgeries to have this product removed.  If the Arleton Spacer breaks apart inside of someone's hand, as it has allegedly done several times, then the patient will have to undergo a second corrective surgery to remove all of the fragments and to have the ligaments in the area repaired.
People who have suffered in this regard are often unaware of where they should turn for help.  They understand that they need to do what's necessary to hold those responsible for these allegedly defective products accountable, but they are concerned about the prospect of taking on a multinational corporation as just one consumer with no legal experience.  Unfortunately, too many people do not maximize the protections that are afforded them by laws around the United States.
Questions & Answers About Artelon CMC Spacer
What is the Artelon CMC Spacer?
The Artelon CMC Spacer was developed to treat early and mid-stage osteoarthritis which develops in the carpometacarpal thumb joint. Patients who receive the implant can expect joint stability, quick recovery, and minimal pain. 
What are the side effects of the Artelon CMC Spacer implant?
Symptoms that could indicate issues with the Artelon CMC Spacer are:
Shooting pain
Inflammation and swelling
Limited range of motion
Burning pain
Misshapen thumb
National Injury Help, has been helping clients across the country obtain justice from corporations for decades.  If you or someone you love has been harmed in this manner, you need to contact the Arleton CMC Spacer class action lawsuit attorneys at the firm as soon as possible to schedule a free initial consultation.  Doing so will provide you with the knowledge that you need to make a sound decision regarding how you should proceed through this difficult time.
Artelon CMC Spacer Lawsuits in these States:
Alabama (AL), Alaska (AK), Arizona (AZ), Arkansas (AR), California (CA), Colorado (CO), Connecticut (CT), Delaware (DE), Florida (FL), Georgia (GA), Hawaii (HI), Idaho (ID), Illinois (IL), Indiana (IN), Iowa (IA), Kansas (KS), Kentucky (KY), Louisiana (LA), Maine (ME), Maryland (MD), Massachusetts (MA), Michigan (MI), Minnesota (MN), Mississippi (MS), Missouri (MO), Montana (MT), Nebraska (NE), Nevada (NV), New Hampshire (NH), New Jersey (NJ), New Mexico (NM), New York (NY), North Carolina (NC), North Dakota (ND), Ohio(OH), Oklahoma (OK), Oregon (OR), Pennsylvania (PA), Rhode Island (RI), South Carolina (SC), South Dakota (SD), Tennessee (TN), Texas (TX), Utah (UT), Vermont (VT), Virginia (VI), Washington (WA), Washington DC (DC), West Virginia (WV), Wisconsin (WI), Wyoming (WY)
Our lawyers and attorneys can provide information on how to file Artelon CMC Spacer Lawsuits in the following cities:
New York, Chicago, Philadelphia, Detroit, Indianapolis, Columbus, Baltimore, Boston, Seattle, Washington, Milwaukee, Denver, Louisville, Los Angeles, Las Vegas, Nashville, Oklahoma City, Portland, Phoenix, Houston, Tucson, Albuquerque, Atlanta, San Antonio, San Diego, San Francisco, Dallas, Colorado Springs, Arlington, Wichita, Long Beach, Fresno, Sacramento, Mesa, Kansas City, Cleveland, San Jose, Jacksonville, Austin, Memphis, Fort Worth, Charlotte, Virginia Beach, Omaha, Miami, Oakland, Tulsa, Honolulu, Minneapolis.
Artelon CMC Spacer class action lawsuit claims attorney settlements page updated on December 12, 2018