Opioid birth defects – Painkiller pills linked to neonatal abstinence syndrome
If you are a mother on prescription painkillers and have had a baby born addicted to, or suffering from neonatal abstinence syndrome contact us today as a potential opioid birth defects lawsuit may begin.  There may be large cash awards from claims and settlements from these new opioid lawsuits.
America is the middle of an opioid epidemic, with many factors being looked at by both the medical community and the federal government.   The potential secondary tidal wave of problems outside of addiction is the fact that pregnant women who are on opioids, either prescription pain pills or illegal fentanyl or heroin may be facing having a baby addicted to or being born with birth defects.
The lawyers and attorneys at National Injury Help are now investigating opioid birth defects in newborns.
U.S. Centers for Disease Control and Prevention – "Opioid Pain Killers Linked to Risk of Birth Defects.
In March of 2011, the U.S. Centers for Disease Control and Prevention finds some disturbing trends.  They studied opioid use in women between ages 15 to 44, the peak reproductive ages, and found that more than a third had filed a prescription for some form of opioid pain medication.
The study was looked at by the CDC director Dr. Tom Frieden, who issued this statement: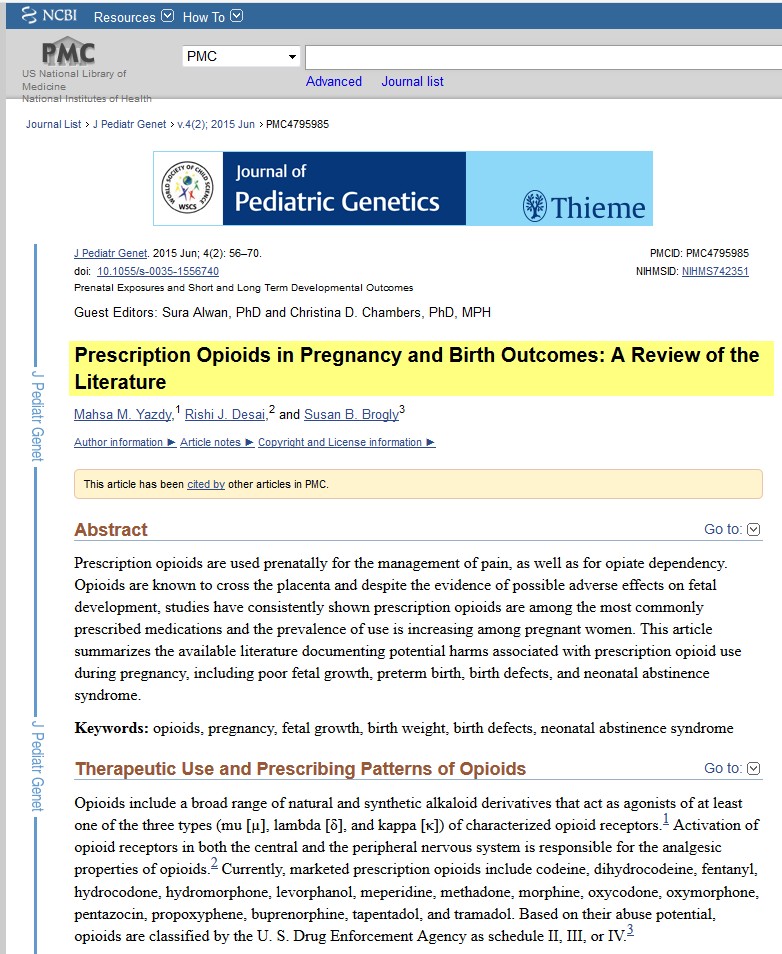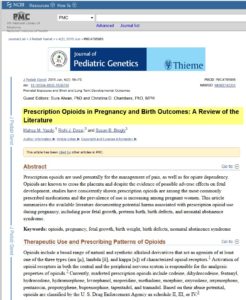 "Taking opioid medications early in pregnancy can cause birth defects and serious problems for the infant and the mother."
"Many women of reproductive age are taking these medicines and may not know they are pregnant and therefore may be unknowingly exposing their unborn child.  That's why it's critical for health care professionals to take a thorough health assessment before prescribing these medicines to women of reproductive age."
However as you can see from the date of this publication that the study is old, the CDC needs to create new studies on the effects of opioid use during pregnancy and various birth defects.
Recent Study: May 2017 from the American Academy of Pediatrics – Maternal Use of Opioids during Pregnancy and Congenital Malformations: A Systematic Review.
Because of the recent news about the opioid epidemic, the American Academy of Pediatrics has conducted a study.
The context and objectives of the study are:  Opioid use and abuse have increased dramatically in recent years, particularly among women. We conducted a systematic review to evaluate the association between prenatal opioid use and congenital malformations.
The results of their study shows:  Of the 68 studies that met our inclusion criteria, 46 had an unexposed comparison group; of those, 30 performed statistical tests to measure associations between maternal opioid use during pregnancy and congenital malformations. Seventeen of these (10 of 12 case-control and 7 of 18 cohort studies) documented statistically significant positive associations. Among the case-control studies, associations with oral clefts and ventricular septal defects/atrial septal defects were the most frequently reported specific malformations. Among the cohort studies, clubfoot was the most frequently reported specific malformation.
Other potential birth defects associated with Oxycodone, Codeine and Hydrocodone.
Other online research has now linked maternal use of opioids like Oxycodone, Codeine and Hydrocodone to birth defects including:
Ventricular septal defects. (heart defect with abnormal connection of the lower heart chambers)
Atrial septal defects. (hole in the wall of the upper chambers)
(defect of the abdominal wall)
Cleft palate. (lip or mouth not formed properly)
(fluid on the brain)
Spina Bifida. (spinal cord fails to develop properly)
What can you do if you had a baby born with defects from opioid painkillers?
If you or a loved one has had a baby born with any birth defect, addicted or neonatal abstinence syndrome due to an opioid-prescription painkiller or heroin we understand that it's not your fault. We here to help and you may qualify for a cash award and substantial financial compensation. Please use the contact form on this page for help.
Sources:
http://pediatrics.aappublications.org/content/early/2017/05/17/peds.2016-4131
https://www.pharmacist.com/article/cdc-more-research-needed-about-prenatal-opioid-exposure-and-birth-defects
Opioid birth defects lawsuit claims & settlements for neonatal abstinence syndrome updated on April 10, 2019.