August 30, 2018—San Diego, CA.  Problems and lawsuits associated with Gadolinium, a contrast dye used in MRI scans, continue to make its way in the legal system. Will this become the MRI class action lawsuit in 2018?
Recent news on Gadolinium lawsuit cases shows the manufacturers of these dye agents are resisting the real possibility that these will be pooled into a multidistrict litigation (MDL) for liability claims first filed for numerous health issues such as "brain fog" and gadolinium deposition disease, (also called Gadolinium Storage Condition).
Makers of gadolinium dye agents, the defendants, include:
– Bayer
– Bracco Diagnostics
– GE Healthcare
– Guerbet LLC & Liebel-Flarsheim Company
– McKesson Corporation
What is the basis of these Gadolinium Toxicity Lawsuits?
It's been asserted by the lawyers representing clients that the defendants were well aware of the potential health risks associated with the use of MRI contrast dye agents.  Its main ingredient called gadolinium was responsible for various adverse events and failed to warn both doctors and patients.
Filed back in July 31, plaintiffs' stated in a petition for centralization stating:
"Transfer and centralization is proper because each of these actions and future tag-along cases arise out of the same or similar nucleus of operative facts and the same or similar wrongful conduct, and will involve the same or similar questions of fact and law."  
"In addition, pretrial discovery in all cases will be substantially similar and will involve the same liability and general causation documents and witnesses."
Past Gadolinium Toxicity lawsuits – may shed light on new cases.
It was back in 2005 when law firms across the U.S. began looking at the problems of gadolinium use in MRIs.
In one case the plaintiff, Paul Decker, had an MRI and was given a dose of commonly used gadolinium called Omniscan.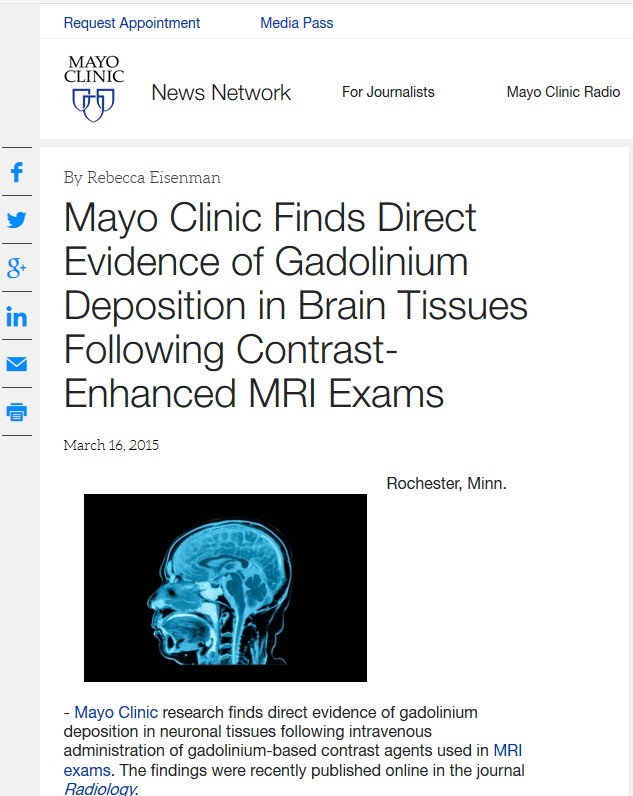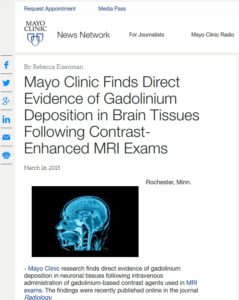 During that procedure Mr. Decker was also suffering from kidney failure. It was alleged that this triggered the condition known as Nephrogenic Systemic Fibrosis (NSF).   The Sixth Circuit of the U.S. Court of Appeals affirmed a $5,000,000 dollar award to him.
New gadolinium poisoning case brought by Chuck Norris, says MRI chemical poisoned wife.
This headline made national news back in 2017.  Chuck Norris and his wife filed a gadolinium lawsuit. In this lawsuit they claim that an MRI containing gadolinium poisoned his wife and left her with burning pain. The lawsuit was filed in San Francisco. Read more here from CBS News: https://www.cbsnews.com/news/chuck-norris-says-mri-chemical-poisoned-his-wife/
What are the brands of Gadolinium Contrast Dyes?
All of the following brands of contrast dyes contain some level or formulation of gadolinium.
Ablavar (gadofosveset trisodium)
Dotarem (gadoterate meglumine)
Eovist (gadoxetate disodium)
Gadavist (gadobutrol)
Magnevist (gadopentetate dimeglumine)
MultiHance (gadobenate dimeglumine)
Omniscan (gadodiamide)
OptiMARK (gadoversetamide)
ProHance (gadoteridol)
Has the FDA issued any gadolinium warnings for the public?
The FDA has published a new MedWatch Alert. Here is the actual warning:
Gadolinium-based Contrast Agents (GBCAs): Drug Safety Communication – Retained in Body; New Class Warnings.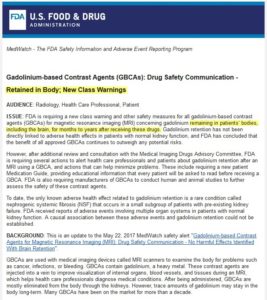 AUDIENCE: Radiology, Health Care Professional, Patient
ISSUE: FDA is requiring a new class warning and other safety measures for all gadolinium-based contrast agents (GBCAs) for magnetic resonance imaging (MRI) concerning gadolinium remaining in patients' bodies, including the brain, for months to years after receiving these drugs. Gadolinium retention has not been directly linked to adverse health effects in patients with normal kidney function, and FDA has concluded that the benefit of all approved GBCAs continues to outweigh any potential risks.
However, after additional review and consultation with the Medical Imaging Drugs Advisory Committee, FDA is requiring several actions to alert health care professionals and patients about gadolinium retention after an MRI using a GBCA, and actions that can help minimize problems. These include requiring a new patient Medication Guide, providing educational information that every patient will be asked to read before receiving a GBCA. FDA is also requiring manufacturers of GBCAs to conduct human and animal studies to further assess the safety of these contrast agents.
To date, the only known adverse health effect related to gadolinium retention is a rare condition called nephrogenic systemic fibrosis (NSF) that occurs in a small subgroup of patients with pre-existing kidney failure. FDA received reports of adverse events involving multiple organ systems in patients with normal kidney function. A causal association between these adverse events and gadolinium retention could not be established.
BACKGROUND: This is an update to the May 22, 2017 MedWatch safety alert "Gadolinium-based Contrast Agents for Magnetic Resonance Imaging (MRI): Drug Safety Communication – No Harmful Effects Identified With Brain Retention".
GBCAs are used with medical imaging devices called MRI scanners to examine the body for problems such as cancer, infections, or bleeding. GBCAs contain gadolinium, a heavy metal. These contrast agents are injected into a vein to improve visualization of internal organs, blood vessels, and tissues during an MRI, which helps health care professionals diagnose medical conditions. After being administered, GBCAs are mostly eliminated from the body through the kidneys. However, trace amounts of gadolinium may stay in the body long-term. Many GBCAs have been on the market for more than a decade.
There are two types of GBCAs based on their chemical structures: linear and macrocyclic (see Table 1 in Drug Safety Communication). Linear GBCAs result in more retention and retention for a longer time than macrocyclic GBCAs. Gadolinium levels remaining in the body are higher after administration of Omniscan (gadodiamide) or OptiMARK (gadoversetamide) than after Eovist (gadoxetate disodium), Magnevist (gadopentetate dimeglumine), or MultiHance (gadobenate dimeglumine). Gadolinium levels in the body are lowest after administration of Dotarem (gadoterate meglumine), Gadavist (gadobutrol), and ProHance (gadoteridol); the gadolinium levels are also similar across these agents.
RECOMMENDATION: Health care professionals should consider the retention characteristics of each agent when choosing a GBCA for patients who may be at higher risk for gadolinium retention (see Table 1 listing GBCAs). These patients include those requiring multiple lifetime doses, pregnant women, children, and patients with inflammatory conditions. Minimize repeated GBCA imaging studies when possible, particularly closely spaced MRI studies. However, do not avoid or defer necessary GBCA MRI scans.
Patients, parents, and caregivers should carefully read the new patient Medication Guide that will be given to you before receiving a GBCA. The Medication Guide explains the risks associated with GBCAs. Also tell your health care professional about all your medical conditions, including:
If you are pregnant or think you might be pregnant
The date of your last MRI with gadolinium and if you have had repeat scans with gadolinium
If you have kidney problems
How can I file a Gadolinium deposition disease lawsuit?
Our gadolinium lawyers and attorneys are here to help if you or someone you love has had any side effects from any gadolinium MRI contrast dye including:
Brain fog or "chemo brain" symptoms.
Memory loss.
Impairment in thinking.
Intense burning of the skin
Intense bone or joint pain.
Discoloration in the lower arm or leg.
Skin thickening.
Skin stiffness.
Feel free to call us directly at 1-800-214-1010 or use the contact form on the right side of your screen, it costs nothing and you could receive a substantial cash award for your pain and suffering.