June 20, 2019 – San Diego, CA.  More heat this week for already troubled Gilead Sciences as news broke that the Government Accountability Office (GAO) is being asked to investigate the company for possible trademark infringement for its drug called Truvada.  Gilead Sciences, based in Foster City California, is a $22 billion dollar biotechnology company that develops antiviral drugs used for treatment of HIV.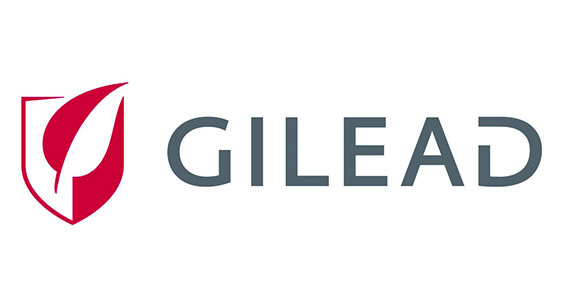 We have found the actual letter to Gene L. Dodaro, Comptroller General of the U.S. Government Accountability Office dated June 18, 2019 from Elijah Cummings, Chairman of the Committee on Oversight and Reform, and Debbie Stabenow, Ranking Member, Subcommittee on Health Care, Senate Committee on Finance.
What is the letter to the GAO about an HIV drug mean?
It's easiest for us to simply re-print the contents of this letter, but the main concern seems to be that Gilead Sciences may have infringed on several patents held by the United States of America through the Centers for Disease Control and Prevention.  We have proved a link the actual Senate PDF file if you'd like to read it, here is an excerpt: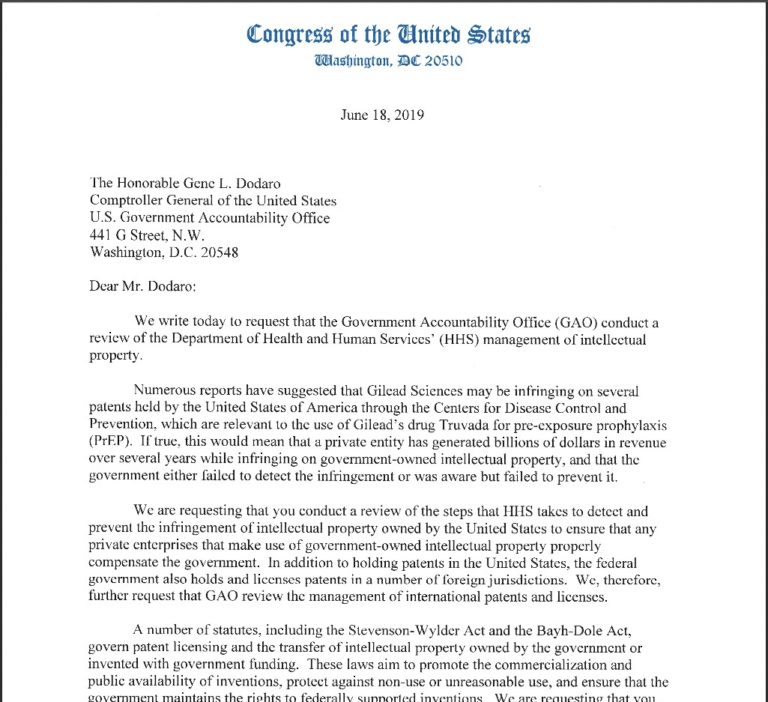 "Numerous reports have suggested that Gilead Sciences may be infringing on several patents held by the United States of America through the Centers for Disease Control and Prevention, which are relevant to the use of Gilead's drug Truvada for pre-exposure prophylaxis (PrEP).  If true, this would mean that a private entity has generated billions of dollars in revenue over several years while infringing on government-owned intellectual property, and that the government either filed to detect the infringement or was aware but failed to prevent it."
"We are requesting that you conduct a review of the steps that HHS takes to detect and prevent the infringement of intellectual property owned by the Unites States to ensure that any private enterprises that make use of government-owned intellectual property compensate the government."
So did Gilead Sciences steal valuable government-owned intellectual property when it designed and promoted its drug Truvada? It's our opinion that given all the other lawsuits and controversies they are facing, it's highly possible.
What other problems is Gilead Sciences having with Truvada?
We've previously blogged about the problems with Gilead's anti-competitive deals to increase profits back in May.   That lawsuit tells of a highly unique scheme with these cocktail drugs, which are fixed dose combinations of various widely used drugs that have been used for years in treating HIV.  Gilead is a major player in the HIV drug marketplace and makes a product called tenofovir disoproxil fumarate, (TDF).  This is a HIV antiviral and antiviral drug.  They face lawsuits on deceptive marketing practices.

But this new lawsuit says Gilead allegedly reached deals with Bristol-Myers Squibb and the Janssen unit of Johnson & Johnson to use only its component, tenofovir, in any cocktail the companies might later market — even after the tenofovir patent expired. And Gilead returned the favor by agreeing not to market a competing cocktail after the Bristol-Myers and Janssen patents expired, the suit stated.
We also wrote in April about the lawsuits from 41 HIV patients suing the company for knowing and misleading the public on the safety of its HIV drug Truvada.
The basis of those lawsuits is that Gilead Sciences allegedly knew as early as 2001 that its TDF drug was toxic in the prescribed doses and that some patients risked damage to both kidneys and bones.
Did the FDA take action on Gilead's Truvada?
FDA Warned Gilead twice about its marketing practices.
"FDA twice issued warning letters to Gilead over its TDF marketing practices, stating that their sales representatives had violated the law by giving doctors and patients false and misleading information regarding TDF's side effects. In the 2002 FDA Warning Letter, Gilead salespeople falsely stated that TDF had 'no toxicities' was 'benign' and was 'extremely safe.' A 2003 FDA Warning Letter took the uncommon step of requiring Gilead to retrain its sales representatives to provide accurate information regarding the significant side effects associated with TDF and comply with the Federal Food, Drug, and Cosmetic Act, 21 U.S.C. 352."  
We will continue to closely follow all the news about Gilead Sciences, and will provide new blog posts as needed.
---
If you are reading this blog post and have taken Gilead's TDF drug and have been diagnosed with kidney failure, chronic kidney disease, bone mineral density loss leading to fractures and breaks, osteopenia, or osteoporosis we can help you in holding Gilead Sciences accountable for your injuries.
There may be substantial cash settlements from these TDF HIV drug lawsuits.
Consumer warning:  If you are currently taking Viread, Atripla, Complera, or Stribild DO NOT STOP taking your medication, please ask your doctor first.
Source:
https://www.stabenow.senate.gov/imo/media/doc/Letter%20to%20GAO%20re%20HHS%20Patents%20-%20Signed.pdf