May 23, 2019 – San Diego, CA.  We're taking another look at Gilead Sciences, the maker of popular HIV drugs, which has come under our spot light after learning its possible connection to chronic kidney disease (CKD) or osteoporosis or bone fractures for some patients.
This time we're questioning its profit motifs since learning about it allegedly conspired with other drug makers whose medicines were part of a so-called combination cocktail in order to block generic competition. 
The lawsuit (PDF file link below) tells of a highly unique scheme with these cocktail drugs, which are fixed dose combinations of various widely used drugs that have been used for years in treating HIV.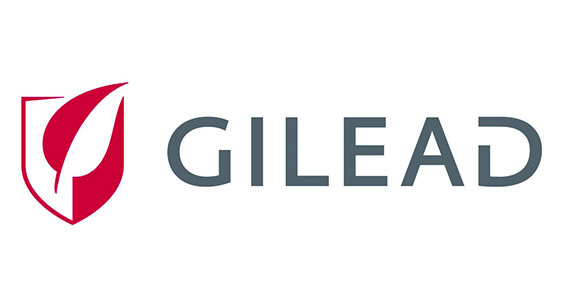 Gilead is a major player in the HIV drug marketplace and makes a product called tenofovir disoproxil fumarate, (TDF).  This is a HIV antiviral and antiviral drug.  They face lawsuits on deceptive marketing practices.
But this new lawsuit says Gilead allegedly reached deals with Bristol-Myers Squibb and the Janssen unit of Johnson & Johnson to use only its component, tenofovir, in any cocktail the companies might later market — even after the tenofovir patent expired. And Gilead returned the favor by agreeing not to market a competing cocktail after the Bristol-Myers and Janssen patents expired, the suit stated.
Mark Lemley is an attorney on the case and made this statement:
"While we allege a variety of conduct, at the heart of the case is a series of agreements in which Gilead agreed with other drug makers that they wouldn't use generic versions of Gilead's drugs in their drug cocktails even after the Gilead patents expired."
Because of this back-room deal between Big Pharma companies, the health care system was purportedly robbed of lower-cost options that could have been otherwise available, according to the lawsuit that was filed in federal court in San Francisco on May 7th.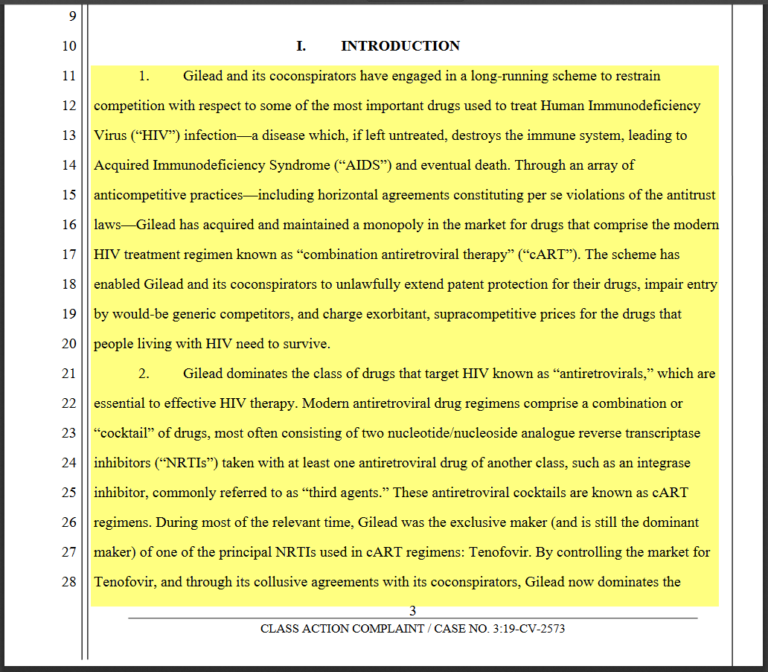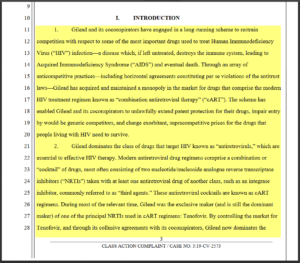 The scheme according to the suit was all about keeping the "no-generics" out of the picture and keeping the HIV drugs at "sky-high" levels, even though generic versions are available.
A Gilead spokeswoman issued a statement:
"We have entered into partnerships with other companies with the goal of bringing life-saving therapies to patients in need.  Any suggestion that we had improper motives is absolutely false."  
So far Bristol-Myers has declined to comment on the case.  Johnson& Johnson said they are reviewing the lawsuit and had no comment at the time.
How much is the Gilead HIV drug Treatment?
This lawsuit showed that fixed-dose-combination drugs like Complera sells for $35,000 for a yearly treatment and the lawsuit argued that a version of the drug using generic components together with a Janssen drug called rilpivirine would sell for no more than half that amount!
HIV activists speak out.
Brenda Goodrow is an HIV activist who was one of the people who filed the suit stated:
"The anticompetitive actions alleged in this case are shocking and help explain why the prices we pay for our anti-viral pills just keep going up and up. This gross profiteering explains why less than half of people living with HIV in the U.S. are virally suppressed, one of the lowest rates among the world's high-income countries."
ACT UP member and co-founder of Treatment Action Group Peter Staley said:
"How did a company that invented only two antivirals end up dominating the market? According to Gilead, 89% of treatment-naive patients take a Gilead product when they start treatment. How did that happen with only two invented drugs? Buried in Gilead's filings (with the Securities and Exchange Commission), our lawyers found the answers. They systematically blocked a dozen possible combo-pills that would include cheaper generic components."
What are the other HIV Drug lawsuits facing Gilead?
Earlier TDF HIV lawsuits  were focused about its deceptive marketing strategies. Allegedly, Gilead, fully understood that by continuing to sell and promote TDF, that some patients could have damage to their kidneys and bones.
Gilead Sciences earned over $18 billion in net profit in 2015. They were warned by the FDA.
If you are reading this and have taken Gilead's TDF drug and have been diagnosed with kidney failure, chronic kidney disease, bone mineral density loss leading to fractures and breaks, osteopenia, or osteoporosis we can help you in holding Gilead Sciences accountable for your injuries.
There may be substantial cash settlements from these TDF HIV drug lawsuits.
Consumer warning:  If you are currently taking Viread, Atripla, Complera, or Stribild DO NOT STOP taking your medication, please ask your doctor first.
Source, PDF.