April 18, 2019 – San Diego, CA.  Gilead Sciences, based in Foster City California, is a $22 billion dollar biotechnology company that develops antiviral drugs used for treatment of HIV.  Sound good right, a company that is helping in the HIV crisis.  They were recently listed as having a high "Pharma reputation" from PatientView's annual reputation survey in 2018.
But let's take a closer look at this biotechnology company which is now facing multiple personal injury lawsuits from 41 people from 12 states on April 11 in the California Superior Court in Los Angeles. 
Gilead Sciences makes a product called tenofovir disoproxil fumarate, (TDF).  This is a HIV antiviral and antiviral drug. The basis of the lawsuit is that Gilead Sciences allegedly knew as early as 2001 that its TDF drug was toxic in the prescribed doses and that some patients risked damage to both kidneys and bones.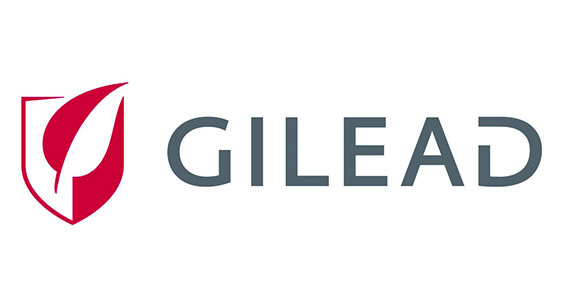 According to Liza Brereton, an attorney on the case, made this statement:
"More and more plaintiffs are coming forward to tell their stories of how they have been harmed by Gilead's practice of putting profits over patient health."
When we examined the actual text from the ongoing trial we get a bigger picture of the deception that took place at Gilead Sciences. The following are actual excerpts from the downloadable PDF, link source at end of this page.
INTRODUCTION
1. For many years, Plaintiffs were prescribed and ingested Defendant Gilead's defectively dangerous antiviral medications containing the ingredient tenofovir disoproxil fumarate ("TDF") for the treatment of human immunodeficiency virus ("HIV") infection. TDF is a prodrug of tenofovir that Gilead knew was toxic and harmful to patients' kidneys and bones. Plaintiffs suffered debilitating and sometimes fatal side effects such as kidney failure, chronic kidney disease, bone mineral density loss leading to fractures and breaks, osteopenia, and early-onset osteoporosis.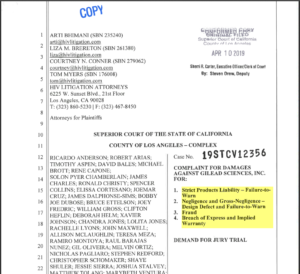 2. A prodrug is a biologically inactive compound that, once metabolized by the body, converts in the pharmacologically active drug. TDF and tenofovir alafenamide fumarate ("TAF") are prodrugs of tenofovir.
– Skipping to section 9 – Bold text added.
9.  Gilead's development, sale and marketing of TDF were all done under false pretense that TDF was the safest, most effective prodrug design for tenofovir.

—end—
As we see in the above court document, it's all about deceptive marketing strategies. Gilead Sciences earned over $18 billion in net profit in 2015. They were warned by the FDA, see below.
FDA Warned Gilead twice about its marketing practices.
"FDA twice issued warning letters to Gilead over its TDF marketing practices, stating that their sales representatives had violated the law by giving doctors and patients false and misleading information regarding TDF's side effects. In the 2002 FDA Warning Letter, Gilead salespeople falsely stated that TDF had 'no toxicities' was 'benign' and was 'extremely safe.' A 2003 FDA Warning Letter took the uncommon step of requiring Gilead to retrain its sales representatives to provide accurate information regarding the significant side effects associated with TDF and comply with the Federal Food, Drug, and Cosmetic Act, 21 U.S.C. 352."  


The FDA also stated:
"Gilead had a duty to share its exclusive knowledge of the risks associated with TDF.  Gilead failed to do this. Instead, Gilead misrepresented the safety and benefits of TDF and failed to provide prescribing physicians and their patients with the information they needed to safely and reasonably prescribe and take Gilead's drugs."
How many HIV victims took Gilead's TDF HIV drug?
According to the current court case it alleges "thousands and thousands of HIV/AIDS patients may have been unwittingly exposed to significant kidney and bone damage from TDF" during their antiretroviral drug regimens. Additionally, "many HIV-negative individuals seeking to prevent HIV acquisition may have suffered similar harm to their kidneys or bones from taking Truvada as part of their PrEP (pre-exposure prophylaxis) protocol."
How does a person with HIV who took TDF join in this lawsuit?
We expect many other victims to come forth and join in this TDF lawsuit now that it's making the news.
If you are reading this and have taken Gilead's TDF drug and have been diagnosed with kidney failure, chronic kidney disease, bone mineral density loss leading to fractures and breaks, osteopenia, or osteoporosis we can help you in holding Gilead Sciences accountable for your injuries.
There may be substantial cash settlements from these TDF HIV drug lawsuits.
Consumer warning:  If you are currently taking Viread, Atripla, Complera, or Stribild DO NOT STOP taking your medication, please ask your doctor first.
Read more about the TDF Drug Lawsuit.
Sources:
https://www.sciencedirect.com/science/article/pii/S014067361560616X
https://www.aidshealth.org/wp-content/uploads/2019/04/gild_tdf-taf-personal-injcomplaint-ca-sup-crtl.a.4.10.19.pdf