May 31, 2019 –San Diego, CA.  Scanning news headlines from a Google News search clearly shows the controversy that Gilead Sciences is facing.  Let's see the headlines. These were provided by the search giant's news feed for the term: "HIV Drug".
California may make anti-HIV drug available without prescription for 30 days – sfchronicle.com

Gilead is accused of cutting anti-competitive deals to extend profit on HIV drug combinations – washingtonpost.com

A Leading HIV Drug Is Way Overpriced in the U.S. – bloomberg.com

Ocasio-Cortez slams Gilead over HIV drug prices: 'People are dying for no reason' – nbcnews.com

Ocasio-Cortez grills CEO of pharma company making billions on government-patented HIV drug – rollcall.com

Gilead Will Donate Truvada to U.S. for H.I.V. Prevention – nytimes.com

Lawsuit accuses Gilead of propping up cost of lifesaving HIV drugs – nbcnews.com

Gilead to donate HIV prevention drug Truvada to 200K uninsured patients – nbcnews.com

Republicans defend drug company in spotlight over HIV medication prices – thehill.com

Generic HIV prevention drug coming in 2020, Gilead says –cnbc.com

Generic version of HIV prevention drug on way after activist campaign – foxnews.com
Red Arrows show HIV drug maker Gilead mentioned in news articles from multiple sources. This alone shows the struggles Gilead Sciences is having, even noted politician Ocasio-Cortez taking aim at the drug company.
Pic 1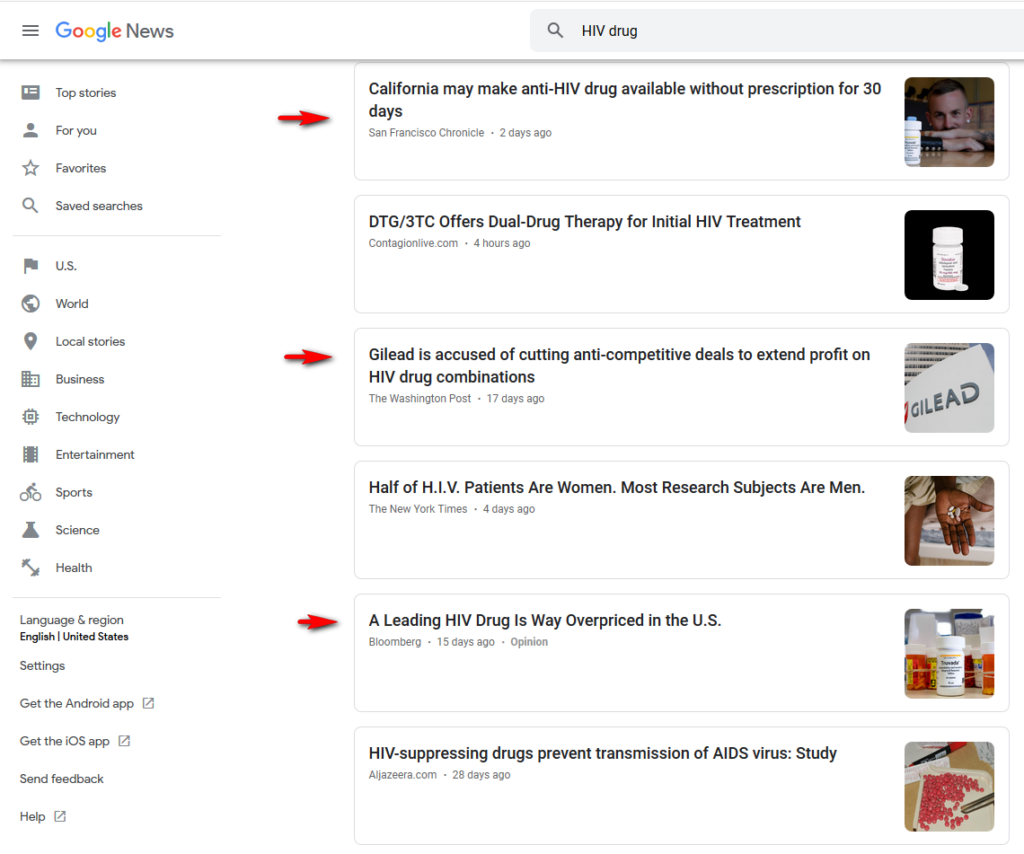 Pic 2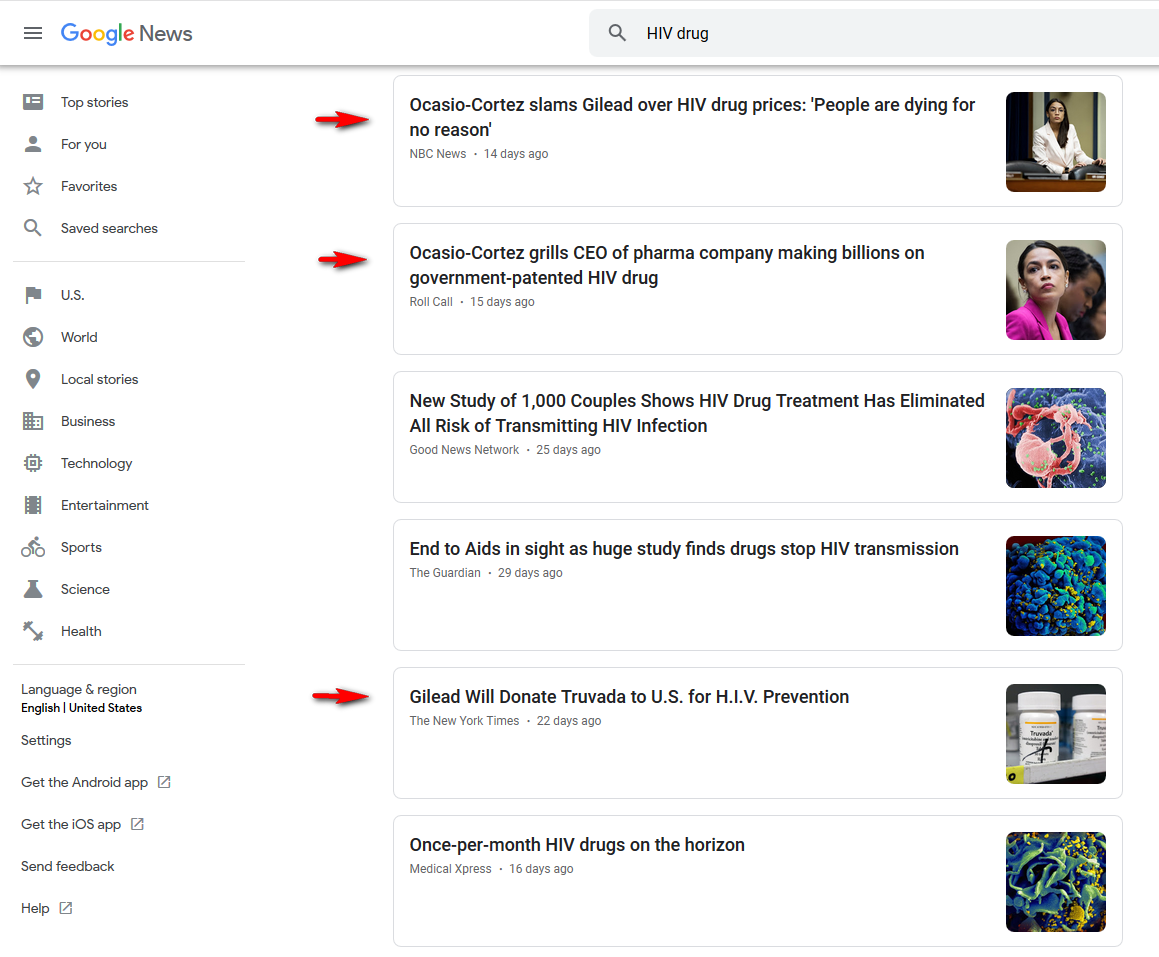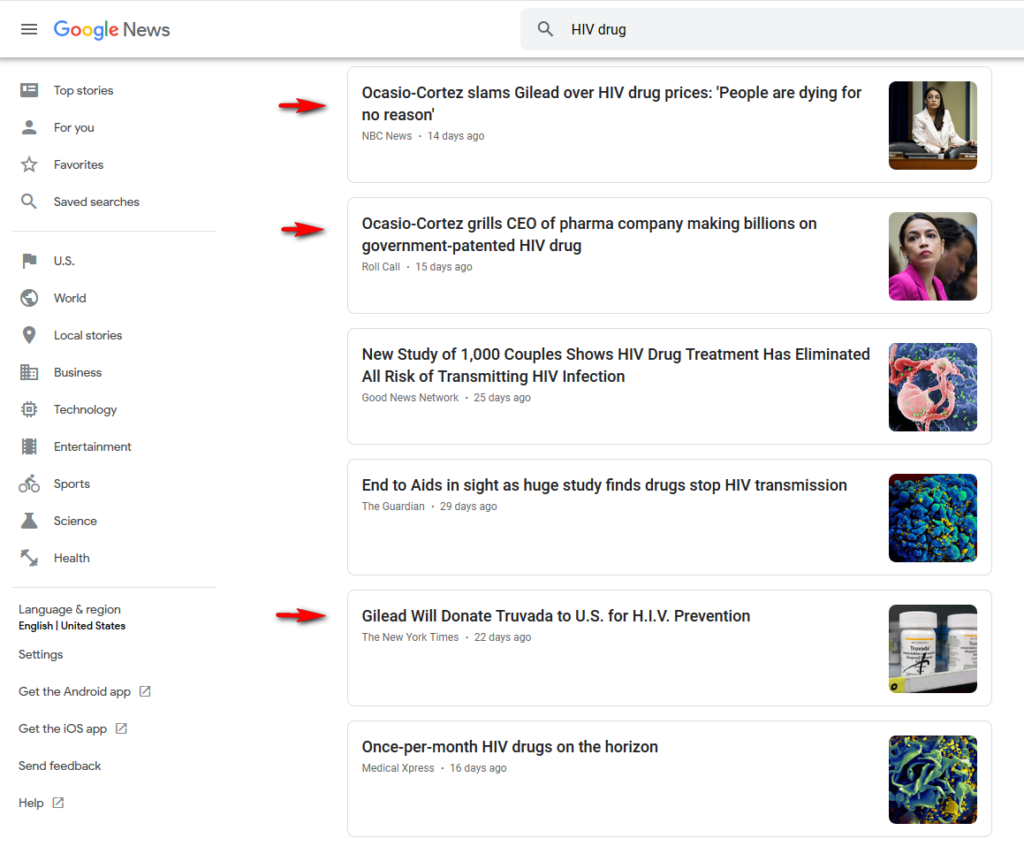 What is the HIV Drug Controversy?
We started blogging about Gilead Sciences back in April 2019 highlighting the current lawsuits they're facing.
Summary: Gilead Sciences, based in Foster City California, is a $22 billion dollar biotechnology company that develops antiviral drugs used for treatment of HIV.
Gilead Sciences makes a product called tenofovir disoproxil fumarate, (TDF).  This is a HIV antiviral and antiviral drug. The bases of the lawsuit is that Gilead Sciences allegedly knew as early as 2001 that its TDF drug was toxic in the prescribed doses and that some patients risked damage to both kidneys and bones.
According to Liza Brereton, an attorney on the case, made this statement:
"More and more plaintiffs are coming forward to tell their stories of how they have been harmed by Gilead's practice of putting profits over patient health."
Then on May 23, we blogged about Gilead's anti-competitive deals to increase profits.
Summary: Gilead allegedly conspired with other drug makers whose medicines were part of a so-called combination cocktail in order to block generic competition.
The lawsuit (PDF file link below) tells of a highly unique scheme with these cocktail drugs, which are fixed dose combinations of various widely used drugs that have been used for years in treating HIV.
This new lawsuit says Gilead allegedly reached deals with Bristol-Myers Squibb and the Janssen unit of Johnson & Johnson to use only its component, tenofovir, in any cocktail the companies might later market — even after the tenofovir patent expired. And Gilead returned the favor by agreeing not to market a competing cocktail after the Bristol-Myers and Janssen patents expired, the suit stated.
Mark Lemley is an attorney on the case and made this statement:
"While we allege a variety of conduct, at the heart of the case is a series of agreements in which Gilead agreed with other drug makers that they wouldn't use generic versions of Gilead's drugs in their drug cocktails even after the Gilead patents expired."
Did Gilead Sciences have a change of heart after getting blasted?
In our opinion based on the headlines we're seeing, its appears by taking so much flack, they are now willing to donate HIV prevention drug Truvada to 200K uninsured patients.
Only time will tell if this possible PR move will help in the way activists have been speaking out against them. Take for example these statements:
HIV activists speak out.
Brenda Goodrow is an HIV activist who was one of the people who filed the lawsuit stated:
"The anticompetitive actions alleged in this case are shocking and help explain why the prices we pay for our anti-viral pills just keep going up and up. This gross profiteering explains why less than half of people living with HIV in the U.S. are virally suppressed, one of the lowest rates among the world's high-income countries."
ACT UP member and co-founder of Treatment Action Group Peter Staley said:
"How did a company that invented only two antivirals end up dominating the market? According to Gilead, 89% of treatment-naive patients take a Gilead product when they start treatment. How did that happen with only two invented drugs? Buried in Gilead's filings (with the Securities and Exchange Commission), our lawyers found the answers. They systematically blocked a dozen possible combo-pills that would include cheaper generic components."
Regardless of the above news headlines about Gilead's HIV drug pricing problems, and it's possible link to osteoporosis, bone fractures and chronic kidney disease (CKD) they will continue to be under the spotlight of activists, politicians, and law firms.
If you or someone you love was prescribed Truvada, Viread, Atripla, Complera, or Stribild and suffered chronic kidney disease (CDK) or osteoporosis or bone fractures, you may be eligible for large cash compensation from these lawsuit.
Consumer warning:  If you are currently taking Viread, Atripla, Complera, or Stribild DO NOT STOP taking your medication, please ask your doctor first.
We make it easy filing a TDF HIV drug lawsuit, simply use the contact form on the bottom of this page or call us directly at 1-800-214-1010. We will never charge a fee for this consultation.