Knee replacement cement failures are being studied and reported by the US National Library of Medicine.
The study included 26,147 knee replacements between 1997 and 2013 in Norway.  The study compared old and new cement types currently available.
Background:  Fixation methods for total knee arthroplasty (TKA) implants are cemented, cementless, or a combination (hybrid).  There are about 20 different acrylic bone cements currently used in the medical community.
The distribution of age was homogenous for the different cements, with most patients between 60 and 80 years of age. The bone cements currently on the market had practically the same risk of infection 1 year postoperatively.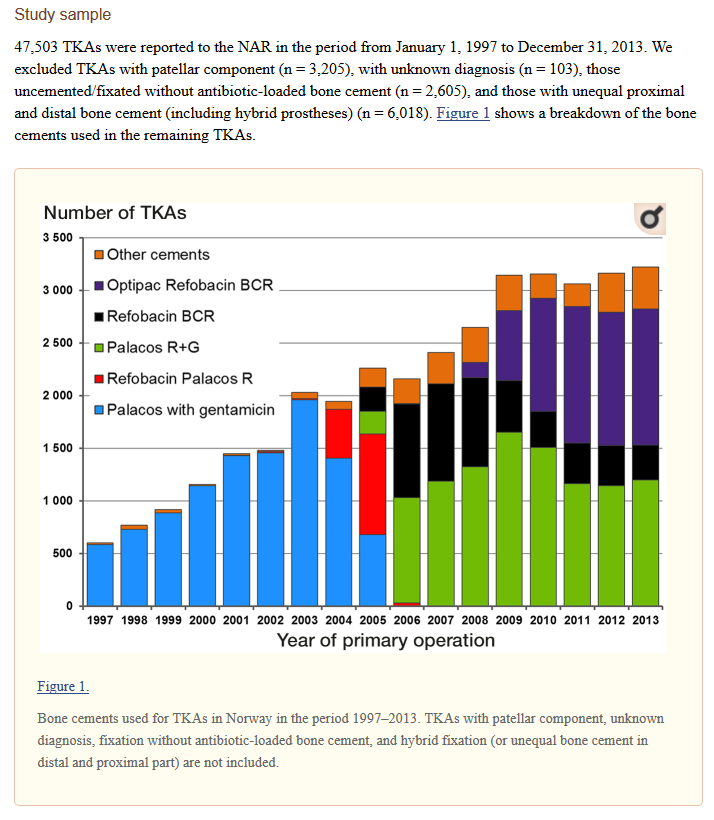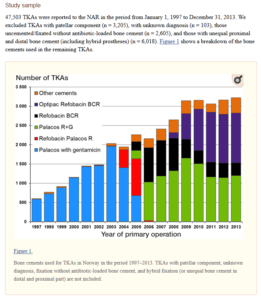 Credit/Source: https://www.ncbi.nlm.nih.gov/pmc/articles/PMC5251268/
Makers of knee cement include: Schering-Plough, Merck, Heraeus Kulzer, Biomet, Smith and Nephew, DePuy, and Zimmer.  All of these manufacturers also produce their own knee replacement systems.
Early cement failure with aseptic loosening were reported in a 5-year period.  The mechanism of failure was due to cement fixation de-bonding at the cement–implant interface.
Are there any current lawsuits for knee cement failures?
Yes, we've heard from many people who suffered from pain and cement failure of knee replacement systems.  We are currently investigating the following bone cements used in total knee replacement surgeries:
Simplex HV –Maker: Stryker/Howmedica
SmartSet HV cement – Maker: DePuy
CMW 1 – Maker: DePuy
What are the injuries from bone cement failure?
Most victims are seeking lawyers for help filing these lawsuits against various knee replacement manufacturers.  People are claiming the knee systems were failing and caused them serious injuries requiring revision surgeries. Others have reported aseptic tibial loosening.
Text from this picture from The Knee Journal highlights the following points: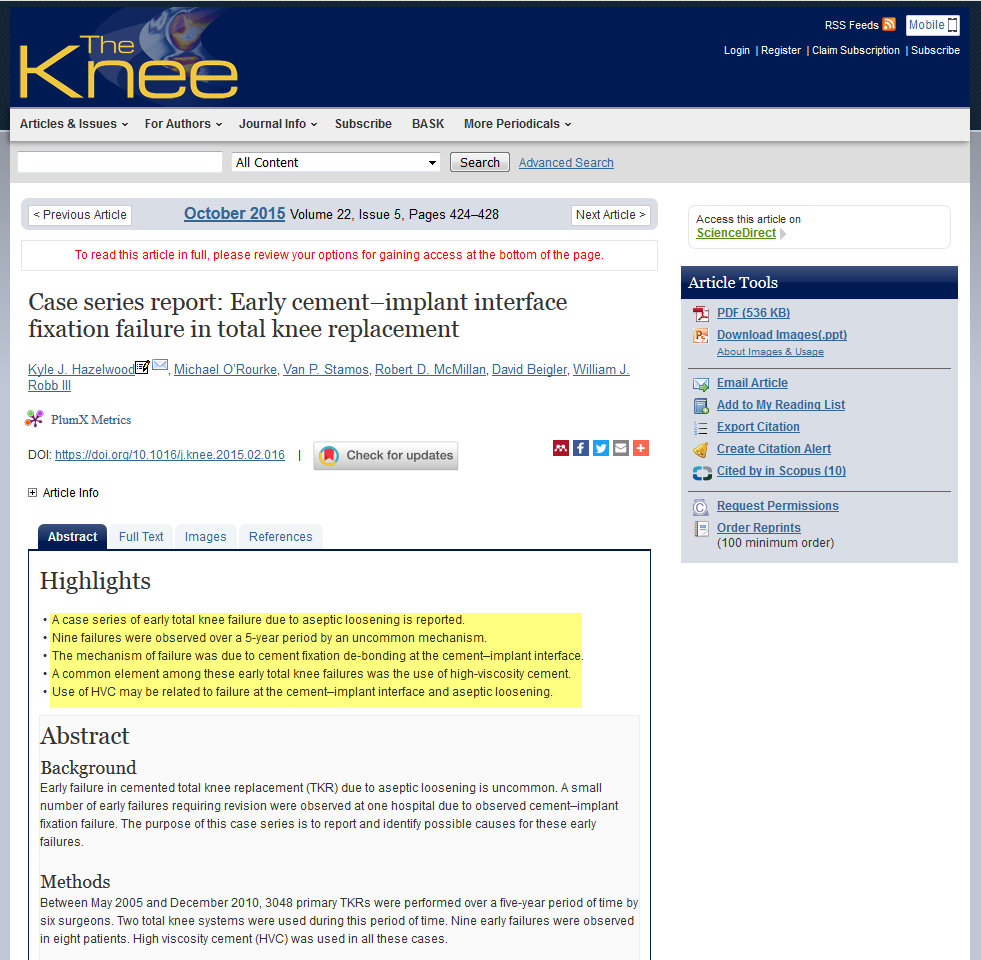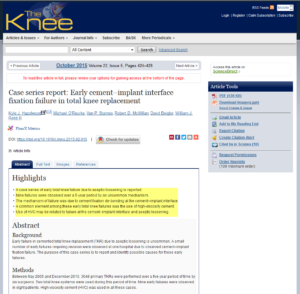 A case series of early total knee failure due to aseptic loosening is reported.
Nine failures were observed over a 5-year period by an uncommon mechanism.
The mechanism of failure was due to cement fixation de-bonding at the cement–implant interface.
A common element among these early total knee failures was the use of high-viscosity cement.
Use of HVC may be related to failure at the cement–implant interface and aseptic loosening.
The lawyers at National Injury Help expect large cash claims from settlements in these cement knee replacement lawsuits.
If you or someone you know has suffered from cement failure or tibial loosening or any other complications of a knee system, please contact our law firm today, as there may be substantial cash awards from settlements that may occur. Always free case reviews and no upfront charges, act today by calling us at 1-800-214-1010 or use the contact form on this page.
Credit/Source: https://www.ncbi.nlm.nih.gov/pmc/articles/PMC5251268/
https://www.thekneejournal.com/article/S0968-0160(15)00049-6/pdf