February 11, 2016 San Diego, CA – The lawyers at Hood National Law Group are currently investigating the Filshie Clips device. We are just now hearing from women hurt from this device.
Problems reported are migration, pain in the uterus, swelling and more. We'd like to hear from any women who have Filshie Clips to understand the problems you may be having. Contact us at 1-800-214-1010.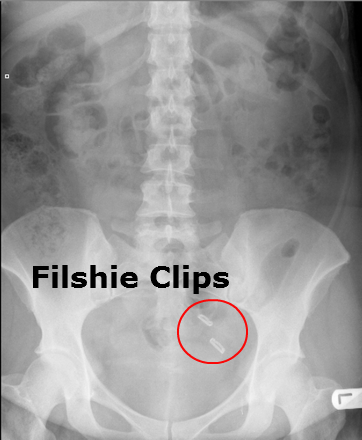 Side effects and problems women are reporting on the Filshie Clips. These are actual comments from women across the U.S. We have omitted their names for privacy.
M.R. "I have the Filshie clips and I'm in such pain! First it was two cycles a month so much heavy bleeding, so talked to the doctor he told me that about novasure, so I had to get that done just to stop the bleeding and now.. I'm just in pain and the anxiety and paranoia is getting to the point I hide in my house for weeks at a time. If I was just warned about how bad this crap was I would have never got these clips!"
K.B. "My clips have migrated."
M.T. " I found out years later through an x-ray that I had clips. It's been a nightmare. I have debilitating cramps, it affects my everyday living, and how can these doctors get away with this?"
E.T. I also have the clips and I have experienced tons of abdominal pain, fatigue, etc. Also heavy and multiple periods each month and it all started shortly after getting my tubal.
J.D. "mine have dislodged and are floating around as well and I am losing my vision due to a rare eye disorder that is linked to the immune system?"
N.S. "These Filshie clips have caused nothing but agony, I just turned 30 and I'm getting told I'm walking around like I'm in my late 60's because everything hurts. I had never had this type of pain before these stupid clips."
T.B. "I had Filshie clips put in Sept. 3,2009 and have had many many problems My doctor told me she was clipping my tubes I just found out last week they were not clipped I had no idea I had a foreign object in my body that I had Filshie clips I am 42 years old and I just want them off but insurance doesn't pay and I was mislead on information when I got my tubes tied My body hasn't been the same since"
V.M "My story started on New Year's Eve. I had a bloody bowel! New years day my stomach pain was so unbearable I was rushed to the ER!! A x-ray showed fishy clips that I did not know were in me. The x-ray technician turned and looked at me and said have you had surgery lately and I said not since 2010 why what did you find in me a knife? Is that what's hurting so bad? Upon viewing the image of the x-ray one of the clips has moved significantly. I can't show the image I can in a msg. The x-ray comments do say their have been changes due to bilateral changes from post operations. They have shifted I am going to get a colonoscopy / endoscopy to rule out medical condition s but I'm also very concerned about these clips. I will see what the specialist has to say. I've been in pain over the last few years and just thought that it was due to endometriosis. I never consented to having a foreign object put in my body. "
There may be a class action lawsuit forming for this device, if you or someone you know has had adverse side effects or other problems with the Filshie Clips, please contact us today.
Please note: this is still in investigation process, and there are no guarantees that a lawsuit will form.