October 23, 2017—San Diego, CA.  Another posting on the MedTechy.com forum alerted us to the story of possible witness tampering in a trial centered on hip implants made by DePuy Orthopaedics Inc., a subsidiary of Johnson & Johnson.
Dr. David Shein, an orthopedic surgeon, has filed an affidavit stating that a DePuy sales representative, Glen Swajger, made comments to the doctor as he prepared for surgery.  The sales rep stated he was concerned about the doctor's practice after the doctor had numerous conversations with DePuy attorneys.
Direct from the Affidavit of David Shein, M.D.
1. On Friday, October 13, 2017, at approximately 11:00am while I was scrubbing in for surgery at the Montefiore Hospital, I met with my Depuy sales representative Glen Swajger in connection with a procedure that required his involvement.
2. Mr. Swajger looked terrible and appeared stressed, so I asked him what was going on. He said the day before (October 12, 2017), he had been contacted by the Depuy lawyers and that discussion made him anxious. He said the lawyers were "on him like crazy." They were putting "big time pressure" on him.
3. Mr. Swajger told me that as a result of the conversations with Depuy attorneys, he was worried there could be ramifications for me in my practice in connections with my upcoming Dallas testimony.
4. He indicated the lawyers were "peppering him". He said the "business in Dallas was freaking [him] out." He said he had a "terrible" day on Thursday as a result of this and my going to Dallas was driving him crazy. He said, "I care about you."
5. Mr. Swajger also told me on Friday that he knows as much about metal on metal as I do, and that he would still want metal on metal because the wear characteristics are better than metal on poly, and he would want me to do his surgery.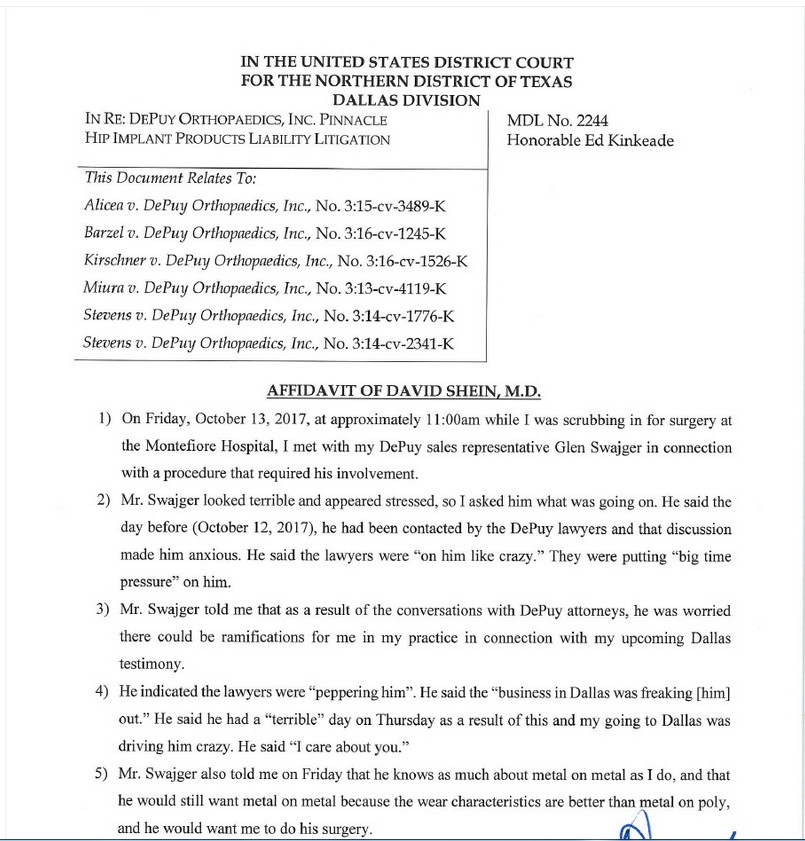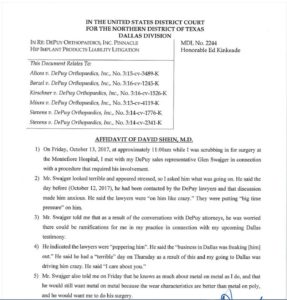 U.S. District Judge, Ed Kinkeade Responds.
"This is a serious matter that requires serious—you know—serious treatment and has serious ramifications," said Kinceade. Kinkeade continued, "it is certainly disturbing and disconcerting to me."
In the transcript of the hip implant trial hearing, lead consul Mark Lanier told Judge Kinkeade that doctor Shein's affidavit is highly troublesome.
Mark Lanier's quote: "It is extremely concerning to me when there are requirements under the federal law, as well as state law, that witnesses not be tampered with, that—that it's a serious felony, that it involves prison time, that it cuts to the core of who we are as a people and what our courts are about."
He continues: "There's no way as a lawyer I can put this witness on the stand in light of that type of pressure and in light of … that type of pressure and in light of — of that type of — intimidation, and in light of that type of settled psychological manipulation of his testimony, as I perceive it."
What are the Hip implant lawsuits about?
Given that several different manufacturers have faced legal scrutiny because of failing hip implant devices, there were also several different reasons that these products failed.  Examples of what went wrong with these devices include:
The device fails to fuse with the surrounding tissue
Problems with the lubricant causing the device to break
Too much friction on the joint leading to a release of metal shards inside the body
The ball joint popping out of place
The product wearing down overall and requiring a replacement sooner than expected
Most hip implant devices are supposed to last anywhere between 5 and 10 years before any additional work would be needed.  Some people have discovered that their devices were not working only months after having them implanted.
Companies Involved in Defective Hip Implant Device Controversies
As stated above, several different companies have been on the receiving end of complaints – both verbal and legal in nature – because of the alleged failings of their products.  The Hood National Law Group, is a team of defective hip implant device lawyers that has been standing up for the rights of clients all over the United States who suddenly found themselves suffering for reasons they could never have foreseen.  Examples of companies that have been involved in these cases include: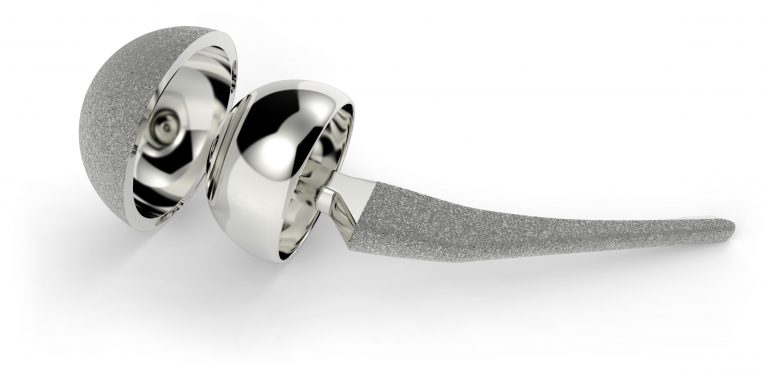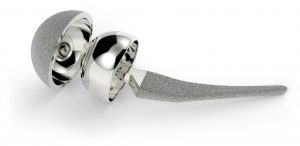 Stryker
Wright
Smith and Nephew
DePuy
Biomet
Sulzer
There have been others, but consumers clearly have no ability to evaluate the quality of a hip implant device before it's put into their bodies, and doctors should be able to rely on reasonable warranties and the like before performing surgeries.
If you or someone you love has had hip surgery and you're suffering because of a defective device, you need to take action to protect your legal rights.  Contact the Hood National Law Group, today to schedule a free initial consultation so that you can obtain the help you need recovering the compensation that you deserve.
Sources:
https://www.scribd.com/document/362046001/De-Puy-Ortho-Doc1#from_embed