November 3, 2017 –San Diego, CA.  Three powerful Congress members are joining forces to question why the F.D.A. has taken so long and dropped the ball on Bayer's Essure birth control device regulations.
On October 30, 2017 the three joined together and authored a letter to the Commissioner of the FSA, Dr. Scott Gottlieb, M.D. Here is the actual letter; also link at the bottom to the online PDF file is available.
The main issues they are asking the F.D.A. on Essure about are:
What is the actually doing to get Bayer to comply for recruiting patients for the study plan.
When will the official number of patients enrolled be released?
How many sites are actively recruiting patients?
How is Bayer making sure that participants are informed about the black box warning?
Will participants be tested for nickel allergy before enrolling and will the nickel contradiction be added to the current labeling for Essure?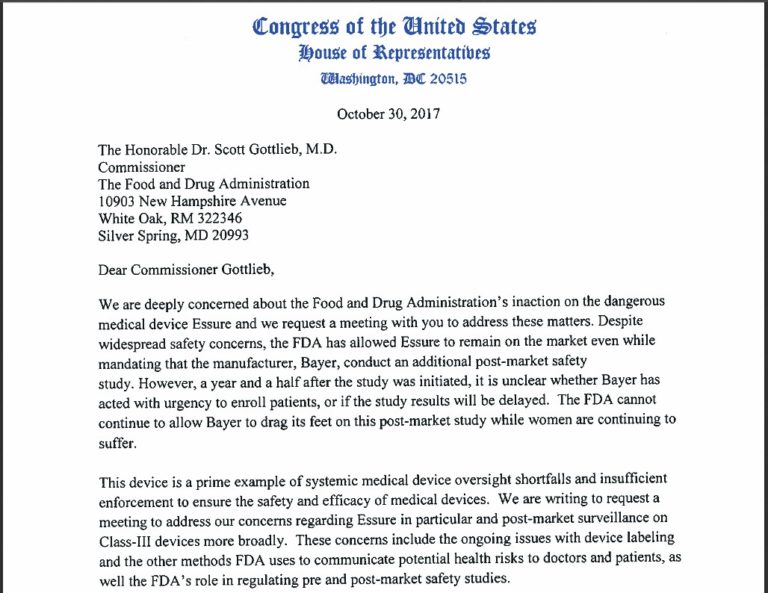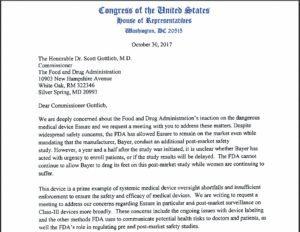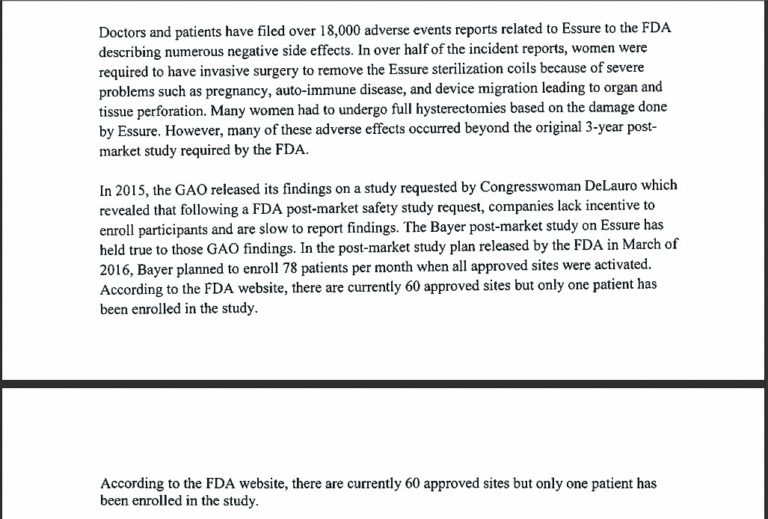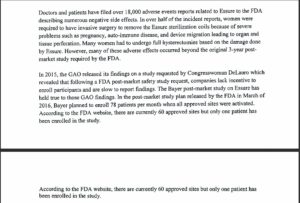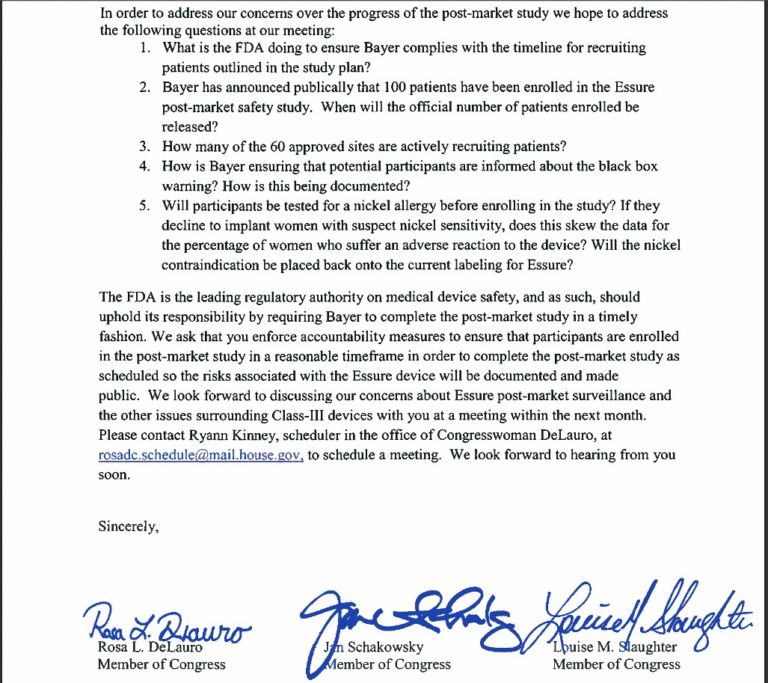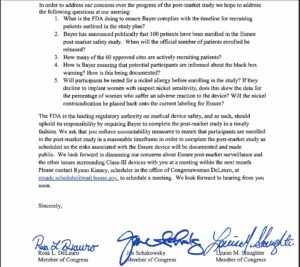 We applaud these members of Congress and hope that by joining forces the FDA will wake up and ban this terrible birth control device which continues to hurt women in the U.S.
Bayer has halted sales of Essure in most European countries, yet still offers it in the U.S.
What are the side effects of Essure?
Essure has been linked to a multitude of adverse side effects by thousands of women who had the metal coils inserted. Side effects can range from mild to severe; some may even be life-threatening. The following symptoms and side effects have been reported by women who had Essure inserted:
Heavy or irregular menstrual cycles
Fatigue
Weight gain or loss
Allergies to nickel
Pregnancy, ectopic pregnancy
Device migration
Perforation of organs
Broken or missing coils
Chronic pelvic pain
Pain – lower back, hip, joint, chest, leg, neck, spine
Hair loss
Hair growth in new places
Headaches or migraines
Nausea, vomiting
Malaise, general feeling of illness or discomfort
Severe bloating
Cramping
Endometriosis
Fibroids
Night sweats
Loss of libido
Bleeding/spotting after sex
Painful intercourse (dyspareunia)
Yeast infections
Bacterial vaginosis
Urinary tract infections (UTIs) or bladder infections
Blood in urine
Swelling, inflammation of cervix or vagina
Itching, burning, stabbing pain at vaginal opening
Breast pain, tenderness
Constipation, gas, diarrhea
Metallic taste in mouth
Heartburn
Mood swings
Dizziness
Anxiety
Depression
Tingling sensations
Brain fog, forgetfulness
Fainting/black out spells
Blood clots
Vitamin D or B12 deficiencies
Anemia, iron deficiency
Hives, rashes, skin irritation
Acne
Dental issues
Insomnia
Thyroid disease
Swelling of legs, feet
Muscle spasms
Vision problems
Excessive sweating
Dry skin, hair or eyes
Source: https://delauro.house.gov/sites/delauro.house.gov/files/FDA-Essure-Letter-Congress.pdf