September 5, 2017 San Diego, CA –Bayer's FDA Postmarket Surveillance Study on Essure Report is now OVERDUE!  The FDA demanded Bayer do a 522 Postmark study on the Essure birth control device. Bayer's report was due on September 2, 2017.
In our opinion, Bayer is dragging its feet on further clinical testing of this problematic device and in doing so is exposing even more women to its harmful potential side effects.
The FDA official, Mr. William Maisel states, "So Bayer is – we expect Bayer to submit a study protocol to us within 30 days. By law they must begin their clinical trials within 15 months. And failure to do so could result in the agency taking action such as issuing a warning letter and declaring their device misbranded. We have taken those actions in the past and we will do so in the future if Bayer does not meet its requirements."  
This is the second time Bayer has missed FDA guidelines:
The first miss was that Bayer needed to start  new clinical trials and study by May 2017. That date has now past. Now missing the September 2, 2017 for the 522 report is fairly serious.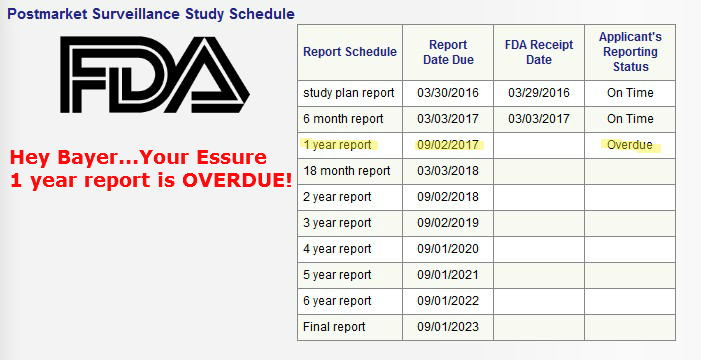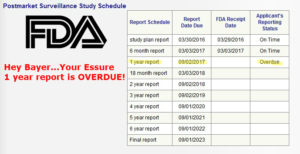 What is an FDA 522 order?
From the FDA Website:  "The 522 Postmarket Surveillance Studies Program encompasses design, tracking, oversight, and review responsibilities for studies mandated under section 522 of the Federal Food, Drug and Cosmetic Act. The program helps ensure that well-designed 522 postmarket surveillance (PS) studies are conducted effectively and efficiently and in the least burdensome manner."
We scanned the FDA website and also found:  "A manufacturer must submit a postmarket surveillance plan within 30 days of receipt of the 522 order (section 522(b)(1) of the Act and 21 CFR 822.8) and commence surveillance not later than 15 months after the day on which FDA issues the 522 order."
At the end of May, Bayer announced that it has decided to remove Essure from the Finland stating slow sales in that European county. Brazil also took Essure off the market.  Other EU nations have pulled Essure off the market or Bayer has decided to stop selling Essure in some countries "due to slow product sales."
However Bayer continues to sell this product in the US despite all of the FDA data illustrating the problems associated with the device.  The latest move from the FDA was to ramp up its consumer warnings to Black Box Warning status, which is the highest level of warning to consumers, generally after that comes either the FDA banning the device, or Bayer may choose to remove Essure from the US market.
Victims Speak Out Against Essure Problems
In a New York Times article posted May 5, 2015, one 42 year old woman was quoted, "If I had any idea of the possible consequences of Essure, I would never have chosen it." She experienced severe pain and nonstop bleeding for two years after receiving the implant in 2009. Her doctors found the device had broken apart and lodged in her uterus. She underwent surgery to have the broken bits removed.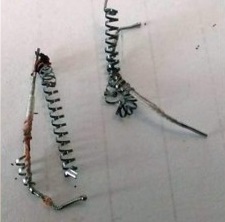 Data from the FDA site on Postmarket Surveillance Study:
This shows the most common problems reported to the FDA from its Adverse Event's reporting system.
https://www.accessdata.fda.gov/scripts/cdrh/cfdocs/cfPMA/pss.cfm?t_id=356&c_id=3854
FDA Main Safety Endpoints:
– Chronic lower abdominal and/or pelvic pain
– Abnormal uterine bleeding (new onset or worsening)
– Hypersensitivity and allergic reactions, and autoimmune disorders (new onset) or autoimmune- like reactions
– Invasive gynecologic surgery including Essure insert removal
Secondary Safety Endpoints:
– Other adverse events
In the event of a device removal or event of interest, additional data collection may include bloodwork, pathology, histology, and metallurgic testing, as appropriate
Effectiveness:
– Pregnancy
Essure Implant Lawsuits Forming
Because we feel strongly that Bayer HealthCare rushed this product to market and the FDA did fast-track the process, women have been the unwilling victims of profit over safety. We intend to hold Bayer Healthcare responsible for the pain and continued suffering of thousands of women who have had the Essure Contraceptive device implanted. If you, or someone you love, has had the Essure Contraceptive Implant and has had ANY adverse side effect we're on your side. Contact our lawyers and attorneys today for a FREE case review.
Learn about the Essure Lawsuit here.
Source FDA: https://www.accessdata.fda.gov/scripts/cdrh/cfdocs/cfPMA/pss.cfm?t_id=356&c_id=3854
https://www.accessdata.fda.gov/scripts/cdrh/cfdocs/cfPMA/pss.cfm