San Diego, CA — A draft of Bayer's updated label for Essure with the anticipated black box warning is now available on the company's site.
Last November, the FDA announced it had approved Bayer's proposed black box warning and patient checklist for its Essure permanent birth control device. The agency said the new warning and checklist, added to the Essure label, would be made available by Bayer in about 30 days.
The pharmaceutical company, however, has already posted what appears to be a draft version of the new label on its Essure website (essure.com).
The new label includes a black box warning, the strictest warning required by the FDA on a drug or device's label when there is a risk of serious or life-threatening side effects. The FDA announced in February 2016 that it would require Bayer to add such a warning to the label of Essure, and issued a final guidance for the warning's proposed language late last month.
The black box warning now included on the Essure label is identical to the black box warning proposed by the FDA in its guidance.
Here is a look at the black box warning proposed by the FDA in its final guidance: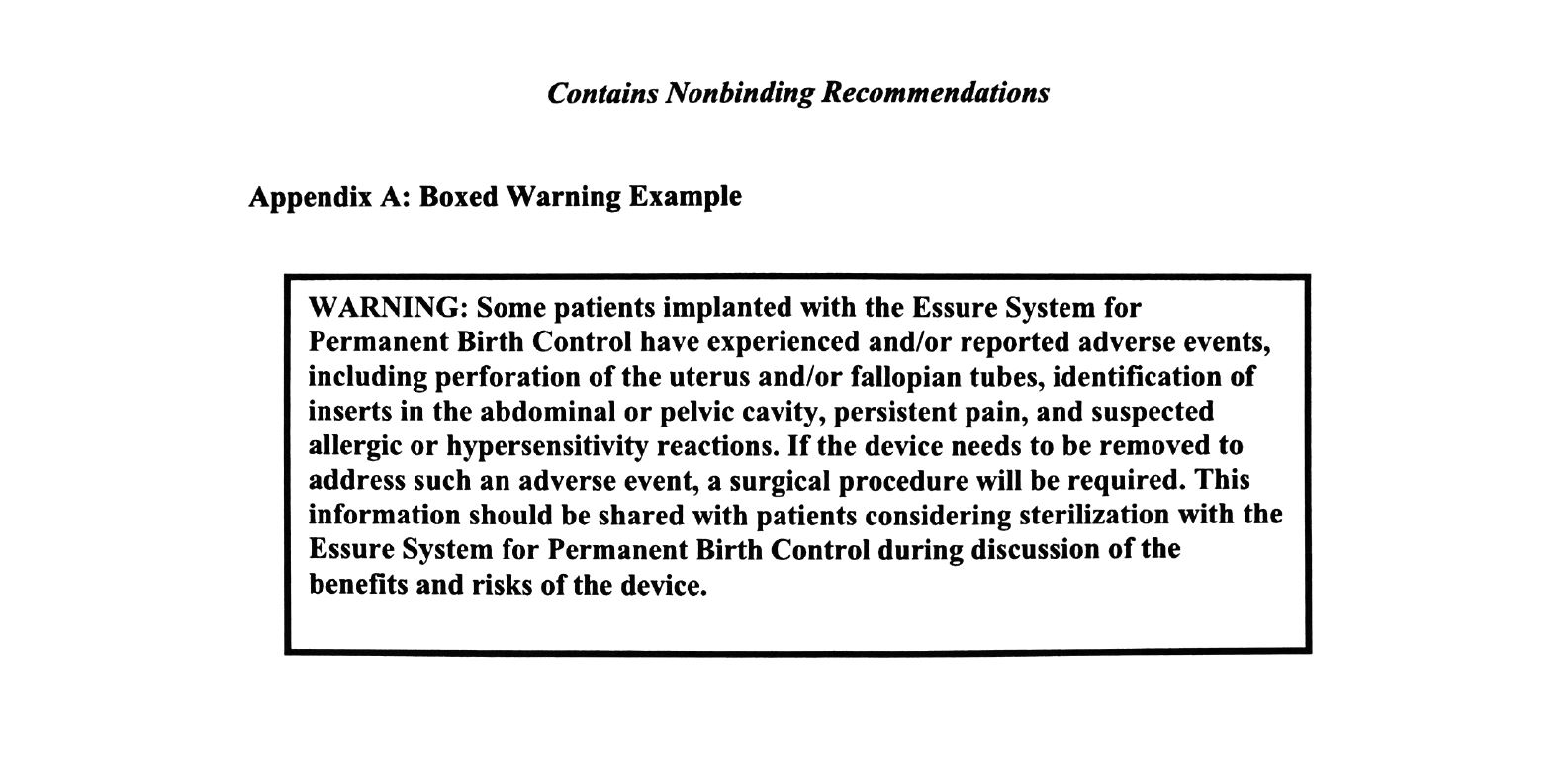 Bayer's new black box warning (posted below) is identical to the FDA's proposed warning:
The Essure Label – What Has Changed?
In addition to the boxed warning, Bayer made changes throughout the Essure label. While subtle, these changes could impact how women perceive the Essure System when deciding what form of permanent birth control is right for them.
One subtle yet significant change was the description of Essure as a "nonsurgical procedure." That phrase was replaced with "minimally invasive procedure" under the Benefits of Essure section. Bayer also replaced the description of Essure as a procedure that "does not require surgery" under the Essure May Be Right For You If section. It now reads "does not require cutting and leaves no visible scars."
Bayer may have slashed instances of these phrases after taking into consideration one of Essure's potential side effects: that it "may require surgery."
Bayer also changed the average Essure procedure time from "less than 10 minutes" to 36 minutes in several instances throughout the label.
Most importantly, however, Bayer added and updated risks and side effects of Essure throughout the label. The following are examples of some of the changes made, though it is not a complete list:
Long-term risks –

expanded the long-term pain risks of the device and included real-world reports from women who had the device implanted
included a longer list of materials used in the making of Essure (polyester fibers, nickel, titanium, iron, chromium nickel, platinum, silver-tin); expanded the risk of allergic reactions associated with these materials to include patients who have never had sensitivities before
added the risk of surgery, including hysterectomy, if Essure needs to be removed after placement (first mention of hysterectomy in patient label)
replaced the risks related to pregnancy with Essure from "unknown" to reports of pregnancy loss, pre-term labor, premature delivery, stillbirth, neonatal complications, and genetic and developmental abnormalities

Unknown risks –

added other symptoms reported to FDA by women implanted with Essure, including common symptoms of headache, fatigue, weight changes, hair loss, and mood changes such as depression — Bayer points out that these side effects were not seen in clinical trials and that it's unknown whether they are related to Essure or other causes

Risks During Essure Procedure

replaced "in rare cases" to "there is a risk of" when talking about the possibility of Essure inserts puncturing the uterus or fallopian tube (maybe these instances aren't so "rare" after all?)

Risks during the Essure confirmation test

added risks of the modified HSG test (used to confirm whether the fallopian tubes are closed), including nausea and vomiting, dizziness or fainting, cramping, pain or discomfort
Another noteworthy change: the company removed two mentions of other Bayer products from the Essure label, including plugs for its NovaSure procedure and Mirena IUD.
Patient Decision Checklist
The FDA said in its final guidance it would require Bayer to include a new patient decision checklist because it felt women were not receiving or understanding information regarding the Essure procedure and device.
The checklist highlights the key risks and benefits of the Essure System and both women and their doctors are required to sign it before moving forward with the procedure.
Bayer's draft patient decision checklist is nearly identical to the FDA's proposed checklist, though there are some relatively significant differences between the two.
One of those differences can be seen in the section that lists the requirements for Essure placement.
According to Bayer's checklist, women who have an active pelvic infection at the time of placement are not good candidates for Essure. The FDA's proposed checklist said women who have had a pelvic infection in the past six weeks are not good candidates for Essure.
Bayer's checklist widens the pool of "good candidates for Essure" by including a number of women who had active pelvic infections within the past 6 months – a group the FDA's proposed checklist would have disqualified.
It's important to note that Bayer's patient checklist was approved by the FDA, meaning the agency approved Bayer's inclusion of those women who had pelvic infections in the past 6 months in the "good candidate" category.
It can also be noted that Bayer included "suspected or known cancer of the female reproductive organs" as a potential disqualifier for the Essure procedure, unlike the FDA's proposed checklist, which made no mention of cancer.
Another difference between Bayer's draft checklist and the FDA's proposed checklist can be seen in the percentage of reported side effects following the Essure placement procedure. Those side effects include cramping, mild to moderate pain, nausea/vomiting, dizziness/lightheadedness, and vaginal bleeding.
The FDA rounded up the percentages of each of those reported side effects; Bayer did not.
For example, cramping was reported in 29.6% of procedures, according to Bayer's checklist, while cramping was reported in up to 30% of procedures, according to the FDA's proposed checklist.
While both instances are correct, Bayer's decision to list the percentages to the nearest tenth decimal is a key marketing tool used by many industries to trick the mind into thinking something is "less" than it really is.
Grocery stores, for instance, might price items at $29.99 instead of $30 because it makes the item look like it costs less. This could be why Bayer chose not to round up its own numbers.
Why the changes?
Advocates and users of Essure have been fighting to get a black box warning on the Essure device for well over a year.
The Essure label was finally updated following more than a year of the U.S. Food and Drug Administration's own investigations into thousands of reported side effects and a review of public input and professional opinions from a 2015 Advisory Committee Meeting.
Tens of thousands of women report being harmed by Essure, yet the device remains on the market. The addition of the black box warning, patient decision checklist, and updated labeling are steps towards ensuring women get all the information they need to make informed decisions about Essure.
You can access the draft Patient Information Booklet here.
Essure Lawsuits
Women who have been harmed by Essure are filing lawsuits against Bayer Healthcare, alleging the company failed to adequately warn about the potential risks of its permanent birth control device.
If you or a loved one were injured as a result of Essure, you may be entitled to financial compensation for lost wages and medical costs.
Call the Hood National Law Group today to speak with a member of our legal team. We can help answer your questions and see if you qualify for a case with our free case evaluation. Call today at 1-800-214-1010 or use the form on the right-hand side of your screen.