November 10, 2017 – San Diego, CA.  Meet Dr. Cindy Basinski Bayer new Clinical Trials Physician for Essure.  Dr. Cindy Basinski is a board-certified Urogynecologist specializing in gynecology and urogynecology and practices in Newburgh, Indiana.
Doctor Basinski website mentions that her office has performed 1024 Essure insertion procedures, and states a high rate of satisfaction among their patients.  Her website offers some information on the Essure controversy and gives the reader some insight into the problems associated with Essure.
Much of the information provided on her site speaks rather favorably for the Essure device. Here's an excerpt:
"In recent months there have been several reports in the media about adverse reactions and complications after Essure. Dr. Basinski and Dr. Juran strongly believe that Essure is a wonderful option for women desiring permanent sterilization. We know women have busy lives with families and jobs and the Essure procedure provides a safe, convenient, fast, effective option that keeps women out of the Operating Room and avoids general anesthesia and abdominal surgery risk."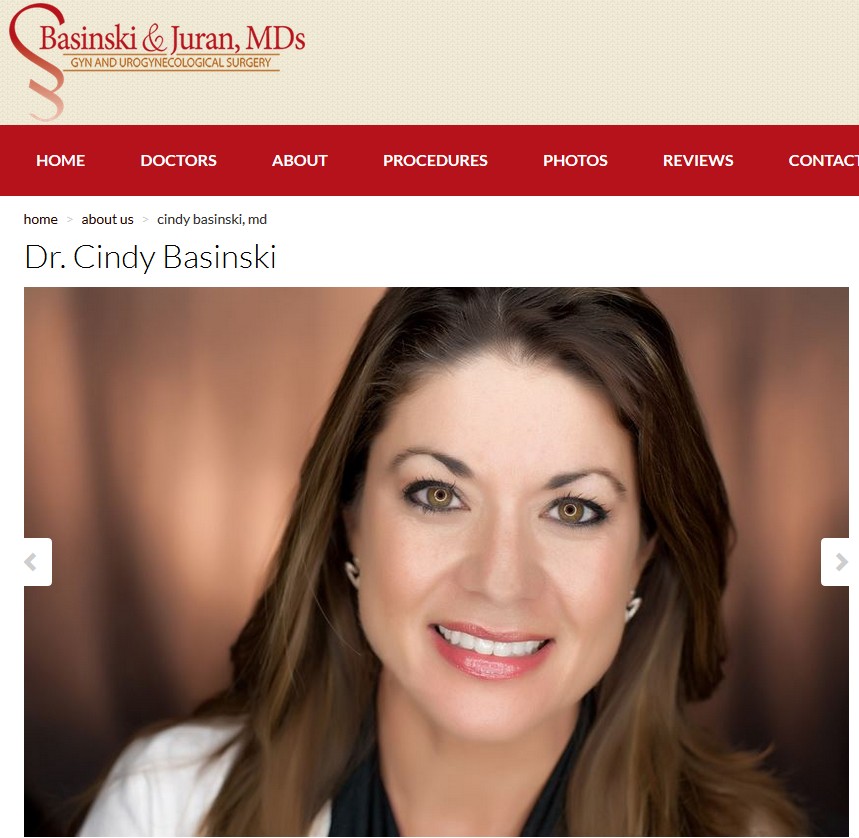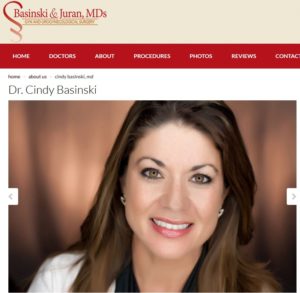 However what her website doesn't mention are the well known side effects from Essure as documented in the FDA adverse medical device alerts.  These MAUDE reports list many Essure side effects including:
Organ perforation
Device migration into other areas
Menorrhagia ("heavy menstrual bleeding")
Chronic pelvic pain / increasingly severe pain / persistent pain
Alopecia ("excessive hair loss")
Dyspareunia ("pain during intercourse")
Abnormal weight gain
Abdominal distension ("abdominal bloating")
Chronic fatigue
Frequent infections
Allergic reactions (Nickel metal)
When these side effects become overwhelming to the patient the only recourse is a complete hysterectomy.
https://www.accessdata.fda.gov/scripts/cdrh/cfdocs/cfmaude/detail.cfm?mdrfoi__id=6991724&pc=HHS
Here is one of the latest adverse reports filed October 31, 2017.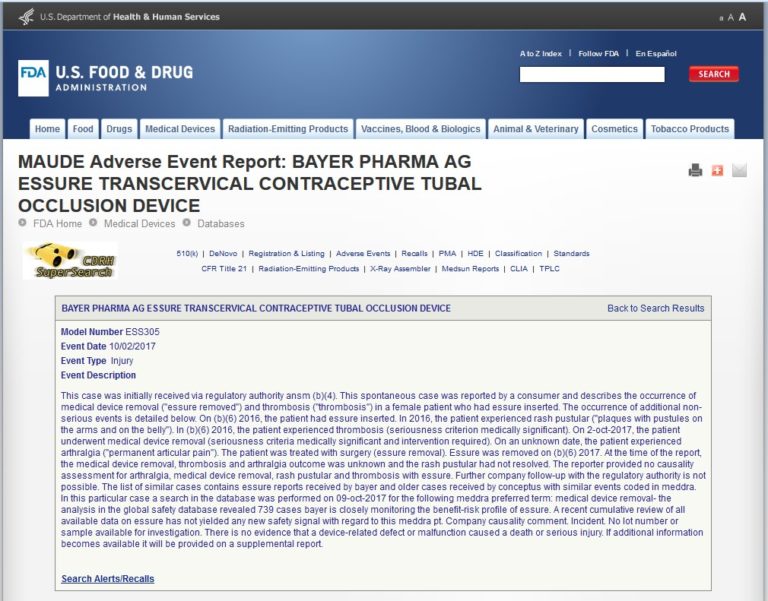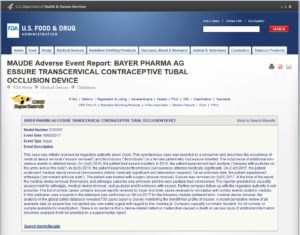 BAYER PHARMA AG ESSURE TRANSCERVICAL CONTRACEPTIVE TUBAL OCCLUSION DEVICE.
Model Number ESS305
Event Type Injury
Event Description
This spontaneous case was reported by a lawyer and describes the occurrence of pelvic pain ("severe pelvic pain") in a female patient who had Essure inserted for female sterilization. The occurrence of additional non-serious events is detailed below. On (b)(6) 2014, the patient had Essure inserted. On an unknown date, the patient experienced pelvic pain (seriousness criteria medically significant and intervention required), menstrual disorder ("persistent menstruation issues") and hypersensitivity ("allergic reaction"). The patient was treated with surgery (underwent a total hysterectomy due to complications from the Essure). At the time of the report, the pelvic pain, menstrual disorder and hypersensitivity outcome was unknown. The reporter considered hypersensitivity, menstrual disorder and pelvic pain to be related to Essure. Diagnostic results (normal ranges are provided in parenthesis if available): hysterosalpingogram – on (b)(6) 2015: confirming Essure device was successfully occluded. Company causality comment. Incident. No lot number or sample available for investigation. There is no evidence that a device related defect or malfunction caused a death or serious injury. If additional information becomes available it will be provided on a supplemental report.
What is the controversy with Dr. Basinski and Bayer Pharmaceuticals?
To begin with we know that Dr. Basinski received over $70,000 in compensation from Bayer. That alone should be a warning flag.  When big pharmaceutical companies directly pay doctors that affects and influences how they present a medical device.
We recently learned that these large corporations routinely spend more money advertising to doctors then what they spend on research and development. Read more about the problem "Gifts from pharmaceutical companies are believed to influence prescribing behavior"
at: https://desdaughter.com/2017/10/31/industry-gifts-to-doctors-linked-to-branded-costly-prescriptions/
The larger problem with Bayer hiring Dr. Basinski is that she was found to be in violation of failing to report adverse events of FDA clinical trial participants.  She was also cited for improper conduct in prior clinical trials by adding or altering medical information on some patient's records. These gross violations and her known favorable bias to the Essure device should halt her inclusion in the next round of clinical trials.
Powerful Congress members Keep Pressure on FDA for Essure Victims
On October 30, 2017 Congress members Rosa DeLauro, Jim Schakowsky and Louise Slaughter joined together and authored a letter to the Commissioner of the FDA, Dr. Scott Gottlieb, M.D.
The main issues they are asking the F.D.A. on Essure about are:
What is the actually doing to get Bayer to comply for recruiting patients for the study plan.
When will the official number of patients enrolled be released?
How many sites are actively recruiting patients?
How is Bayer making sure that participants are informed about the black box warning?
Will participants be tested for nickel allergy before enrolling and will the nickel contradiction be added to the current labeling for Essure?
We applaud these members of Congress and hope that by joining forces the FDA will wake up and ban this terrible birth control device which continues to hurt women in the U.S.
Bayer has halted sales of Essure in most European countries, yet still offers it in the U.S.