April 24, 2018 – San Diego, CA.  A new study entitled Autoimmune Disease and Metal Exposure: What You Need to Know was recently published by the International Academy of Oral Medicine and Toxicology and highlights the problems with metal used in many different medical devices, including Bayer's Essure birth control device.
The study and scientific research is repeatedly demonstrating that metal exposure can be a contributing factor to autoimmune disease.  International Academy of Oral Medicine and Toxicology is hoping to raise awareness of both the medical community and the general public that many of these medical devices could have far reaching consequences of possible bodily harm.
John Kall, DMD, and co-author of the new article explains;
"Causes of autoimmune disease have been scientifically associated with a combination of genetic circumstances and exposure to metals or to infectious agents, mold, or other environmental factors."
"The IAOMT is concerned that autoimmune diseases are on the rise and so is unnecessary exposure to metals used in dentistry and medicine, even though biocompatible alternatives are available."
The IAOMT article then goes on to list scientific data that documents medical procedures that have safely removed some metal device and seeing recovery and overall health improvements in patients with serious conditions including autoimmune thyroiditis, chronic fatigue syndrome, Crohn's disease, fibromyalgia, multiple sclerosis, and others debilitating diseases.
Also presented in the article are the different types of metals that are problematic.  These metals include: aluminum, chromium, cobalt, copper, mercury, molybdenum, nickel, tin, titanium, and many more, including the multiple metals in stainless steel.
Dr. Kall goes into more details with this statement:
"In addition to reporting any rashes from jewelry, watches, or other metal exposures, it is essential for each patient to recognize the gamut of symptoms that can be related to the presence of a metal implant or device in their body,"
 "It is also vital for patients to remember that sensitization to metal can develop years after an implant or device has been placed and that adverse effects can occur with or without the sign of a rash or eruption on the skin or in the mouth."
Bayer's Essure Birth Control device contains many metals.
When we looked at the list of metals used in the Essure coils we see the device is made from nickel, stainless steel, titanium, platinum and silver-tin.  However it is the nickel metal used in the coils that is creating numerous documented nickel allergies in women, here's how.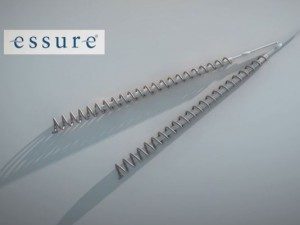 How is a nickel allergy linked to Essure?
The Essure insert is made of materials that include a nickel-titanium alloy. Once the inserts are placed inside the body, small amounts of nickel are released from the inserts. Women who are allergic to nickel could potentially have a severe allergic reaction to the inserts.
According to a study reviewing reported adverse events associated with nickel hypersensitivity in patients with Essure implants, the suspected nickel hypersensitivity is small, but is reported as very painful and severe. Reports were reviewed from 2001 through July 21, 2010 and over 650 patients' results were tested.
FDA now mandates Doctor's to warn women about Essure.
Although the FDA is fully aware of the toxicity of nickel, and that women tend to have nickel allergies more than men, they still approved its use in Essure.
Due to the nickel inserts, more and more women are coming forward with severe allergic reactions to Essure, and being forced to have surgeries to remove the device altogether.
FDA Finally Takes Some Action – From the FDA website:  The following was obtained directly from the FDA website in the Products and Medical Procedures section:
2018: physician and patient labeling updated to include a restriction on sale and distribution of Essure to limit it doctors and hospitals that review the FDA-approved "Patient-Doctor Discussion Checklist – Acceptance of Risk and Informed Decision Acknowledgement" with patients and obtain their signature before implanting the device. The FDA has approved this new safety measure to ensure that the device meets our standards for a reasonable assurance of safety and effectiveness.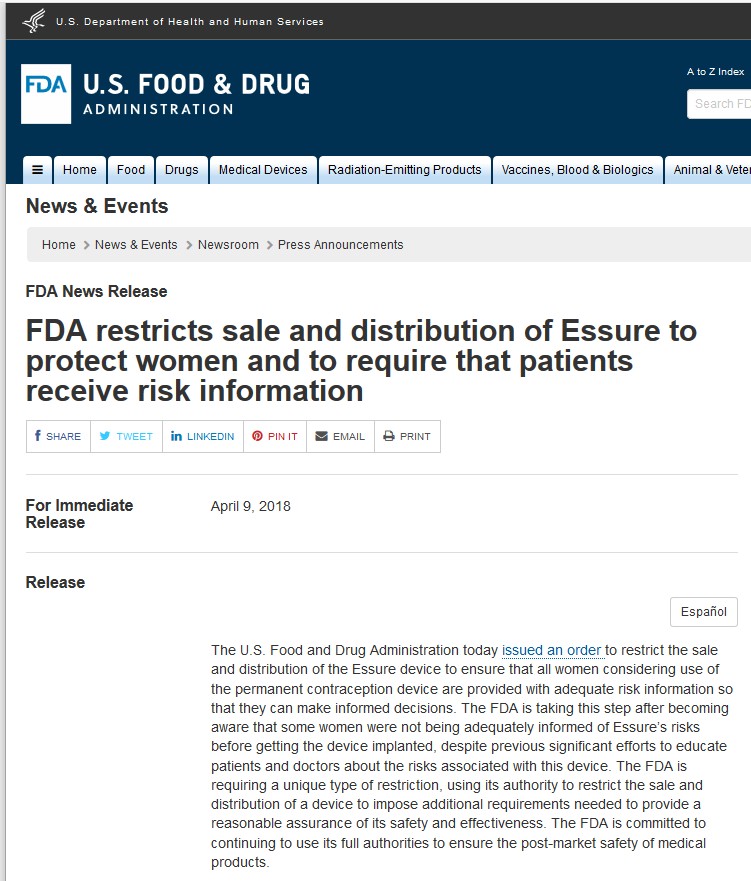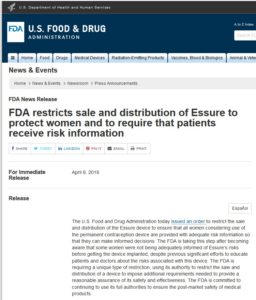 While this FDA action above is a start in the right direction, we feel very strongly that Bayer's Essure device should be pulled from the American market.
Bayer has stopped sales of its Essure device in most European counties – stating slow sales.  However it was learned that many of these EU countries banned the device from being sold.    
If you're a woman who has found this blog article on autoimmune disease and metal exposure, and have had nickel allergy or other side effects, the good news is we can help you file a lawsuit claim.
Learn more about the Essure lawsuits in 2018
Sources:
https://www.fda.gov/NewsEvents/Newsroom/PressAnnouncements/ucm604098.htm