May 16, 2017 – San Diego, CA.  Last year at almost the exact day, the FDA issues a warning for people taking a diabetes drug called Invokana.  Here is the original blog post disusing the FDA warning from last year:
"FDA is alerting the public about interim safety results from an ongoing clinical trial that found an increase in leg and foot amputations, mostly affecting the toes, in patients treated with the diabetes medicine canagliflozin (Invokana, Invokamet). FDA has not determined whether canagliflozin increases the risk of leg and foot amputations. FDA is currently investigating this new safety issue and will update the public when we have more information."
Now as of today, the FDA is now taking the warning to the most extreme level, the Boxed Warning.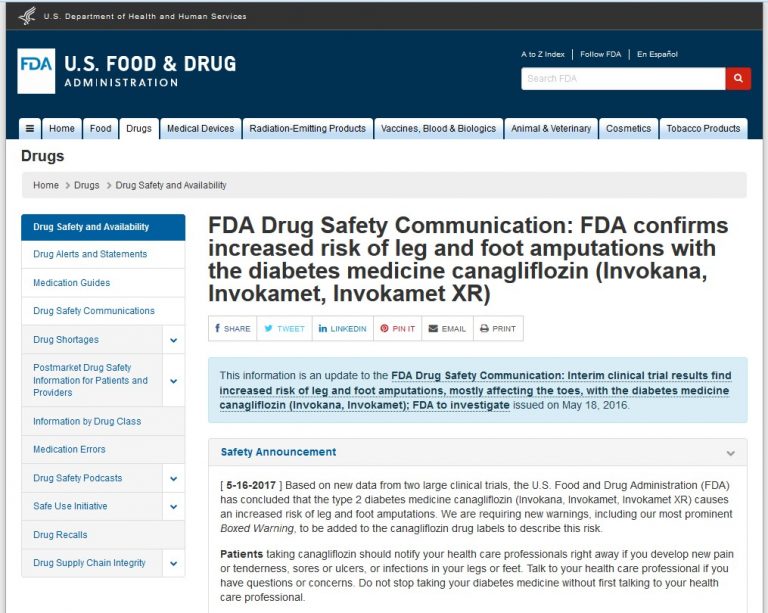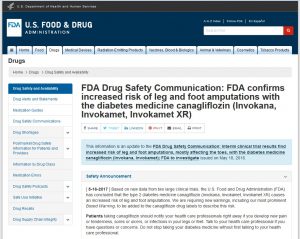 The FDA Black Box warning is the highest level of warning issued to drugs. Many times if a drug continues to have adverse affects, it may then be recalled by the manufacturer or issued by the FDA.
The new data was complied by two very large and new clinical trials, the CANVAS (Canagliflozin Cardiovascular Assessment Study) and CANVAS-R (A Study of the Effects of Canagliflozin on Renal Endpoints in Adult Participants With Type 2 Diabetes Mellitus).
In these two studies the researchers warn of the increased risk of leg and foot amputations. FDA is requiring new warnings, including the most prominent Boxed Warning, to be added to the canagliflozin drug labels to describe this risk.
Not the only FDA warning for Invokana.
On top of warnings from the FDA, there are more concerns when it comes to this drug. The Institute for Safe Medication Practices (ISMP) published a warning in their May 6th edition of Quarter Watch which warns about a number of adverse reactions being reported to the FDA about Invokana.
In the first year after Invokana was released, there were over 450 adverse event reports filed.
54 reports of kidney failure
54 cases of severe hydration or fluid imbalance
11 cases of kidney stones
50 cases or urinary tract infections
52 cases of abnormal weight loss
50 cases of hypersensitivity (swelling of the tongue, lips, throat, face)
Links and sources:
Learn about the Invokana lawsuits going on.
FAQs on Invokana here.
https://www.fda.gov/Drugs/DrugSafety/ucm557507.htm?source=govdelivery&utm_medium=email&utm_source=govdelivery