We listen to countless horror stories from women who work in strip clubs across the U.S., many of these women, who are simply trying to hold down a well paying job suffer at the hands of club owners and management.
After hearing about this and taking notes of the different types of abuse, we've decided to turn our attention to these men's clubs whose practices seem almost unfathomable in 2019.  How could this industry that has treated women so awfully get away with it for so long?
Just yesterday, July 1, we saw a tweet from a strip club dancer and found a new way a club is taking money out of the workers pocket, tweeter source citation below.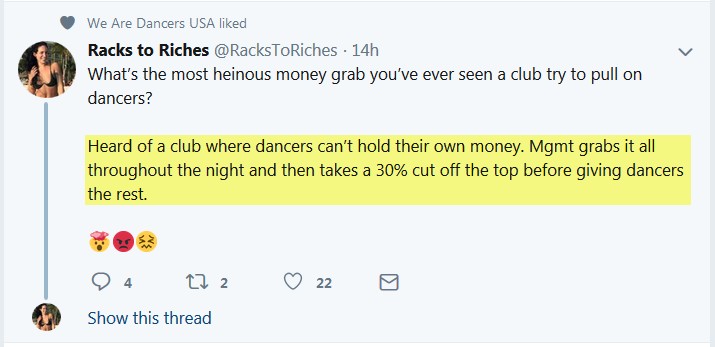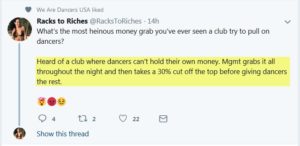 The tweet reads:
"What's the most heinous money grab you've seen a club try and pull on dancers?  Heard of a club where dancers can't hold their own money. Mgmt grabs it all throughout the night and then takes a 30% cut off the top before giving dancers the rest" @RacksToRiches
Does that seem fair to you?  Is it legal?  The short answer is NO; this isn't legal according to the Fair Labor and Standards Act (FLSA laws)
Here's another example of the abuse of unfair pay some strippers are facing:
"Candi" (stage name used to protect her privacy) is an exotic dancer who has worked for a New York strip club for the past 3 years. The club owns 20 locations across the state.  When she applied for the job she was told she would be a 1099 Independent Contractor.  She was also told she must pay "house fees" or "dance floor" fees every shift at every club they own.  She is also required by the club to tip all on staff DJs and other club workers. Does this sound fair?  Is this strip club pay scheme illegal? YES!
What is going on in Strip Clubs that is making the news?
Witness the abuse at the Ball Gentlemen's club in Knoxville Tennessee.  The dancers are now suing the club alleging illegal working conditions, and being treated as commodities.
The club claims the women aren't employees with rights to wage and labor protection, but simply strippers for hire so they classify them as contract laborers.  Ball Gentleman's club has had a lawsuit filed on behalf of the dancers, in the U.S. District Court of Tennessee in a similar fashion as what took place against Déjà vu Services.  Déjà vu paid out $6.5 million to cover 28,000 dancers.
How Strip club management rips women off, a real life example.
Details of the Ball Gentlemen's club lawsuit claim dancers were required to work four days a week in nine hour shifts.  They have to pay $30 per shift simply for the right to dance. There is also a late fee of $10 for not showing up or dancing on time.  The worst offense is if they are sick and can't work, they must pay $100 for every shift missed.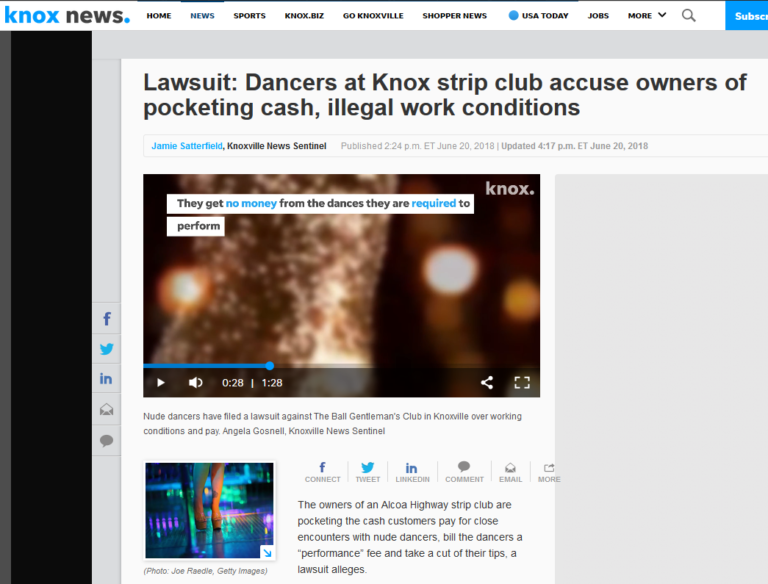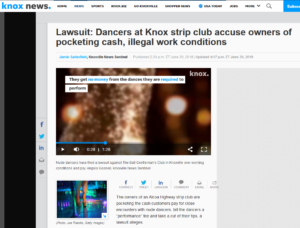 If that isn't bad enough, in a more egregious way they did this:
"We will decide how you will dress, what costumes and props to use and parade you in front of customers for an hour to show off your bodies.  If you refuse to parade you will be fined $5."
The lawyers in this case clearly stated: "The purpose is for defendants' customers to see all the girls at one time and decide whether they want a private dance."
How the money adds up – for the Club owners.
At Ball Gentleman's club the owners charge $20 for a "table dance." A "VIP dance" costs a customer $40.  A customer must fork out $60 just to enter the private "Champagne Room" and is billed for every minute he spends there alone with a nude dancer.
However the dancers don't receive any of that money.  According to the dancers, if a customer tips them, the owners take $5 for every table dance, $10 for VIPs and $20 for each song played in the "Champagne Room."
Lawyers for the dancers in court stated: "Each (dancer's) job duties are essentially identical: while in various stages of undress including being totally nude, plaintiffs dance provocatively on defendants' stage for the entertainment of defendants' paying customers,"
"While not dancing on stage, defendants require plaintiffs to mingle and engage in conversation with their customers to encourage those customers to buy private dances from plaintiffs. Plaintiffs do not market themselves outside the club nor do they hold themselves out to the general public as individual entertainers available for hire."
The Key Question – Are strippers or exotic dancers an "employee" or "independent contractor"?
Many clubs today will often seek to categorize the dancers as "independent contractors" rather than employees.  This tactic allows these clubs to avoid following the rules set by the Fair Labor Standards Act.  However, gentlemen's clubs or stripper bars can't just state that a dancer is an independent contractor and make it true – certain legal requirements must be met; otherwise, the dancer is actually an employee.
So what actions can strip club dancers take against this abuse?
The good news is that right now there is a movement taking place throughout both the strip club industry and sex worker industry.  Women are gathering in masses to protest these abuses and some are now considering joining forces in the way of unions, one is the Exotic Dancers Guild, which is run by the International Entertainment Adult Union. Website here: http://www.ieauunion.com/
We applaud their efforts to unionize and it's a step in the right direction, but for those women suffering abuse on a daily bases, there is another method, taking legal action against the club.
This is where National Injury Help comes in. We will hold any strip club or gentleman's clubs accountable if they have broken any Fair Labor Standards Act (FLSA) laws.  In doing so women who have taken part in a lawsuit could gain the following: (please note these are examples, every case is different)
Back pay of 2-3 years of hourly wages.
All "fees" you may have paid to the club.
Any other monetary benefits related to an employee status.
Recoup any and all "tips" paid to other club workers including DJs and /or House Moms.
Many of these strip club unfair pay lawsuits have had a very good track record for paying the victims. There have been many of these strip club lawsuits across the country.
Exotic Dancers & Strippers Have Rights!
If you are, or were an exotic or topless or full nude dancer and have experienced unfair pay we can help you regain your dignity and pay that may have been taken illegally from you. You have rights to sue the club's owner(s) or corporation.
The first step in joining the Stripper individual employment lawsuit is to simply call us at 1-800-214-1010, or use the contact form on this page.  The lawyers and attorneys at National Injury Help are ready to file these claims. Take action now and protect your rights!
Sources:
https://twitter.com/RacksToRiches
https://www.nationalinjuryhelp.com/strip-club-misclassification-lawsuit/
https://www.knoxnews.com/story/news/crime/2018/06/20/lawsuit-knox-strippers-accuse-club-owners-illegal-work-conditions/711489002/