October 26, 2018 –San Diego, CA.  The electric scooter industry is a on a roll, so to speak, and is creating quite the controversy in many cities across America.
Does your city have Bird or Lime scooters? If so, you may have an opinion on its use. It's been a very polarizing discussion with towns and cities trying to figure out how they can regulate them, where people can and can't ride them, and now injury lawsuits are being filed. How did we get here?
Bird Scooters is a ride share company offering the public electric scooters you may see around your town.  Bird first arrived to the public in Santa Monica, California in September 2017, as a pilot program.
Soon after this test period the company began rolling out the electric scooters to other cities throughout California. Bird is located in Santa Monica. It's one of the first companies to venture into the electric scooter sharing industry.  Currently Bird is valued at $1 billion dollars, the fastest start-up to reach that number.
Pros and Cons on Electric Scooters
Some people are in favor of these e-scooters stating they provide a cheap and efficient way to get around town, and are good for reducing car traffic and good for the environment by lowering green house gas emissions.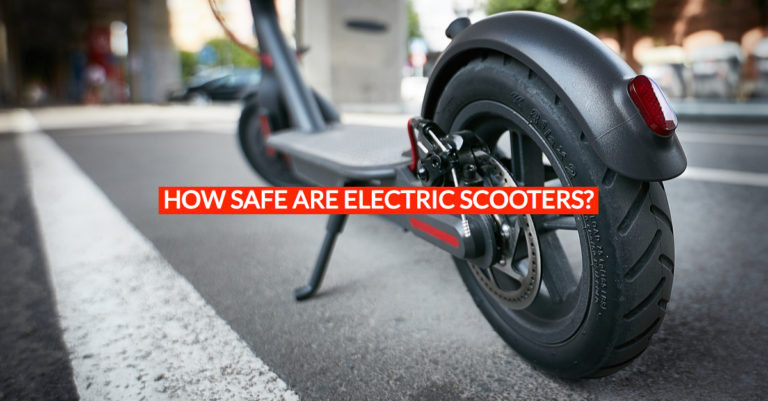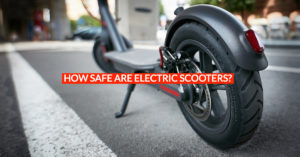 Young people in particular are drawn to them because they represent a cheap way to get around town, and are much faster than walking.  In general they cost $1 dollar to unlock, and about $.15 to ride per minute.
Clogging up Sidewalks and Doorways
Others have complained about the sheer number of scooters being dumped in their towns including this author's home town San Diego.
Issues here are the same as they are in other cities, include clogging up sidewalks and taking up space in front of businesses entry ways.  There has been blown-back from store owners who claim that when they are left in narrow store entry ways blocks people from coming into their stores.
Many complain about their use on public sidewalks, which in many states is illegal. We've seen many of these scooters flying down sidewalks and at times, running into people.
Our local beach communities have now banned their use on crowded boardwalks.   Recently a home video system recorded a woman and child severely hurt from a couple riding in tandem (illegally) on the boardwalk in Ocean Beach.
Currently there are many cities trying to govern or set forth rules of how electric scooter companies can operate within a major city.
What is the electric scooter controversy?
Generally the Bird and Lime Companies simply comes to town with truckloads of the electric scooters and places them in high density areas.  It seemed here in San Diego, that we woke up one day and saw hundreds of these electric scooters all over town.  Just about every other block in downtown had 3-5 scooters waiting for people to come and use them.
Bird and Lime rarely let the cities know that they are coming to town.  In some cites these eclectic scooters seemed to appear overnight on corners and in front of business locations, all without the city or business owner's permission.
Many city leaders were taken back by e-scooter companies racing to place products in their towns. Without any notification from these companies, some cities are now behind in creating rules and regulations.  Some cites are simply banning then as they develop rules for these scooters. Others are testing "reduced speed zones" where the scooters will automatically be reduced to 8 miles per hour from 15 miles per hour.
Most Common Scooter Injuries; statistics on e-scooter injuries
There are no current counts of how many people are hurt each year across the country, mostly because these are new to the market.  We do know each scooter is ridden 3-8 times a day according to Bird, so let's say a city has 500 scooters, that's 1,500 to 4,000 rides per day.  Some hospitals are seeing hundreds of injuries per year. Some estimates of 40% are head and neck injuries.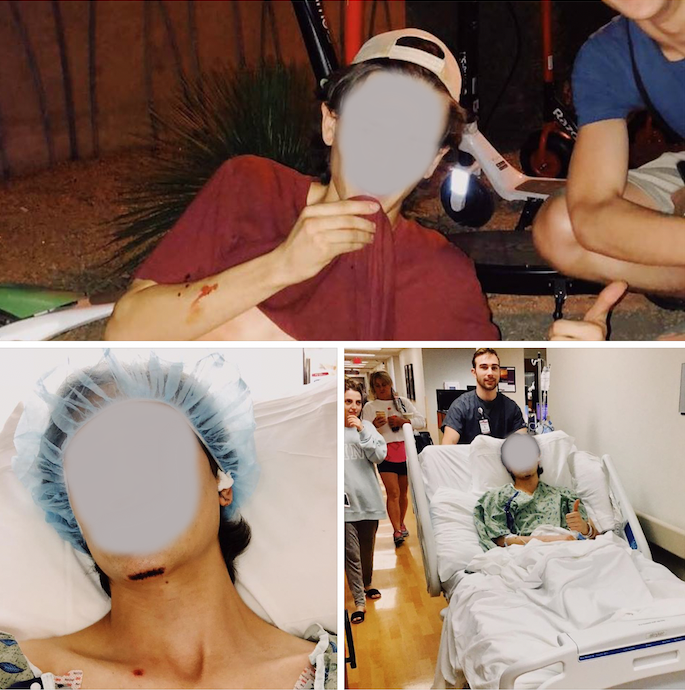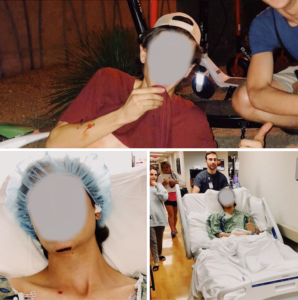 We've seen reports of people being hurt by jumping off scooters that are unable to stop.  In San Diego, California a 31-year-old women broke her femur from jumping off the scooter saying she was unable to stop it as it gained speed down a hill.
One noted hospital, The Scripps Mercy Hospital in San Diego, called the scooter trend a "public health disaster in the making."  They had over 30 scooter riders requiring hospitalization since June, with many being treated in the emergency room.
A hospital in Salt Lake City Utah has calculated a 161% increase in the number of e-scooter accident visits compared to the same 3- month period from the previous year.
Most common e-scooter injuries are: head injury, bleeding of the brain, broken legs, broken ribs, broken jaw, concussion, broken nose, lacerations, skull fracture, brain injuries, and chin abrasions
Scooter accident death reported
Carlos Sanchez-Martin, died on an electric scooter after being struck by an SUV in Washington, DC. He was dragged and then stuck under the SUV, according to the Washington Post.  Another victim 24-year-old Jacoby Stoneking was killed when he fell off a scooter he was riding in Dallas, according to CNN affiliate KTVT.
"You have a public that hasn't been aware of the inherent dangers in what they see as a fun recreational vehicle," said Dr. Sam Torbati, co-chair of the emergency department at Cedars-Sinai Medical Center in Los Angeles. "They're no safer than any other motorized vehicles, and in some ways, are more dangerous than a bicycle."
Children under 18 riding electric scooters is illegal
Even though the e-scooter companies have set rules of age use, it hasn't stopped children from using a cell phone to unlock and ride these.  The problem is children see these as toys and not actual vehicles, that according to most state laws have to be ridden on the public streets. Most kids simply fire them up and ride recklessly on the sidewalks.
Another safety factor is that kids and adults are ignoring helmet laws. We rarely see people on e-scooters wearing protection.
First Electric Scooter Class Action Lawsuit filed in California
On October 19, the first ever e-scooter class action lawsuit was filed in Los Angeles County Superior Court. It alleges the two most popular e-scooter companies, Bird and Lime, of "gross negligence" and "aiding and abetting assault."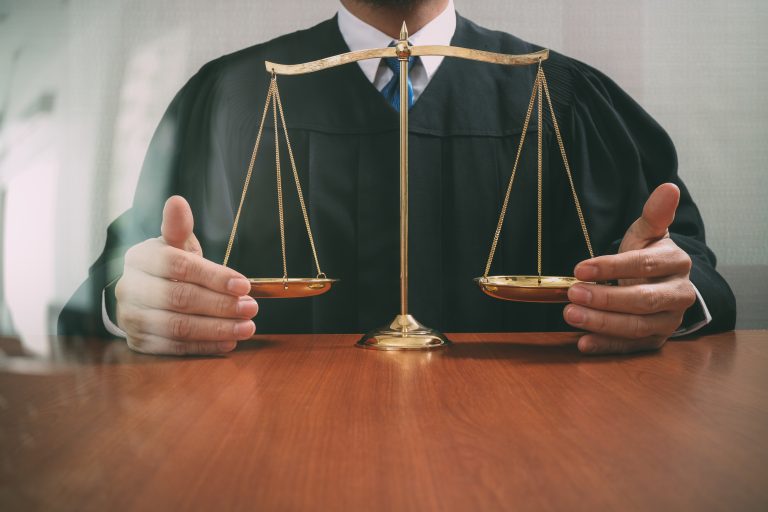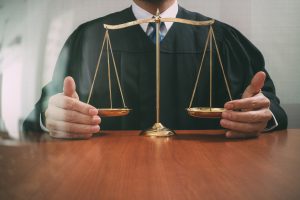 The lawsuit comes from eight plaintiffs, stating the companies practices have contributed to injuries in multiple ways.  Basically the lawsuit states both companies' dumped large quantities of electric scooters (generally without telling cities) and creating a "public nuisance."
Three of the plaintiffs complaints were injury claims from being hit from behind by an e-scooter on a public sidewalk or road, resulting in severe injuries.  The suit says the companies knew their scooters were injuring people and failed to stop these collisions from happening, and has classified the accidents as "assaults."  Learn more about electric scooter lawsuits here.