October 11, 2017 – San Diego, CA.  It's highly possible that an actual DePuy Synthes or Johnson & Johnson employee may have acted like a whistle blower, alerting online groups to a major problem with the DePuy Attune knee replacement product.
It all surfaced on an online forum called Medtechy.com in which a DePuy Attune "Sales Presentation" used by DePuy Sales reps when visiting doctor's offices.  This wasn't the standard medical device type of presentation, but more of an "objection handling presentation", whereby company advice is given to counter any possible objections of use by the doctor.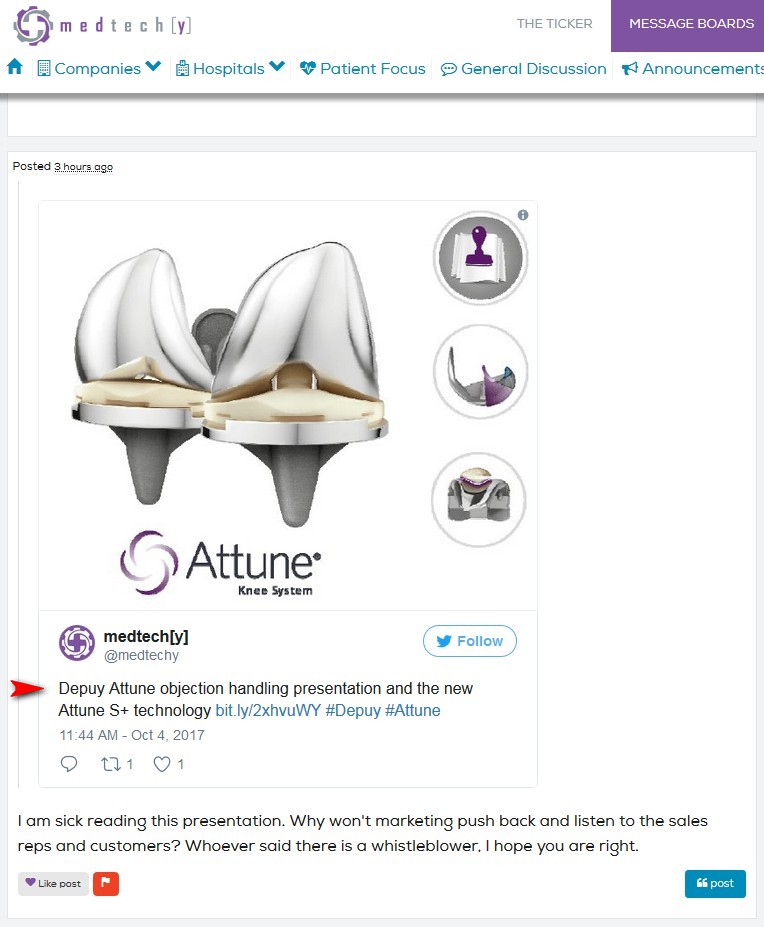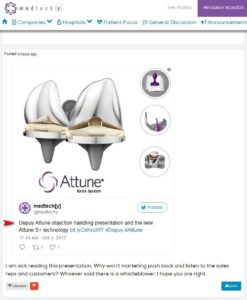 This begs the question on why DePuy would create such a presentation.  Is it because doctor's understand the possible complications of the Attune knee system?   Rumors of tibial loosening and high rates of failure have started to surface on the web.
In the last two years rumors have been surfacing on the Internet about tibial loosening with Depuy's Attune Knee System.  According to a study published earlier this year, the Attune system is experiencing an "unusually high" rate.  But why are these DePuy knees becoming loose?  Other associated knee replacement problems with similar construction may include:
Stiffness
Knee pain
Limping
Decreased range of motion in joint
Difficulty putting weight on the knee
Swelling of the knee
Severe pain
Bruising and infection around the knee
Are ATTUNE knee systems cement causing loosening?
According to the National Center for Biotechnology Information on high viscosity cement in total knee arthroplasty, "Recent literature has shown debonding of the tibial implant-cement interface as a potential cause for implant loosening. The purpose of this case series is to report this phenomenon in a historically well-performing implant when used with high-viscosity cement (HVC)."  Source: https://www.ncbi.nlm.nih.gov/pubmed/27155996
Has the FDA Recalled the Attune Knee System?
Has the FDA recalled or acted on this yet? As of this posting date there is no current recall for the ATTUNE Knee system. The FDA did show DePuy self-issued a recall on their ATTUNE CONV FB CR ARTICULATION SURFACE SZ1 back in 2015.
On the FDA's Manufacturer and User Facility Device Experience (MAUDE), multiple reports have been filed with the same mechanism of failure (break down of the cement). There were 21 reports of tibial loosening at the implant-cement interface within the last 2 months alone.
Not the first DePuy lawsuit.
DePuy has faced a multitude of defective medical device lawsuits in the last few years. Close to 10,000 people harmed from their ASR hip implants sued for damages and DePuy agreed to a $4 billion dollar settlement.
In 2016 a federal jury ordered DePuy Orthopedics, a Johnson & Johnson affiliate, to pay more than $1 billion to six plaintiffs, based on failure to warn consumers about the risks of the product.
DePuy is still facing more than 8,000 lawsuits for its metal-on-metal Pinnacle hip replacement.
Click here to learn more about the DePuy Attune Knee System Lawsuit.