August 28, 2017 – San Diego, CA.  As more and more American's are aging, many are seeking relief from arthritis in the hip joints with artificial hip replacement products.  But consumers must be aware of the potential hazards of these hip implants.
Why do people need hip implants?
Let's examine first why many are seeking hip replacements.  It's been estimated that arthritis affects over 40 million Americans.  The most common reason why people seek out a hip replacement is osteoarthritis in the hip joint.  Osteoarthritis happens when the cartilage on the tip of the bone starts to wear away, leaving the bones to rub together which leads to chronic pain.
The second most common reason is people that have rheumatoid arthritis, which causes joint pain, swelling and stiffness.  Rheumatoid arthritis is classified as an autoimmune disease in which the synovial membrane becomes inflamed. The membrane reacts to this and produces more of the synovial fluid.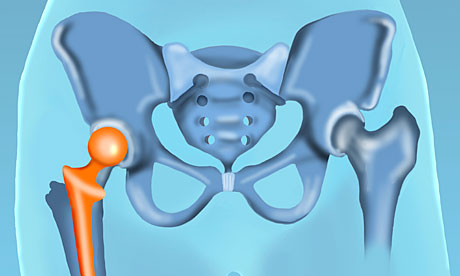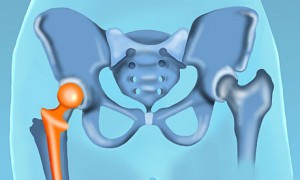 Thus, hip replacement surgery is a viable option for people who suffer from limited mobility due to hip pain.
What happens during a hip replacement?
Depending on the type of hip replacement product chosen by the person and their doctor, the following is a simple overview of the process.  Generally hip replacement products come in two varieties; cement coated or porous coated products.
Any damaged bone is first cleaned off to make space for the new joint, which is a metal stem that slides into the center of the femur bone.
A ball head goes on the top of the stem to complete the ball and socket joint.
The surgeon removes the bad cartilage from the joint and inserts a metal socket.
Finally a spacer is inserted allowing the join to glide around effortlessly.
What are the parts of a hip replacement?
Hip implants are designed to replace the ball and socket of the hip joint when they become damaged. Hip implants are made of several different components:
Femoral stem – A metal stem inserted into the thighbone that holds the ball joint in place. The femoral stem can be cemented into the bone or "press fit" to allow new bone growth to hold it in place.
Femoral head – A metal or ceramic ball placed on the upper part of the femoral stem. The femoral head replaces the damaged femoral head that was removed.
Acetabular component – A metal socket that replaces the damaged cartilage removed from the acetabulum. It is sometimes held in place using screws or cement.
Liner – A plastic, metal or ceramic spacer inserted between the ball and socket to allow for a smooth gliding surface.
What are the dangers of Hip Replacements?
There are numerous types of implants on the market, but some may be safer than others.  Metal-on-metal (MoM) hip implants have come under scrutiny in the past decade after several recalls and an investigation by the Food and Drug Administration (FDA) uncovered some serious complications with the devices. Today, MoM implants are not used as much as they were in the past, but tens of thousands of Americans were implanted with MoM devices before their decline in popularity.
All hip implants, regardless of the material, can be worn down due to everyday movement. Typically, hip implants last about 10 to 20 years, but some MoM implants have been shown to fail much earlier.
One study released in the BMJ in 2012 indicated an average failure rate at seven years of 13.6 percent for MoM implants compared to 3.3 percent to 4.9 percent for implants made from other materials. This means the need for earlier revisions is higher in MoM implants.
What are the brands of Hip Replacement that were recalled?
There a numerous manufacturers currently marketing hip implants in the United States. Some of these manufacturers have marketed problematic devices that were later recalled. Those manufacturers and the number of recalls include:
DePuy Orthopaedics – 150 recalls.
Zimmer Holdings – 104 recalls.
Stryker Orthopaedics – 231 recalls.
Biomet – 25 recalls.
Wright Medical Technology – 28 recalls.
Smith & Nephew – 40 recalls.
OMNI – data unavailable.
What are the hip recall settlement amounts?
Several major manufacturers of hip implants have already settled thousands of lawsuits filed by patients who say they were harmed by the devices.
In 2013, Johnson & Johnson's subsidiary DePuy agreed to pay $2.5 billion to settle about 7,500 lawsuits against its ASR hip implant. At the time the company settled, it faced nearly 12,000 suits.
In 2015, DePuy was ordered to pay $502 million to five plaintiffs who suffered complications from the Pinnacle implant.
Thousands of people who were harmed after being implanted with a metal-on-metal device filed lawsuits against the manufacturers.  These people allege the companies made defective products and failed to warn the public about their risks.
If you or someone you love received a metal-on-metal hip implant and suffered as a result, you may be entitled to compensation but you need to take action now. Call the Hood National Law Group today at 1-800-214-1010 for a free case evaluation, or use the form on the right-hand side of your screen.
Sources:
https://bonesmart.org/hip/conditions-leading-to-hip-replacement-surgery/