July 11, 2017 – San Diego, Ca.  Science Daily reports IVC usage has decreased after FDA advisory.
Citing the study done by the Temple University Health System, they found a significant drop in vena cava filter (IVC) implantations after the FDA issued a safety communication on the devices.
What is an IVC Filter?
IVC filters are small, cone-shaped, metal devices placed in the inferior vena cava (IVC), the large vein in the abdomen that returns blood from the lower body to the heart. They help prevent blood clots from traveling from the legs to the heart or lungs.  While some blood clots are beneficial, such as those that form to stop a cut from bleeding, others can be life-threatening. If a blood clot forms in your veins or arteries where it is not needed it can cause serious, often life-threatening conditions, including heart attack or stroke.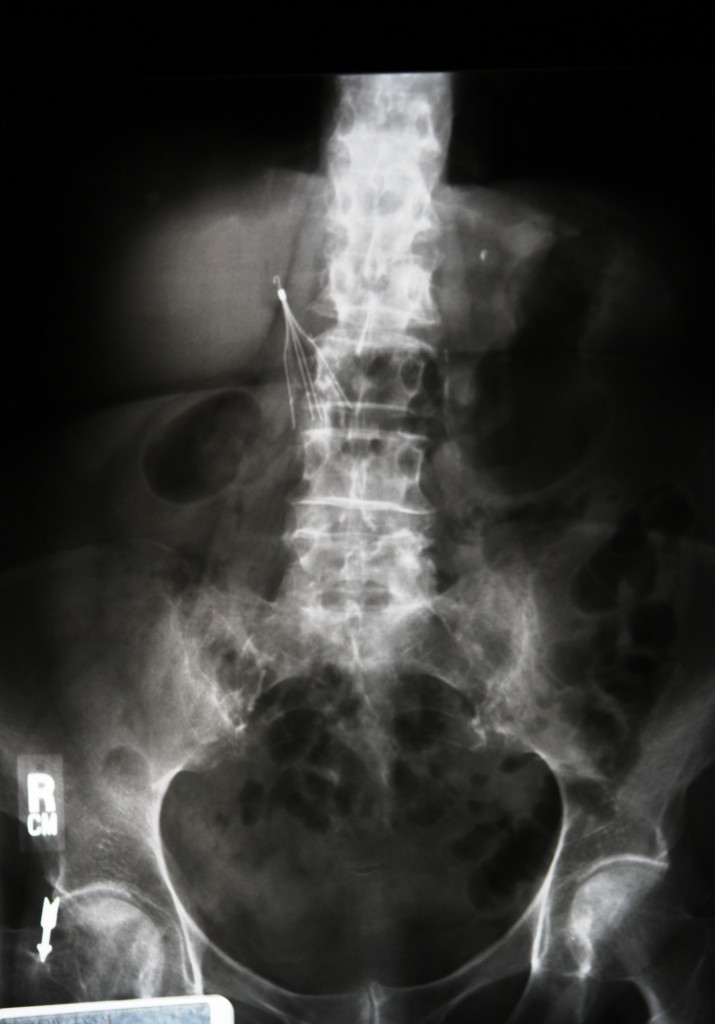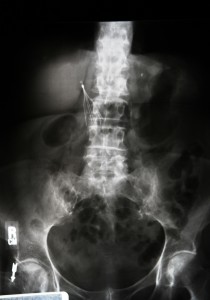 Are IVC Filters Safe?
While this is great news the use of IVC filters in the U.S. remains very high compared to other countries. Riyaz Bashir, MD, and his team studied utilization rates of IVC filter placements and published their findings in the July 10, 2017 issue of JAMA Internal Medicine.
He states: "The findings of this study are noteworthy as they reflect the critical need for publications reflecting safety issues related to medical therapies even after they have been approved by FDA. The significant decrease in IVC filter implantations after the FDA communication reflects that such communications are a very powerful means of affecting contemporary practice patterns around the country," says Dr. Bashir.
"Since venous thromboembolism (VTE) is a diagnosis that includes both DVT and PE, in this study we also evaluated VTE-related hospitalization rates during the same period in order to determine whether any change in IVC filter implantation could be accounted for by changes in VTE-related hospitalizations."
How many people get an IVC Filter?  Usage by the Numbers.
It's estimated that 1,131,274 people had an IVC filter placement in a 10 year study period.
A 22.2% increase in IVC filters from 2005 – 2010.
After FDA safety communication they found a 29% decrease in IVC filter placements.
The rate of VTE related hospital visits remained steady between 2010 and 2014.
IVC Filter Use in America – Still too High?
"In the United States, the IVC filter implantation rates are 25 fold higher than in Europe. The hospitals across this country collectively are spending close to a billion dollars on these devices every year without a known significant benefit. With current level of evidence we believe that the appropriate implantation rate in the U.S. should be similar to, or lower than, the rate observed in Europe" states Dr. Bashir.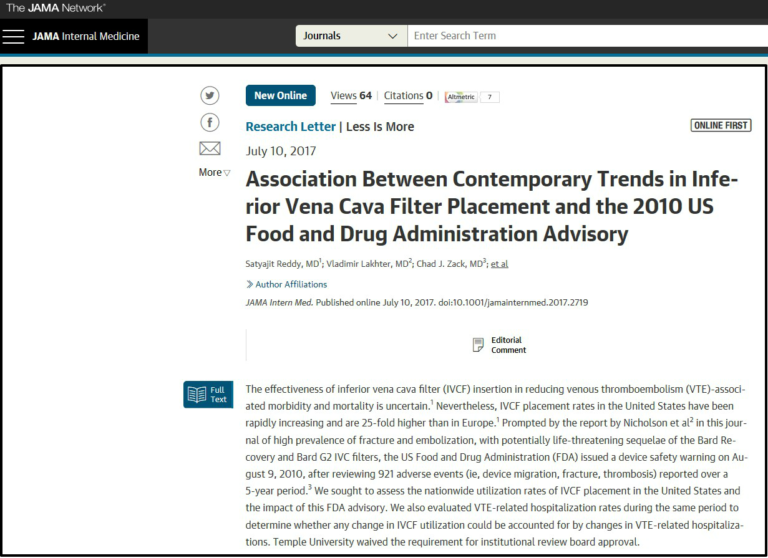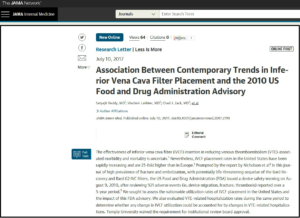 What are IVC Filter lawsuits about?
Hundreds of lawsuits against the makers of some IVC filters have already been filed in U.S. courts in the past few years. To streamline the process, many of those cases have been consolidated in federal court into multidistrict litigation (MDL). MDLs are unlike class action lawsuits, in which one party represents a large group, and settlements or judgments are divided evenly among all participants. In MDL, each case is heard individually, but a company may choose to settle multiple MDL cases at once after the first couple are tried in court.
Currently, more than 380 cases are pending in a multidistrict litigation (MDL) in the U.S. District Court for the District of Arizona against Bard Peripheral Vascular. The lawsuit alleges Bard's IVC filters were defective and the company is liable for selling them to consumers.
The Bard MDL is presided over by U.S. District Judge David G. Campbell.
There are also more than 340 cases pending in an MDL in the U.S. District Court for the Southern District of Indiana against Cook Medical. This lawsuit alleges Cook not only sold defective products but it engaged in deceptive sales practices.
The Cook MDL is presided over by U.S. District Court Chief Judge Richard L. Young.
Sources:
https://www.sciencedaily.com/releases/2017/07/170710113657.htm
http://jamanetwork.com/journals/jamainternalmedicine/article-abstract/2643346