July 21, 2017 – San Diego, CA  Back in 2014 the Flint water crisis started when the city of Flint, Michigan changed their water source to the Flint river. This had the effect of exposing over 100,000 people to lead poisoning.  Flint residences were told to use bottled water and use only filtered water for cooking, bathing, and cleaning.  This became a huge news story in 2016.
Homes that connected to the Flint River water system experienced contaminated pipes, leading some to not be able to sell their homes. Costly replacement pipes prevented many from fixing their homes.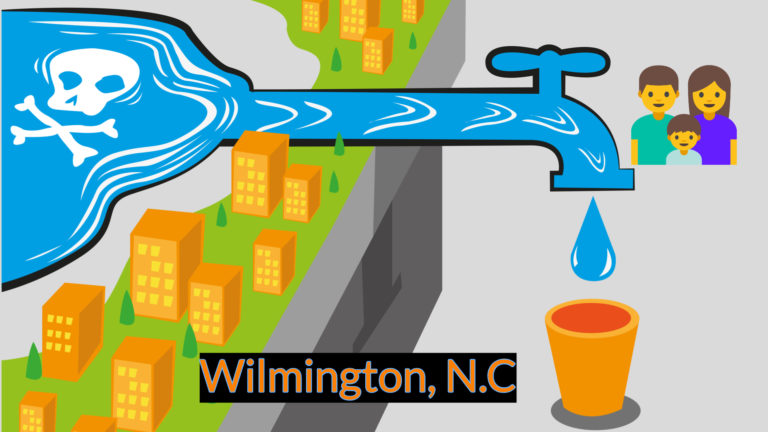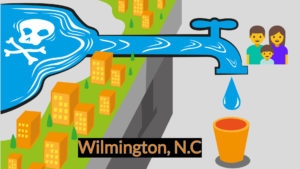 It's estimated to replace all the lead pipes will be completed no sooner than 2020.
The Environmental Protection Agency (EPA) "battled Michigan's Department of Environmental Quality behind the scenes for at least six months over whether Flint needed to use chemical treatments to keep lead lines and plumbing connections from leaching into drinking water" and "did not publicize its concern that Flint residents' health was jeopardized by the state's insistence that such controls were not required by law".  In 2015, EPA water expert Miguel A. Del Toral "identified potential problems with Flint's drinking water in February, confirmed the suspicions in April and summarized the looming problem" in an internal memo circulated on June 24, 2015.
New GenX Water Contamination in Wilmington, North Carolina
The Chemours Company, referred to as Chemours, is an American chemical company that was founded in July 2015 as a spin-off from chemical giant DuPont.
What is contaminating the water?
The contamination chemical found by researchers is called GenX.  GenX is a fairly new chemical that is used for flourpolymer resin (Teflon) manufacturing.  This is used in many applications from non-stick pans to stain-resistant carpets and furniture.
In 2005, the EPA asked seven of the world's largest chemical companies, including DuPont, to phase out the use and manufacture of PFOA by 2015. The companies agreed and according to the federal agency, met the program's goals on time.  This is the reason why GenX was developed by DuPont's spin-off company Chemours.
It's a highly stable chemical that virtually never deteriorates. This is why it's so dangerous. The EPA has not fully studied the health effects of this emerging contaminant. The EPA has no current guidelines for this chemical.
This chemical was developed to replace the known cancer causing chemical C8 which was halted after DuPont faced a large lawsuit action.  DuPont has faced thousands of lawsuits regarding its Teflon products and PFOA exposure since the late 1990s.
Farmland, private property, rental properties, ranches, and homes all affected by GenX contamination!
It's believed that GenX has entered into the local aquifers in the surrounding areas of southeast North Carolina in the last 10 years.  A recent news story from WECT 6, tells of local real estate companies feeling the effects of the GenX scare.  Local real estate broker Todd Turner states:  "A number of folks have been calling in and asking if this water quality issue that we are facing is going to hurt their family when they move here," Turner said. "They want to know if their families health is at risk and rightfully so."  He further goes on to say: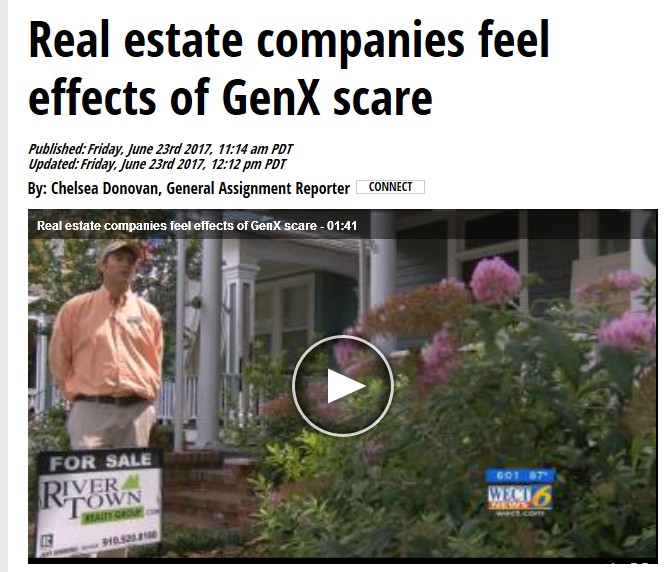 "It is very disconcerting," Turner said. "When folks are booked for our properties for just a weekend or a week and suddenly they call before they come and decide to cancel, I mean, yes, that's a huge problem for us."
Like in Flint MI, home pipes are now contaminated by GenX.
Just like the thousands of people in Flint, MI who are faced with the costly replacement of all pipes in their homes, the same now applies to possible 70,000 customers in the Cape Fear water shed. Part of the problem is the local water authority has no current method of filtering out GenX.
GenX could even upset or cancel some home sales since GenX could contaminate the homes pipes.  WECT 6 reached out to local real estate companies and found many have lost deals that weren't currently under contract.
GenX contamination levels could also affect the locally grown food supply.
The southeast North Carolina area contains farmland that could be greatly impacted by GenX that began entering the local deep water aquifers that farms draw water from.
The local government should start testing produce from nearby farms for GenX contamination. This type of contamination has recently happed in Dordrecht, a city in Netherlands.
DutchNews.NL broke the story today about the GenX problem.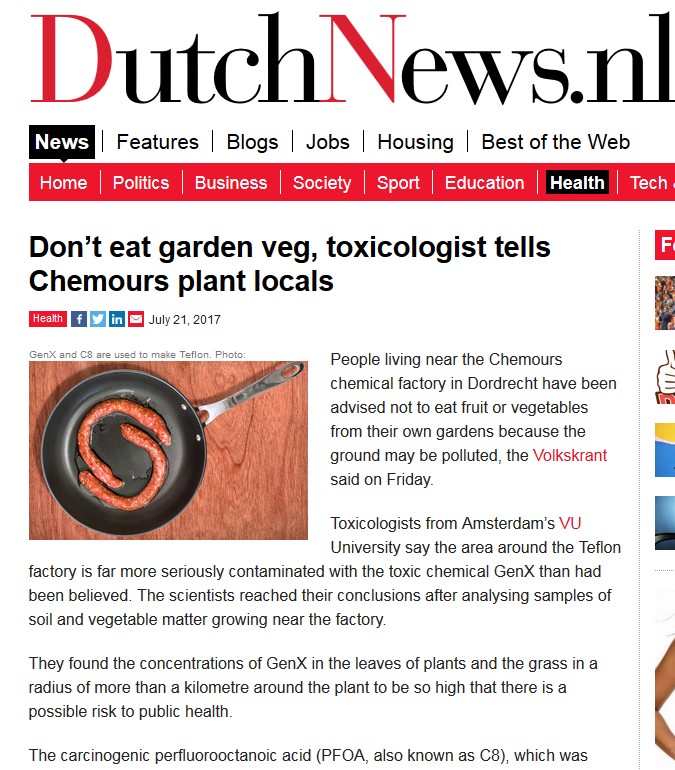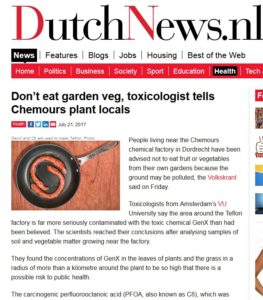 Martin van den Berg, a toxicologist at the University of Utrecht says people living near the plant should stop eating produce from their gardens and the government should carry out further analysis as soon as possible to find out how great the risk is to public health.
'The poison is not only in the leaves but in the entire crop, because the plant also absorbs contaminated water through the roots,' he told the Volkskrant.
Last weekend the AD reported that GenX had been identified in tap water in at least six places in Zuid Holland province.
Lawsuits should start for GenX Contamination – offering Help for Victims.
Can I sue Chemours for GenX drinking water exposure? YES!
You have legal rights to sue if you were exposed to GenX, and we want to hear from you!  Like the past Teflon, C8 and other PFOA lawsuits, the company responsible has paid out multi-millions in fines and settlements to victims. Our law firm intents to hold Chemours responsible for placing people in harm's way from this massive contamination of the Cape Fear River water shed.
If you're one of suspected thousands who are now faced with not being to sell your land, house, or farmland due to GenX contamination, we want to hear from you, please contact us to share your story of GenX. You also have many rights to compensation and can sue for damages from this Chemours GenX spill. Call us today at 1-800-214-1010.
Source: http://www.dutchnews.nl/news/archives/2017/07/dont-eat-garden-veg-toxicologist-tells-chemours-plant-locals/