August 15, 2018 – San Diego, CA.  In even more bad news for Bayer, the owner and manufacturer of Roundup weed killer, its main ingredient called glyphosate has now been found in oat products used in popular brands of children's cereal.
Just last week Bayer lost in court and had to pay $289 million to a groundskeeper who claimed Roundup caused him non-Hodgkin lymphoma, a rare but deadly form of cancer.  Read more about this Roundup Cancer Lawsuit here: https://www.nationalinjuryhelp.com/defective-products/monsanto-roundup-cancer-lawsuit-victory/
In a new study just published by The Environmental Working Group, a non-profit, non-partisan organization dedicated to protecting human health and the environment, has found shockingly high levels of now known cancer linked glyphosate.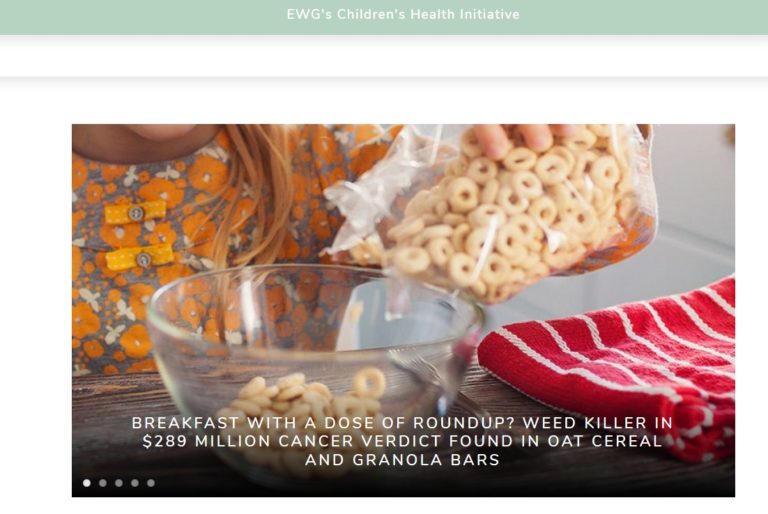 From the source's study:
"Glyphosate, an herbicide linked to cancer by California state scientists and the World Health Organization, was found in all but two of 45 samples of products made with conventionally grown oats. Almost three-fourths of those samples had glyphosate levels higher than what EWG scientists consider protective of children's health with an adequate margin of safety. About one-third of 16 samples made with organically grown oats also had glyphosate, all at levels well below EWG's health benchmark."
What Oat-Based Foods have Glyphosate?
The published study listed name brand foods (granola bars, instant oats, oat cereal, snack bars, and whole oats) nearly all had some levels of glyphosate.
Quaker Simply Granola Oats, Honey, Raisins & Almonds
Back to Nature Classic Granola
Back to Nature Banana Walnut Granola Clusters
Nature Valley Granola Protein Oats 'n Honey
KIND Vanilla, Blueberry Clusters with Flax Seeds
Giant Instant Oatmeal, Original Flavor
Quaker Dinosaur Eggs, Brown Sugar, Instant Oatmeal
Great Value Original Instant Oatmeal
Umpqua Oats, Maple Pecan
Market Pantry Instant Oatmeal, Strawberries & Cream
Cheerios Toasted Whole Grain Oat Cereal
Barbara's Multigrain Spoonfuls, Original, Cereal
Kellogg's Cracklin' Oat Bran oat cereal
Nature Valley Crunchy Granola Bars, Oats 'n Honey
Quaker Chewy Chocolate Chip granola bar
Kellogg's Nutrigrain Soft Baked Breakfast Bars, Strawberry
Quaker Steel Cut Oats
Quaker Old Fashioned Oats
Nature's Path Organic Old Fashioned Organic Oats
Whole Foods Bulk Bin conventional rolled oats
Roundup is more toxic in children than adults says the FDA.
In doing research for this story, we visited the FDA site for clarification of the known dangers of glyphosate.
"The EPA has calculated that 1-to-2-year-old children are likely to have the highest exposure, at a level 2x greater than California's No Significant Risk Level and 230x EWG's health benchmark."
It took a Freedom of Information Act request by US Right to Know, earlier this year to get the FDA to release documents on the subject. The FDA stated it had found "a fair amount" of glyphosate in several processed foods. These documents should be available to the public in early 2019.
How does Roundup get into our food?
Roundup weed and grass killer was introduced to the American consumer in 1976. Lawns and gardens were forever changed by the herbicide's formula featuring the newly patented active ingredient glyphosate.
The entire agricultural landscape would be forever changed merely 30 years later, when soybean seeds genetically modified to be resistant to Roundup's powerful weed-killing properties were introduced in 1996. Genetically modified cotton and corn seeds followed in the next two years, respectively, with other varieties following soon thereafter. These new seeds were called genetically modified organisms, or GMOs.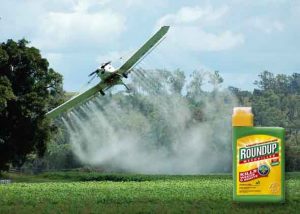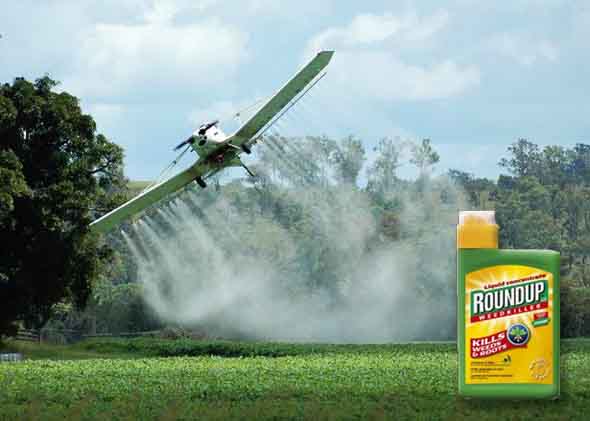 Today, much of the country's biggest cash crops – soybean, corn and cotton – are made using GMOs that are resistant to Roundup.
Roundup is being sprayed on millions of acres of farmland each year – a particularly concerning trend considering Roundup was deemed "probably" cancerous to humans by the International Agency for Research on Cancer (IARC) in March 2015. Numerous studies published in medical journals in the past two decades have also linked Roundup to a particular sinister form of cancer called non-Hodgkin lymphoma.
Roundup is in the Air, Streams and Rainwater.
Residue from Roundup has been found in the air, streams and rainwater of communities surrounding farmland. It has even been found in commercially sold food products, like honey, soy sauce and infant formula.
As residue from the probably cancerous Roundup seeps into the soil and groundwater of communities across the nation, putting millions of people at risk for developing certain cancers, its maker is enjoying billion-dollar-a-year profits.
Who is behind this apparent abomination? A corporation whose name has become synonymous with corporate evil and greed: Monsanto Company.  Another large global entity, Bayer Pharmaceuticals, recently completed the purchase and takeover of the brand Roundup last June.  After last week's court loses, Bayer's European stock price took a plunge.
California now lists glyphosate as a cancer causing substance.
Back in March 2017, the Office of Environmental Health Hazard Assessment (OEHHA) posted a Notice on its website[1] that glyphosate (CAS No. 1071-83-6) would be added to the list of chemicals known to the state to cause cancer for purposes of Proposition 65[2] with a delayed effective date due to the pending case Monsanto v OEHHA.[3]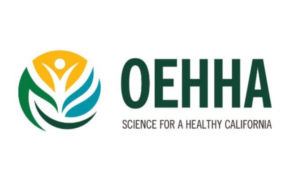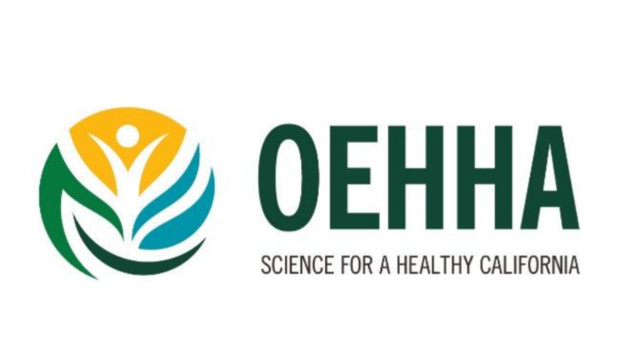 Monsanto's challenge was unsuccessful in the trial court.  Although the case has been appealed, no stay of the listing has been granted. Therefore, glyphosate is being added to the Proposition 65 list on July 7, 2017.
Who has been exposed to Roundup?
The easy answer is EVERYONE.  Roundup is prolific in the environment. It has been sprayed on millions of acres of farmland since Roundup Ready seeds were introduced in the late 1990s and has been used by millions of Americans at home since the 1970s.
The use of Roundup has increased 10-fold in the past 20 years, according to a Consumer Reports article published shortly after IARC announced its assessment of glyphosate in March 2015. Dr. Benbrook of Washington State University told Consumer Reports, "When a single pesticide is used that widely, people can't help but be exposed to it."
When pesticides like Roundup are applied to fields or yards, their residues can wind up in our drinking water and our food. That means virtually everyone is at risk for exposure, though some may be more at risk than others.
Occupations that require workers to handle Roundup directly or indirectly may be most at-risk. A few examples of these occupations include:
Crop farm workers and laborers
Nursery or greenhouse workers
Agricultural equipment operators
Soil scientists and surveyors
You don't have to work on a farm to be exposed to Roundup. Glyphosate residues are found in the air and drinking water near agricultural fields where they are applied, putting whole communities at risk.
Does this mean even more Roundup lawsuits will happen?
It certainly could now that studies like these are coming to light. We applaud The Environmental Working Group for their work in studying this potentially huge public health risk from glyphosate exposure.
In September and October of 2015, lawsuits were filed in California and Delaware state courts against Monsanto. These lawsuits allege clients suffered exposure to Roundup in crop fields, commercial nurseries and at home, and that prior to IARC's evaluation, they did not know or could not have known about the cancer-causing danger of glyphosate and Roundup.
If you or someone you love was exposed to Roundup and were diagnosed with non-Hodgkin lymphoma or another blood cancer, you may be entitled to cash compensation. The lawyers and attorneys at Hood National Law Group are ready to answer your questions and help you determine if your case qualifies for a Roundup Lawsuit.
Sources:
https://www.ewg.org/childrenshealth/glyphosateincereal/#.W3Rnf8InaUk
https://oehha.ca.gov/proposition-65/crnr/glyphosate-listed-effective-july-7-2017-known-state-california-cause-cancer