October 27, 2015 San Diego– Essure Problems, the rapidly growing Facebook page and website fighting against Essure, announced a press release yesterday.
"Four administrators of the Essure Problems Facebook page, Angie Firmalino, Amanda Dykeman, Lisa Saenz, and Melanie Goshgarian, their congressional liason and E-Sister Amanda Rusmisell, E-Sister and scientist Tess Shulman, attorneys Marcus Susen and Holly Ennis, and local DC E-Sister Lisa Fouser, will be attending multiple congressional meetings tomorrow and wednesday. The goal of their meetings is to gain support for Congressman Fitzpatrick's E-Free Act. Congresswoman Rosa DeLauro has co signed the E-Free Act, and they will be presenting it to congress on November 4th, 2015, on the 13 year anniversary of the approval of Essure. The act asks that the FDA revoke PMA status for Essure and also remove it from the market. The meetings are listed below.They will also be handing out packets to every single congressman and woman's office. The packet can be viewed by clicking the tab to the right."
The meetings referred to in the press release are as listed: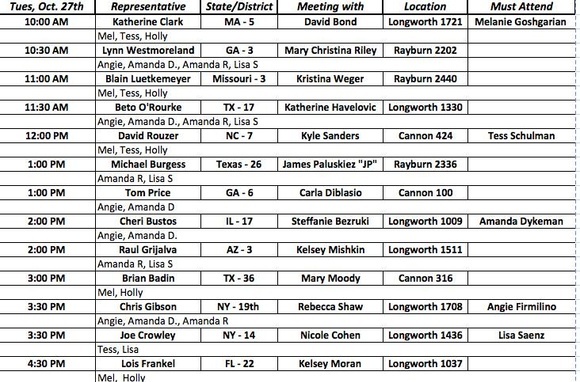 Also attached to the press release is a letter sent out by Congressman Mike Fitzpatrick: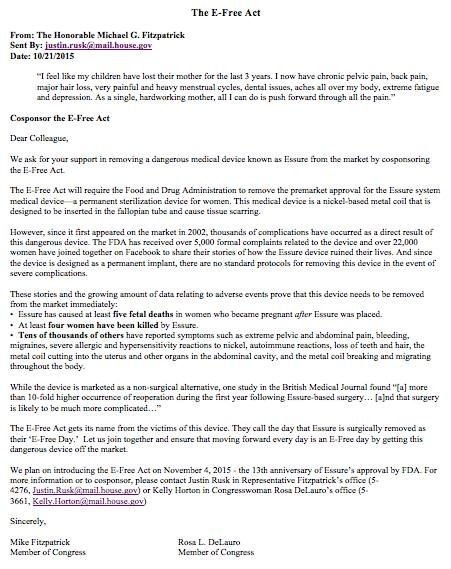 What is the E-Free Act?
The E-Free Act aims to revoke the FDA's pre-market approval status given to Essure's developer Conceptus in 2002. This PMA status is crucial for Bayer and Essure activists due to the fact that it provides a legal shield against thousands of women who've reported serious adverse events from the device. If you would like to write to your Congressman/woman, click here for the letter template.
What could this mean for Essure?
 If the E-Free Act is passed in Congress, Bayer will have 60 days to revoke the PMA status of the device. The passing of this bill would be a huge victory for all of the e-sisters and anti-Essure activists that attended the FDA Essure meeting last month to speak out against this device. If this legislation does not pass, you will not see the end of Essure Problems. While it would be quite a blow to the group, these women are determined to recall this dangerous device, so they will ultimately find another way to do so.
If you or someone you love is suffering side effects from the Essure Implant, contact our Essure lawyers today, click the banner below to access the Essure Claim Evaluation form.