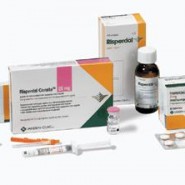 Studies have been around for years linking the antipsychotic drug Risperdal (generic name risperidone) to a number of side effects.  Among those side effects is the development of breasts in boys.  It is believed that using the drug causes an increase in the production of prolactin.  Prolactin is a hormone that is produced in the pituitary gland.  Risperdal blocks dopamine, which in turn can cause the release of excess prolactin.  This can result in breast enlargement in men.
Risperdal is prescribed to treat a variety of mental disorders, including bi-polar disorder and schizophrenia.  It is produced by Johnson & Johnson (through a subsidiary), and has been blamed for numerous side effects, including bone problems, pancreatitis, diabetes, and other condition.  The FDA began requiring black box warnings on Risperdal inserts in 2005, warning of an increased risk of death where the drug is taken for psychosis brought on by dementia.
In the case of gynecomastia (the enlargement of breast tissue in males), there have been numerous lawsuits filed on behalf of people who have been harmed by the drug.  Symptoms may include enlargement of one or both breasts.  In addition to the physical side effects of the drug, the condition can, and often does, lead to psychological and emotional problems.  Surgery may be required to treat gynecomastia.
It has been alleged that Johnson & Johnson (and its subsidiary) improperly marketed Risperdal, and that the manufacturer concealed the risks of taking the drug, including the risk of male breast development.  Late last year, Johnson & Johnson agreed to pay $2.2 billion in fines (both criminal and civil) in settlement of the allegations that the company improperly promoted the drug.  This represented the third biggest pharmaceutical settlement in United States history.  And officials have stated that the company knew of the possibility of the development of breasts among boys as the result of elevated production of prolactin.
If you or your child has taken Risperdal and developed gynecomastia, or has suffered any of the other side effects of the drug, you may be entitled to compensation.  Contact Hood National Law Group today.  Wherever you live, we are ready to assist you in explaining your rights, and in collecting damages on your behalf.
Contact us today at 1-800-214-1010.