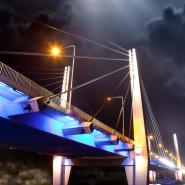 Three men are dead and five people are injured after a crash occurred at the interchange of Route 52 and Interstate 805, according to the California Highway Patrol.  The CHP believes that the driver who was allegedly responsible for the accident may have been driving under the influence of alcohol.  The San Diego man was arrested on suspicion of DUI.
According to the CHP, the drunk driver was headed north on Interstate 805 and was merging onto the transition ramp to State Route 52 westbound when he lost control of his vehicle, veering off the right side of the road and across a dirt embankment.  The car, an Escalade, rolled several times.
As the SUV spun out of control, four passengers who were not wearing seatbelts were ejected.  Two of them were killed instantly and two others were transported to hospitals for treatment along with one of the passengers from inside the SUV.  The three injury victims were all said to have sustained major physical trauma.
A fifth passenger who was wearing a seat belt was killed in the crash as well.  The victims, who were all pronounced dead at the scene, were identified only as 23- and 29-year-old men from San Diego and a 35-year-old man from Ridgecrest.
Following the SUV's initial crash, three more vehicles also crashed on the ramp.  Two of these motorists were taken to area hospitals with relatively minor injuries.
California Rollover Crashes and Alcohol:  A Deadly Combination
In recent years, the National Highway Traffic Safety Administration published a seminal report on rollover crashes that examined many factors regarding these often-fatal accidents.  According to the Characteristics of Fatal Rollover Crashes, nearly two-thirds of all victims killed in rollover crashes were ejected and three-fourths of them were not wearing seatbelts.
Furthermore, there is a definite link between a high blood alcohol content and a rollover crash.  In about 40 percent of all fatal rollover crashes, investigators found that the driver took no evasive maneuvers prior to the crash, suggesting a sluggish response time to an imminent threat.  This type of behavior has long been associated with consumption of alcohol while driving.
What Should I Do If I Am The Victim of A Rollover Crash?
Those who have been injured in a rollover crash, or families who have lost loved ones due to someone else's negligence, may wish to consult a personal injury attorney about the possibility of recovering damages through a personal injury or wrongful death lawsuit.  Hood National Law Group in San Diego is ready to assist victims and their families in understanding their rights and collecting damages in these cases.