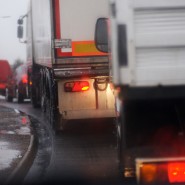 The cost in terms of human life that can result from traffic collisions involving trucks and other large vehicles is immense.  An example was reported yesterday near Orland, California.  Here are the details, according to preliminary reports.
A FedEx delivery truck and bus filled with high school seniors were traveling in opposite directions on Interstate 5.  The students were traveling to Humboldt State University for a campus visit.  For reasons that remain unclear at this point, the truck veered into and across the grass median, and crashed into the bus, resulting in a huge explosion.  The results were catastrophic.  The tractor-trailer driver was killed, along with nine occupants of the school bus.  They included the driver, three adult chaperones who were accompanying the students on their trip, as well as five of the students.  A number of the other passengers on the bus were injured, some of whom had to be airlifted to local hospitals for treatment of their injuries.
As we said at the outset, this is a preliminary report, and we don't know all the details regarding either the injuries or the cause of the accident.  However, a few things are clear, even at this early stage.  First, this is a tragedy that will affect hundreds of people, at the very least.  The lives of the students, the chaperones, those killed and injured, and their families, will be irreparably damaged.  Second, incidents such as this one do not happen of their own accord.  Faulty equipment, poor maintenance, driver error, design defects and other factors can all figure in these disasters.  Third, those who are injured and killed are usually completely innocent, and their lives are shattered essentially because they were in the wrong place at the wrong time.
Nothing can bring back the students and others whose lives were lost in this tragedy, and those who were injured will have to bear the burden of their injuries.  But if you have been injured, or if a family member or a loved one has been affected by the crash, there is help available that could answer some of the burning questions you may have regarding the events that took place, including whether you may be entitled to damages for any loss you may have suffered.  Contact the Hood National Law Group to schedule a free consultation.
Hood National Law Group
591 Camino De La Reina #100
San Diego, CA 92108
(800) 214-1010