Nevada is home to many elderly seniors and is a top pick for retirees.  Nevada has over 500 assisted living facilities and nursing homes. The majority of these nursing homes (30) are located in the city of Las Vegas.
Nursing home and elder abuse in Nevada is sadly on the rise, and because of that elder abuse lawsuits are increasing.  We were able to determine this by data-mining various online resources listed below.
If you suspect an elderly loved one is abused or neglected in any of the 500 Nevada assisted living facilities or nursing homes, contact our nursing home abuse lawyers & attorneys today at National Injury Help toll free at 1-800-214-1010.
How to Report Elder Abuse in Nevada.
In doing research for this Nevada elder abuse page we checked with The State of Nevada, Aging and Disability Services Division.  Here is their mission statement:
"The State of Nevada, Aging and Disability Services Division provides Elder Protective Services for persons 60 years old and older who may experience abandonment, abuse, neglect, exploitation, or isolation. Elder Protective Services serves all of Nevada. Elder abuse is a crime!"
Having this state level resource for reporting nursing home abuse is important and illustrates how anyone can report any type of abuse a family member may be encountering.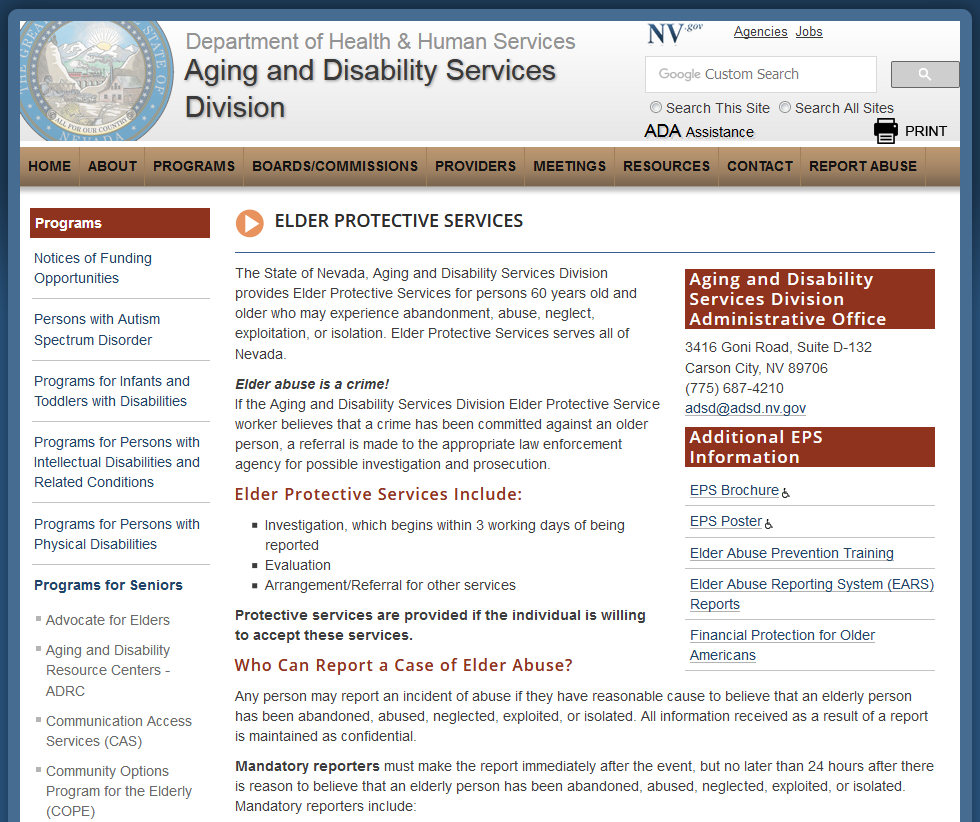 If you suspect elderly abuse you can reach and report the facility at the State of Nevada, Aging and Disability Services Division in Las Vegas/Clark County (702) 486-6930, or Nevada statewide (888) 729-0571.   Your second call should be to the nursing home abuse lawyers at National Injury Help 1-800-214-1010; we will take next step and hold the nursing home accountable for its abuse.
Examples and types of nursing home abuse in Nevada.
The majority of neglect and abuse elders face in nursing homes or assisted living facilities in Nevada may include: Being abandoned, abused in any form, general neglect, being exploited, being isolated from others, and sexual abuse including rape, sodomy or any other sexual crimes.
Nevada Nursing Home Neglect
Nursing home neglect basically deals with situations where the staff at a nursing home does not provide the level of oversight that residents deserve. Other forms of nursing home neglect include:
Failure to turn immobile residents, leading to bedsores
Failure to provide residents with proper medication
Failure to provide residents with the proper level of nutrition
Failure to recognize developing health problems
Failure to supervise residents who are then injured in slip and fall accidents
There are many other situations that can arise, but the basic premise behind nursing home neglect is that the Nevada facility did not meet a reasonable standard of care. These problems generally do not involve intent by any of the staff members but instead relate to situations where they are simply not paying enough attention to those who need it.
Taking Action on Nursing Home Elder Abuse.
A U.S. Senate hearing on nursing home abuse was held last month and seeks to identify and protect senior citizens across America facing neglect, sexual abuse, physical abuse, and other troubling issues.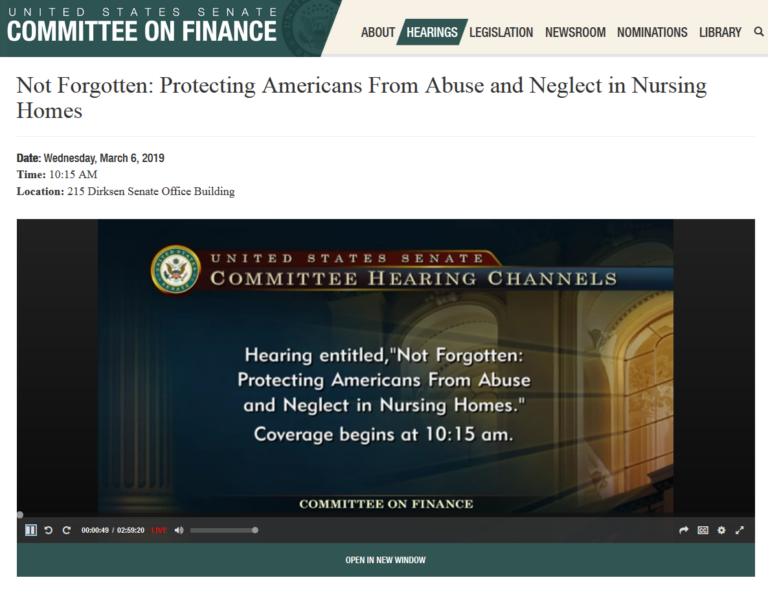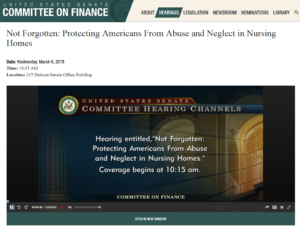 Since the hearing last month, The Centers for Medicare and Medicaid Services (CMS) announced it will be updating their online tools that allows consumers to research and compare nursing homes, the Nursing Home Compare database and its Five-Star Quality Rating System that measures inspections, staffing and overall quality measures. Read more here: https://www.nationalinjuryhelp.com/nursing-home-abuse/us-senate-oversight-nursing-home-abuse/
Who is responsible for nursing home or elder abuse?
Many times, nursing home abuse in Nevada is conduct that is undertaken by individual staff members, and many cases that have been filed, involved situations where a facility's management team did not have actual knowledge of this mistreatment. That does not necessarily matter in most jurisdictions, as facilities are responsible for the care that their staff members provide for their residents.
How to File a Nursing Home Abuse Lawsuit.
If you notice any type of problem or possible problem with a loved one who is living in a Nevada nursing home, you need to act on that instinct and obtain answers.
This is not a time to simply assume the best. One of the most efficient ways to do this is to seek the help of nursing home abuse lawyers who have been holding those responsible for this type of conduct accountable. Contact National Injury Help by calling us at 1-800-214-1010 or use the secure contact form below today to schedule a free initial consultation.
Nevada Nursing Home Abuse Lawyers | Attorneys for Elder Abuse NV page updated on April 26, 2019
Source:
http://adsd.nv.gov/Programs/Seniors/EPS/EPS_Prog/