August 4, 2017 – San Diego, CA.  A new problem has surfaced on popular metal-on-metal hip replacement products.  Currently lawyers were representing victims who were hurt from the cobalt chromium heads in use with the titanium stems.  However more injuries began to surface on the problem of metallosis.
Metallosis is caused by the buildup of metal debris in the soft tissues of the body, even those outside of the joint area. It is estimated that five percent of patients who were implanted with any type of metal joint developed metallosis over the past 40 years.
Roughly 2.5 million Americans had undergone hip replacement surgery and were living with a prosthetic by 2010, according to a first-of-its-kind study published by the Mayo Clinic in 2014. Hip replacement surgery can give a person his or her mobility back when an accident, arthritis or some other ailment makes walking and other daily activities difficult or painful.
Hip replacement surgery: the basics
The hip joint is a ball-and-socket joint. The top of the thigh bone (the femur) is shaped like a ball which fits into the socket (acetabulum) of the hip bone. Cartilage and fluid cushion the ball around the socket and allow for smooth movement.
When the cartilage or bones that make up the hip joint deteriorate, it can cause pain, stiffness and difficulty walking. A person's painful hip condition can sometimes be treated with physical therapy, exercise and medications; but when a person does not respond to these treatments, his or her doctor may suggest hip replacement surgery.
There are two main types of hip replacement surgery: total hip replacement and hip resurfacing.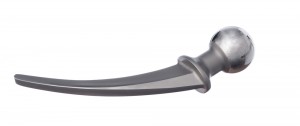 During total hip replacement, damaged portions of the hip are removed along with the ball and socket. The ball and socket are replaced with artificial components which can be made from a variety of different materials. There is also a stem that is drilled into the thigh bone to which the ball attaches.
During hip resurfacing surgery, damaged portions within the socket are removed and replaced with a metal shell, but the ball is not removed. Instead, it is trimmed and capped with a metal covering.
Hip Implants: What are they made of?
Implants used during hip resurfacing are always made of metal. Total hip replacement implants, on the other hand, can be made from many different materials.
Metal on polyethylene – the ball is made of metal and the socket is made of plastic (polyethylene) or has a plastic lining
Ceramic on polyethylene – the ball is made of ceramic and the socket is made of plastic (polyethylene) or has a plastic lining
Metal on metal – the ball and socket are both made of metal
Ceramic on ceramic – the ball is made of ceramic and the socket has a ceramic lining
Ceramic on metal – the ball is made of ceramic and the socket has a metal lining
Which implant is best?
The surgeon will help determine which implant is best for each patient. The surgeon will consider which implant offers the most benefit and least risk based on a patient's age, weight, height, activity level and cause of hip pain.
Common complications of hip implants
The most common complications associated with any type of hip implant include:
Implant dislocation
Device wear
Bone loss, osteolysis
Osteolysis is the destruction or disappearance of bone tissue. It is caused when the ball rubs against the socket cup, wearing down the surface and releasing small particles into and around the joint.  This can cause the bone around the implant to thin and weaken, making the implant components loose. A second surgery may be necessary if this happens.
Mixed Metal-on-Metal Hip Implants Raise Concern
Mixed metal-on-metal (MoM) hip implants have come under scrutiny in the past decade after several recalls and an investigation by the Food and Drug Administration (FDA) uncovered some serious complications with the devices. Today, MoM implants are not used as much as they were in the past, but tens of thousands of Americans were implanted with MoM devices before their decline in popularity.
Four recalls in four years
Four major companies recalled components of their MoM hip implant systems between 2008 and 2012.
Indiana-based Zimmer Inc. (now Zimmer Biomet), one of the leading medical device manufacturers in the world, recalled its Durom acetabular (socket) component in July 2008 because the instructions for use and surgical techniques were inadequate.
Two years later, Johnson & Johnson's subsidiary DePuy recalled its ASR acetabular system. According to the FDA, new and unpublished data from the UK Joint Registry found that about 13 percent of patients implanted with the device needed revision surgery within five years.
About two years after DePuy's recall, London-based medical device company Smith and Nephew recalled its R3 metal liners due to "higher than expected revision surgeries."
One month after Smith and Nephew announced its recall, Stryker Corporation recalled two of its hip systems, Rejuvenate and ABG II. The recall was initiated due to the systems' potential for corroding which could lead to serious adverse effects.
FDA launches investigation
Even before the 2012 recalls, the FDA began investigating the safety and effectiveness of all MoM hip implants on the market.
The FDA launched an informational webpage in 2011 about MoM hip replacement implants, and in 2012, the Orthopaedic and Rehabilitation Devices Advisory Panel held a meeting to discuss failure rates of MoM devices, local and systemic complications, and risk factors, among other things.
The FDA required all manufacturers of MoM total hip replacement devices to conduct post-market studies, which are due on May 18, 2016. There are currently five manufacturers of total hip replacement devices in the U.S. The requirement did not extend to hip resurfacing devices.
The Problem with Mixed Metal-on-Metal Implants
MoM implants were initially thought to provide added benefits to patients compared to implants made from ceramic or plastic. They were expected to last longer due to the metal's durability and they were expected to make the hip joint more stable and less likely to dislocate because the ball could be made larger. But hundreds of reports submitted to the FDA have indicated an increased risk of serious complications due to MoM implants.
Metal-on-Metal implants fail more often
All knee implants, regardless of the material, can be worn down due to everyday movement. Typically, hip implants last about 10 to 20 years, but MoM implants were shown to fail much earlier.
One study released in the BMJ in 2012 indicated an average failure rate at seven years of 13.6 percent for MoM implants compared to 3.3 percent to 4.9 percent for implants made from other materials.
This means the need for earlier revisions is higher in MoM implants.
Metal-on-Metal can lead to tissue damage, Metallosis
As implants wear down, particles from the implant material are released and can settle in and around the joint. Particles from MoM implants, namely chromium and cobalt ions, can damage surrounding tissues and bone and enter the blood stream. This can lead to complications known as Adverse Local Tissue Reaction (ATLR) and Metallosis (metal toxicity).
The tissue damage associated with ATLR can cause necrosis – the death of most or all of the cells in the tissue – as well as the accumulation of lymph cells.
Both ATLR and Metallosis can lead to pain, implant loosening and failure, and the need for revision surgery.
Some case reports have also shown patients with MoM implants could develop symptoms or illnesses elsewhere in the body, including:
Skin rashes
Cardiomyopathy (disease of the heart muscle)
Hearing or vision impairments
Psychological changes (depression or cognitive impairment)
Impaired kidney function
Thyroid dysfunction (neck discomfort, fatigue, weight gain, feeling cold)
The FDA recommended doctors monitor patients who experienced pain or swelling near the hip, a change in walking ability or noise from hip joint after three months of receiving their MoM implant.
Other common complications of Metal-on-Metal implants
On top of tissue damage and Metallosis, there are numerous other potential risks associated with MoM implants. These risks may include:
Infection
Loosening
Dislocation
Osteolysis
Bone or device fracture
Elevated metal ion levels in joint or blood
Transplacental transport of metal ions (MoM implants not recommended for pregnant women)
Development of local inflammatory reactions and lesions, including soft tissue masses and tissue necrosis
Development of potential systemic events related to elevated metal ion levels
Revision surgery
Femoral neck fracture (hip resurfacing surgery)
Some patients are at higher risk for complications
Some patients are at an increased risk for complications due to MoM implants compared to others. In regards to metal toxicity, the FDA said different people will react to these metal particles in different ways and there is no way to predict who will experience a reaction.
There is medical literature to suggest who might be at an increased risk for device failure and ALTR. Those patients include:
Patients with bilateral implants
Patients with resurfacing systems with small femoral heads
Female patients
Patients receiving high levels of corticosteroids
Patients with evidence of renal insufficiency
Patients with suppressed immune systems
Patients with suboptimal alignment of device components
Patients with suspected metal sensitivity
Patients who are severely overweight
Patients with high levels of physical activity
Metal-on-Metal Implant Lawsuits
Thousands of people who were harmed after being implanted with a mixed metal-on-metal device filed lawsuits against the manufacturers.  These people allege the companies made defective products and failed to warn the public about their risks.
If you or someone you love received a metal-on-metal hip implant and suffered as a result, you may be entitled to compensation but you need to take action now. Call the Hood National Law Group today at 1-800-214-1010 for a free case evaluation, or use the form on the right-hand side of your screen.