January 8, 2018 – San Diego, CA.   Recent numbers provided by the Centers for Disease Control and Prevention illustrates an alarming number of people developing diabetes.  Their 2014 report is titled "More than 29 million Americans have diabetes; 1 in 4 doesn't know".  This number is significant when looking at prior years. In 2010 they estimated that 26 million suffer from diabetes.  This increase to an estimated 30 million people is remarkable and not a good trend with it comes to American's health.
Another staggering number is the amount of people with prediabetes – is 86 million adults. Prediabetes is where blood sugar levels are higher than normal but not high enough to be classified at type 2 diabetes.  This group of people without proper weight loss and physical activity stands a 15-30% chance of developing type 2 diabetes within five years.
According to Ann Albright, Ph.D., R.D., and director of CDC's Division of Diabetes Translation.  "Diabetes is costly in both human and economic terms. It's urgent that we take swift action to effectively treat and prevent this serious disease."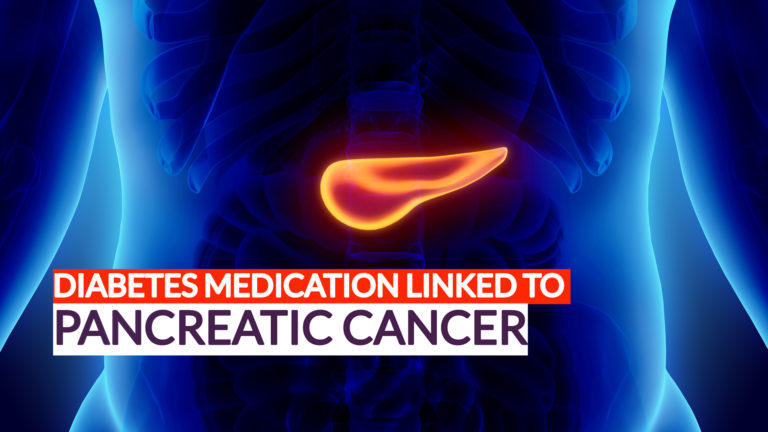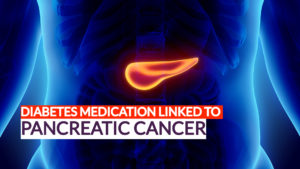 People with diabetes face a serious health risk and can encounter complications including heart disease, vision loss, stoke, kidney failure, risk of amputations of toes, feet, legs and premature death.
Type 2 diabetes is a difficult medical condition, but it can be easier to manage with the correct medication. If patients take the right steps towards their health, it's assumed they won't encounter any further suffering or obstacles.  When diabetes patients decide to use a certain medication, they usually don't consider the possibility that their choice of medications will create more suffering.
What are Incretin Mimetic Drugs?  What are the side effects?
Incretin drugs are a fairly new class of injectable drugs used to treat type 2 diabetes.  They are used and primarily prescribed when patients haven't been able to control their condition with tablet medications.  Many of these drugs are taken once weekly.   These drugs act similar to our natural body-made incretin hormones that help regulated blood sugar levels.
In particular incretin drugs: 1. Help stimulate release of insulin from the pancreas. 2. Inhibiting release of glucagon (Glucagon is a hormone that causes the liver to release stored sugar into the blood stream) 3. Helping slow glucose absorption into the bloodstream. (This helps you feel full after eating).
Published data has found several common side effects of Incretin Mimetic drugs, these include:
Nausea
Diarrhea
Vomiting
Dissiness
Profuse sweating
Loss of appetite
Constipation
Indigestion
F.D.A. Investigates Incretin Mimetic Drugs for pancreatic cancer link.
This is directly from the FDA website, link provided below.  The F.D.A back in 2013 began an investigation that was started by looking at unpublished academic research that suggested in increased risk of pancreatitis, or inflammation of the pancreas, and pre-cancerous cellular changes called pancreatic duct metaplasia in patients with type 2 diabetes treated with a class of drugs called incretin mimetics.  The F.D.A has not formally reached any conclusions about the risks with incretin mimetic drugs, yet their communications should be noted by health practitioners and people possibly choosing a course of action in dealing with type 2 diabetes.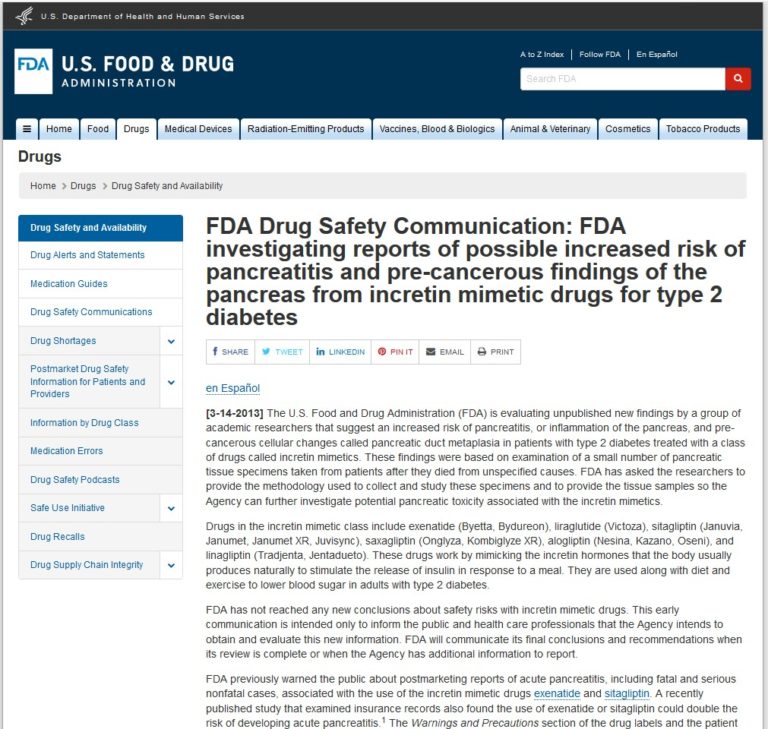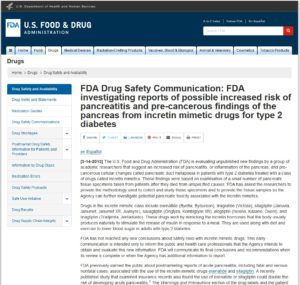 What are the brands or names of Incretin Mimetic drugs?
The drugs looked at in the study are all in the same classification called incretin mimetic drugs.
The most common used to treat type 2 diabetes is as follows:  Generic names first, then the brand names: We will review most of these below.
Exenatide (Byetta, Bydureon)
Liraglutide (Victoza),
Sitagliptin (Januvia, Janumet, Janumet XR, Juvisync)
Saxagliptin (Onglyza, Kombiglyze XR)
Alogliptin (Nesina, Kazano, Oseni),
Linagliptin (Tradjenta, Jentadueto).
Exenatide – Byetta Drug Overview and Information.
Byetta is manufactured by Amylin Pharmaceuticals and it was originally approved for use by type 2 diabetes patients in the United States by the FDA in 2005.  Byetta was so successful that it was one of only three medications that Amylin was producing when it was acquired by Bristol-Myers Squibb in 2012 for $5.3 billion.
Byetta is an anti-diabetic drug that is similar to the hormone in your body (incretin). It works by increasing insulin release and decreasing the amount of sugar your liver makes. In addition, it slows down food ingestion in your stomach and the amount of sugar absorbed from food. It belongs to a class of drugs known as incretin mimetics, which work by lowering glucose levels.
One of the leading type 2 diabetes medications to hit the market in recent years is known as Byetta, and for a time it was hailed as a success by the pharmaceutical profession and the patients who used it.  Unfortunately, it wasn't long before reports of alleged Byetta side effects began to arise and people who were using it became quite concerned even if they were not harmed by it.  Below is an overview of this medication, and anyone who has suffered as a result of using it should contact the Byetta side effects lawyers at the Hood National Law Group to schedule a free initial consultation. Read more here: https://www.nationalinjuryhelp.com/defective-drugs/byetta/
Liraglutide – Victoza Drug Overview and Information.
Victoza is a medication that was originally approved for use in the United States by the FDA in 2010.  It is manufactured by Novo Nordisk, a large corporation and Victoza is a member of a class of drugs known as glucagon-like peptie-1 receptor agonists.  It is injected into the bloodstream once per day and it is designed to help lower blood glucose levels so that the pancreas does not become overexerted by attempting to manufacture additional insulin. Read more here: https://www.nationalinjuryhelp.com/defective-drugs/victoza/
Sitagliptin – Januvia Drug Overview and Information.
Januvia, which is manufactured by the pharmaceutical giant known as Merck & Co., Januvia was originally introduced to the American market when it obtained FDA approval in 2006, and it quickly took hold around the country.  However, people eventually began to report alleged Januvia side effects that included extremely dangerous conditions such as pancreatitis, pancreatic cancer and thyroid cancer.
As a result, Januvia side effects lawsuits began to be filed, as all of these conditions are extremely dangerous and people can lose their lives if they are allowed to progress without being detected.  Read more here: https://www.nationalinjuryhelp.com/defective-drugs/januvia/
Sitagliptin – Janumet Drug Overview and Information.
Janumet contains two different medications: Sitagliptin and Metformin. Sitagliptin works by increasing levels of natural substances called incretins. These substances help to maintain blood sugar by increasing insulin release, usually after eating. Metformin works by restoring your body's proper response to insulin that you naturally produce. It can also decrease the amount of sugar your liver makes and that your stomach or intestines absorb.
Helping to control your blood sugar can prevent kidney damage, blindness, nerve problems, and sexual function problems. The medication was also wildly successful, as it produced more than $1.5 billion in revenue in 2012 alone, adding to the multi-billion-dollar list of type 2 diabetes medications offered by Merck & Co.
Saxagliptin – Onglyza Drug Overview and Information.
Onglyza the trade name for saxagliptin and is an adult type 2 diabetes drug that was developed by Bristol-Myers Squibb and AstraZeneca in 2007. It was released on the market in 2008.  The FDA approved saxagliptin with the brand name Onglyza in July 2009.  Saxagliptin is a dipeptidyl peptidase-4 (DPP-4) inhibitor. Bristol-Myers Squibb and AstraZeneca have estimated that this drug could reach 1.8 billion in annual sales. Read more here: https://www.nationalinjuryhelp.com/onglyza-lawsuit-claims-settlements/
Can I file a lawsuit from a diabetes drugs?
If you or someone you love has suffered  pancreatitis or pancreatic cancer related to any of the incretin mimetic drugs listed above, please contact us today for a complete evaluation for your claim, there may be substantial payouts from the makers of these incretin mimetic drugs.
Use our online claims for here, it only takes 2 minutes to see if you quantify. https://www.nationalinjuryhelp.com/diabetes-drug-pancreatic-cancer/ 
Sources:
https://www.ncbi.nlm.nih.gov/pmc/articles/PMC3238796/
https://www.cdc.gov/media/releases/2014/p0610-diabetes-report.html