We've been seeing the movie trailer for the new movie Hustlers all over the internet lately and one little thing caught our attention.
The movie touts a tagline that says: "Inspired by a true story".
Since we've been hearing of the abuse stories told to us by actual strippers, and championing women's rights in strip clubs across the US we wanted to breakdown the premise of this fictitious movie.
The movie is produced by STX Films, and features a cast including Constance Wu, Jennifer Lopez, Julia Stiles, Keke Palmer, Lili Reinhart, Lizzo and Cardi B.
The trailer starts by showing a dancer teaching a new girl how to work the stripper pole which is innocent enough, cause the new girl has to learn the tools of the job right?  The "teacher" shows and says "front hook, ankle hook, then knee hook, now you can carousel, now switch."
Then we see a club scene with pretty girls on stage and in the dressing rooms and finally the part we are most interested in at 0:21 seconds.   
The part at 0: 21 illustrates the problem that hundreds of thousands of dancers face every single day at their job, greedy club owners demanding a "fee" from a dancer.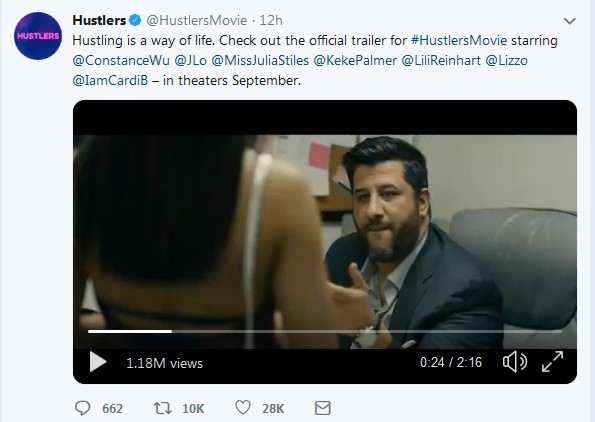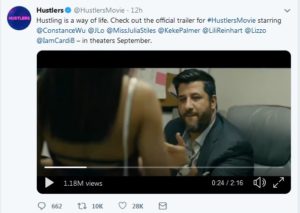 In the movie the dialog from the male actor says…"Minus 40% is $160.00" with his hand out, and in turn the dancer hands him some $20 dollar bills.
Here in lies the legal problem. Club owners and managers have no legal right to ask the dancer for ANY so called "fees" to work at the club!  Let's be very specific on this legal hot topic. It all comes down to one question.  Are strippers, topless dancers or exotic dancers an "employee" or "independent contractor"?   Many clubs, like the one shown in this movie, will often seek to categorize the dancers as "independent contractors" rather than employees.  This tactic allows these clubs to avoid following the rules set by the Fair Labor Standards Act, known as FLSA laws.
However, gentlemen's clubs or stripper bars can't just state that a dancer is an independent contractor and make it true – certain legal requirements must be met; otherwise, the dancer is actually an employee.  These are actual violations of both of federal and state labor laws.
This is the Real World of Strippers not shown in the movie Hustlers.
Here's a real world example that happens on a daily bases, the name of the dancer has been changed to protect her identity.
"Candi" is an exotic dancer who has worked for a New York strip club for the past 3 years. This club owns 20 locations across the state.  When she applied for the job she was told she would be a 1099 Independent Contractor.  She was also told she must pay "house fees" or "dance floor" fees every shift at every club they own.  She is also required by the club to tip all on staff DJs and other club workers. Does this sound fair?  Is this strip club pay scheme illegal? YES!
Another real life example is from one of our stripper advocates named Sadie McLaren.  As a former exotic dancer with years of experience, she tells it like it is.  Tireless in helping other dancers learn their rights in the work place.  Here's how she broke down the money scheme:
"Basically, if I made $100,000 in cash per year, $62,000 of it went to the club. So 62% but that's a lowball estimate… It's closer to 71%… I've given con artists $570,000 in CASH from 2011-2018 purposely staying below my real average. We make over 6 figures, just not for us…"
Read more on Sadie and her work here.

What other ways to strip clubs cheat women out of money?
Since we began hearing from dancers across the US we've been told of many pay schemes clubs use to earn more profits.
The Illegal Strip Club Fee and Pay list includes:
Tip out house DJ's per shift. (If they don't the DJ's react by not playing the girls requested stage music, this is called Song Wars.)
Tip out security staff and bouncers.
Failing to pay a minimum wage according to their state laws.
Having to tip out a "House mom".
Pay to enter and dance in the VIP room.
Sign an agreement like "Space/Lease Rental Agreement of Business Space"
What are the Strippers doing about these illegal schemes – Taking Action!
Strippers are suing their workplaces for the recognition of their employee status and all of the protections that come with it.  Strippers of the world are starting to unite! Find out at: http://www.ieauunion.com/  many are also seeking legal remedies by outright suing their clubs and this is where we take action.  We're already seeing that clubs want to settle these lawsuit claims out of court.  We expect large cash settlements from these cases, since many have already taken place. Please see this page for strip club lawsuit information.
Are you a stripper looking to get back pay after being taken advantage of?  We're here to help. Use the contact form on this page, or use our online evaluation form here> >https://www.employmentlawproblems.com/
What's the end game of the movie Hustlers? – No spoilers here!
Ultimately the movie has a good premise in that the girls are working a fresh approach to the hustle. They decide to turn their hustling skills to the unscrupulous men of Wall Street, who they see as modern day thieves who have taken investment money from those who couldn't lose any.  Rock on ladies!