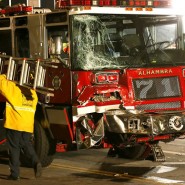 Monterey Park, California was the scene of spectacular collision last week between two vehicles responding to a report of a fire at a home in the area. A fire engine from the Alhambra (California) Fire Department collided with an engine from the Monterey Fire Department at an intersection, sending the Monterey Park truck into a restaurant located in a busy section of this San Gabriel Valley city. Prior to smashing into the building, the engine jumped the curb and struck at least one pedestrian. The 40,000 pound fire engine then plowed into the restaurant with such force that supporting beams were knocked down, and the building had to be stabilized to avoid a collapse. One victim was discovered pinned between the truck and one of the tables in the restaurant
Initial reports stated that nine of those injured were admitted to Los Angeles County-USC Medical Center, and another six were taken to Garfield Medical Center, which is near the scene of the accident. Six of the injured were firefighters who had been traveling on the trucks that crashed. One of the injured individuals was listed in critical condition.
According to witnesses, both trucks had their lights flashing and their sirens on. All the firefighters were wearing ear protection to lessen the noise from the sirens. While this might have made it more difficult to hear the other truck approaching, there may also have been a violation of fire truck protocol when approaching an intersection, which requires that the vehicle enter the intersection at a safe speed to make sure that it is okay to proceed.
Although it may not be common to see a serious and potentially deadly collision between two fire engines responding to the same fire, truck accidents of this general type happen frequently, and the result is often the same – innocent people injured, and sometimes killed. The size, weight, and difficulty in maneuvering these huge rigs often contribute to tragic accidents affecting the lives of countless people who are injured merely because they were in the wrong place at the wrong time.
If you have suffered injuries as the result of a truck accident, you probably have questions about whether you might be entitled to compensation. You need a law firm with the experience, talent and resources to protect your rights from beginning to end. Contact the Hood National Law Firm today for a free consultation.
Hood National Law Group
591 Camino De La Reina #100
San Diego, CA 92108
(800) 214-1010